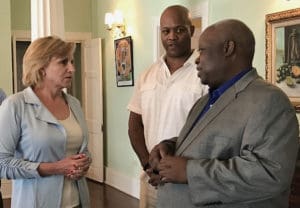 Housing and Urban Development Deputy Secretary Pamela Patenaude met with Gov. Kenneth Mapp and other senior V.I. leadership Tuesday at Government House on St. Croix.
At the top of the agenda was the territory's action plan for how it will use and account for some $1.6 billion in potential HUD Community Development Block Grant funding for disaster relief.
According to HUD, the territory is expected to submit their disaster recovery plan within the next two weeks. HUD then has up to 45 days from the date of submission to accept the plan or request necessary changes.
Congress approved the money as part of a $300 billion dollar spending bill – the Bipartisan Budget Act of 2018, approved in February, which included $83 billion for hurricane and wildfire disaster recovery for Texas, Florida, California, Puerto Rico and the Virgin Islands.
The money is on top of some $243 million HUD allocated in February, bringing HUD disaster funding for the territory to $1.8 billion.
Subject to the territory's detailed action plan, the money can be used for construction and rehabilitation of housing, purchasing real estate, renovating public facilities and other improvements.
It is a giant increase from the roughly $1 million the USVI normally receives from HUD.
Also on the agenda were housing recovery projects, the Water and Power Authority electric grid strategic plan, the territory's roadway reconstruction program, tourism and ports and talks with the Office of Disaster Recovery, according to HUD.
After a noon open press event, V.I. officials briefed HUD representatives on a survey of Gallows Bay, Ruby M. Rouss Community (Water Gut), David Hamilton Jackson Terrace (Red Brick), LBJ Gardens, John F. Kennedy Community, WAPA's Richmond Power Plant and Harborview Apartments.
At 2 p.m. they were scheduled to discuss a survey of Bon Esperance, Flamboyant Gardens, the University of the Virgin Islands, Mount Pleasant, Williams Delight, Whim and Campo Rico, Canebrake Apartments, Lagoon Complex Apartments, Walter I. M. Hodge Pavilion and the Louis E. Brown Villas.
According to HUD the visit was part of a week-long series of meeting, briefings and tours in Puerto Rico and the USVI.