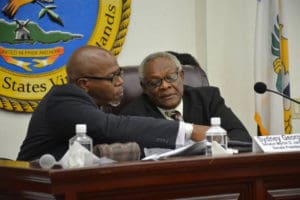 Expanding services to those living with Alzheimer's disease and their caregivers was a major focus of a mock Legislative session held Tuesday.
Each year, as part of activities honoring contributions by older citizens, 15 community elders are invited to hold a mock session in the Senate chambers. The participants debate issues and vote, although their vote does not have the effect of law.
The stand-in for the lawmakers also debated a measure addressing the establishment and operation of assisted living facilities in the Virgin Islands.
Members of the 32nd Legislature hosted its annual Senior Citizens Legislative Mock Session, led by "Senate President" Sydney George, at the Capitol Building on Tuesday to vote and approve Bill No. 32-0001- An Act amending Title 34 Virgin Islands Code, chapter 18, sections 1 to define "Assisted Living Facilities," and "Memory Care," and to add those terms to section 18.
Senate President Myron Jackson opened Tuesday's session by pointing to the value older residents bring to the annual session.
"This is a celebration that emphasizes you are never too young or old to participate in activities that promote mental wellness, offering wisdom from someone with much more experience," Jackson said. "President Trump has declared that this month will be an International Day of Older Persons recognized in May of 2018."
As they considered provisions contained in mock session Bill No. 32-0001 as amended, the visiting seniors added their perspectives about the kinds of help older persons need to get on with day-to-day living.
Sydney George, representing Jackson, led the session as mock Senate president.
"There is a growing population of people with Alzheimer's Disease and cognitive degenerative diseases throughout the territory. This bill provides for the welfare of those who are elderly and destitute," George said.
In addition to defining "Assisted Living Facilities" and "Memory Care," the measure also seeks to expand the term "Home for the Aged," by adding these terms speaking of "Home for the Aged and Destitute."
Charlene Jones, representing Sen. Dwayne DeGraff, spoke from her experience as a retired health care professional.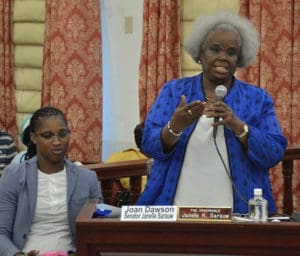 "Expanded lifestyles have increased population. Planning is critical, and it is essential to have necessary facilities available. If not, this will result in a poor quality of life for these individuals," Jones said.
Retired school administrator Aloma Blake, representing Sen. Tregenza Roach, spoke to the need to provide adequate facilities. She also called attention to the needs of those who prefer to receive care at home.
"I support this measure. However, I recognize that a facility may not suffice. There is elderly who desires to receive assistance from trained caretakers in the comfort of their own homes," Blake said.
The point was echoed afterwards by Sen. Jean Forde, represented in the session by Alberta Richardson.
"I think the subject matter we addressed today was very serious, very dear to them, Ford said.
The impact of twin Category 5 hurricanes on the territory last year and the resulting loss of resources left some seniors fending for themselves, Sen. Novelle Francis said.
Francis was represented in the mock session by Michelle Hurley.
"I think this year there was particular concern because there were two Category 5 hurricanes. Homes still need repairs and families were separated," he said.
The Virgin Islands struggles with limited public and private facilities to care for the aged, especially those requiring round-the-clock nursing care. Gov. Kenneth Mapp is considering a plan for the government to acquire Sea View Nursing Home, a private facility on St. Thomas.
Under the governor's plan, Sea View would be renovated and expanded to accommodate residents from Queen Louise Home, a public facility in Hospital Ground on St. Thomas.
The Herbert Grigg Home for the Aged on St. Croix was damaged in the passage of Hurricane Maria but doubled as a senior facility and a shelter for displaced residents.
Some of those changing circumstances also were raised in Tuesday's session about how senior facilities are regulated.
Linda Fonzin, representing Sen. Nereida Rivera O'Reilly, offered an amendment to the mock bill that would require all privately owned and operated facilities to be regulated and inspected annually by the Department of Health.
After much consideration, senior lawmakers voted to approve the bill.
Forde said he appreciated the feedback given to him by Hurley at the end of the session.
"I think she did indicate to me she had an educational experience," he said. "She was well versed on the subject matter."
One aspect Hurley raised with her host was the need to educate families on Alzheimer's care of elderly relatives. To do so, she said, would help alert caregivers about what changes they can expect to see as the illness progresses and the best ways to respond.
Francis said it's likely lawmakers will schedule a measure addressing assisted living facilities in a formal session to be held later this year.
Elected senators present were: Myron Jackson, Novelle Francis, Jr., Brian Smith, Janette Millin Young, Jean Forde, Kurt Vialet, Neville James, Dwayne DeGraff, Alicia "Chucky" Hansen, Janelle Sarauw, and Positive T.A. Nelson