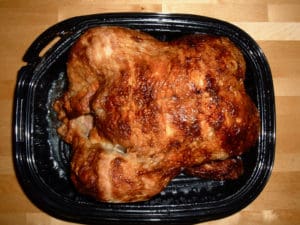 A proposal to extend the national ban on cockfighting to the insular territories, impacting Puerto Rico and the U.S. Virgin Islands, failed in the U.S. House of Representatives as lawmakers defeated the massive agricultural bill it was attached to, at least for now.
Some form of the farm bill is likely to pass Congress at some point. Among other things, it is a multi-year agricultural appropriations bill with billions of dollars for Supplemental Nutritional Assistance Program, billions for crop insurance and billions more for crop subsidies.
On a dollar-for-dollar basis, the SNAP, formerly Food Stamps, funding is vastly more important to the territory's economy than the tiny cockfighting industry. In Fiscal Year 2016 the USVI got $56.8 million in SNAP assistance, helping 27,760 Virgin Islanders, according to the U.S. Agriculture Department. With special disaster assistance after last year's storms, current levels are very likely much higher.
That money went to buy food, including many chickens for many pots. And it was spent again and again, a direct influx of cash with a multiplier effect double or more its nominal value.
SNAP funding was one of several sticking points that led to the House bill's failure. Democrats objected to cuts to SNAP and to new, more arduous work requirements. While SNAP already requires most adults to register for work and accept a job if offered, Republicans want to make those requirements more strict, requiring recipients to prove they either worked, participated in a work program or qualified for an exemption.
GOP members of Congress argue making SNAP too easy to get acts as a disincentive to work.
"This (the more stringent work requirement) is going to get more people out of poverty. This is going to get more people a steady job. This is going to get more people moving toward a good career," House Speaker Paul Ryan (R-WI) said before the vote on the bill.
Democrats argue the total funding is cut and the work requirements are likely to force some to go hungry.
Also, some more conservative members of the house GOP caucus voted against the bill in protest of delays in votes on sharp limits to legal immigration and increased penalties for those who enter illegally.
In the end, the bill failed, 198 to 213. No Democrats supported the bill. Thirty Republicans voted against the bill too.
"Republicans should now come to the table, return to a historic, bipartisan tradition and negotiate in good faith with Democrats. The Congress must craft a balanced, robust Farm Bill that honors our responsibilities to the 16 million men and women of agriculture and the nearly 41 million Americans who are food-insecure," Senate Minority Leader Nancy Pelosi (D-CA) said in a statement after the vote.
As of 10 p.m. Monday, Ryan had not yet issued a statement on the bill since it failed to pass.
While the House may vote again on the bill, Sens. Pat Roberts (R-KS) and Debbie Stabenow (D-MI) introduced a bipartisan version of the Farm Bill to the Senate on May 10. That bill may become the basis for the final legislation, depending on what happens in the House, the Senate, in conference committee. It does not contain the provision impacting cockfighting nor the work requirements of the House bill.
While cockfighting is of relatively minor economic importance in the territory, it is a cultural touchstone.
"Cockfighting, like horse racing, is a long-standing recreational activity in the U.S. Virgin Islands with historical and cultural significance to many Virgin Islanders. I do not support banning cockfighting in the U.S. Virgin Islands," Virgin Islands Delegate to Congress Stacey Plaskett (D-VI) said before the vote.
"I understand the concerns of those opposed to cockfighting and believe regulatory processes and educational outreach provide the best means of addressing those concerns. Outlawing cockfighting in the Virgin Islands will only create an underground industry, which can prove problematic for local stakeholders and local law enforcement," she said.
Many in the territory also oppose the practice. In 2014, Sen. Nereida Rivera-O'Reilly, who is retiring from the Legislature this year, made an impassioned plea to ban cockfighting in the territory. In a V.I. Senate hearing, she quoted the famed late labor leader and civil rights activist Cesar Chavez, saying: "Kindness and compassion towards all living things is a mark of a civilized society. Conversely, cruelty, whether it is directed against human beings or against animals, is not the exclusive province of any one culture or community of people."