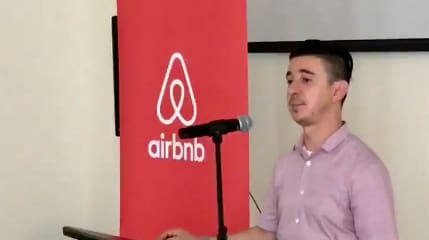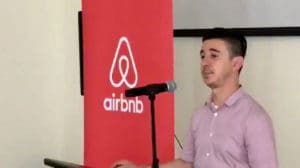 Data collected by online home-sharing giant Airbnb can provide a clear picture of who is coming to the territory for a visit, where they're coming from and often what they like to do, helping local hosts better market their properties, according to an official of the company.
Airbnb's lead regional policy manager Carlos Munoz said those stats can be channeled in to a more defined marketing strategy for the territory and used to create a better overall tourism product.
Munoz, for example, recently learned how to make cigars while staying at an Airbnb in Havana and is encouraging local hosts to grow their listings – and show off more of the territory's offerings – by marketing similar adventures.
Airbnb is an American company which operates an online, global marketplace and hospitality service that lets individuals lease or rent short-term lodging including holiday cottages, apartments and homes around the world. The company does not own any real estate or conduct tours; it is a broker, receiving a percentage service fee for every booking made over its website. V.I. Tourism officials said such an approach can help boost stays in the territory.
"We are still down about 40 percent in our capacity for overnight accomodations, so Airbnb rentals definitely helps fill that gap," Assistant Tourism Commissioner Joyce Dore-Griffin told the Source. "More importantly, though, there's really a market for this kind of service. There are a lot of people that like the experience Airbnb offers, and while there are others like definitely like checking into a hotel and all that comes with it, this kind of product opens up the market a great deal and makes the territory more appealing to a wider range of demographics."
Looking at the Data
A local Memorandum of Understanding between the V.I. government and Airbnb has been in place for about a year. In exchange for collecting 12.5 percent hotel room occupancy tax on behalf of its hosts, which is remitted to the V.I. government, Airbnb helps enhance local tourism promotions by highlighting the territory's cultural and historical offerings.
Looking at the data, Airbnb's Munoz said there have been 840 active hosts recorded in the territory since December, 24,000 guests in the past 12 months and an accumulated $8.3 million in revenue coming in locally from Airbnb rentals. The average stay is about four nights, the average age group is middle and the top arrival city is New York.
Keeping all of those things in mind, Munoz said there's a lot the territory can do in terms of outreach, including deploying tailored marketing strategies for guests from top arrival destinations and even age and gender markets.
Women make up 55 percent of the Airbnb guests territory-wide and find more ways to appeal to them can be beneficial, he added.
"This data can even provide a convincing argument when you're doing things like negotiating with airlines to reinstate routes," he said. "When we can say how many people are coming in and from where, providing them with more options for travel, such as easy flights, can make a destination more attractive."
A Picture Is Worth A Thousand Words
Like Uber or Google, the higher your Airbnb rating the higher your rental will be on search listings. Investing in professional photos of your property and what's offered around it not only increases your chances of being selected, it also markets each island in a unique way.
"We are able to track the mouse movements of our guests on the Airbnb platform and what the data shows is that photos get clicked on first – even before a guest reads the listing description or looks at the price," Munoz said. "Not only do they want to see what your apartment looks like, they want to see the neighborhood, restaurants, the downtown and even volunteer activities they can do. So when they say 'a picture is worth a thousand words,' a picture in this case is worth a thousand five-star ratings, or a thousand bookings that bring more traffic into the territory."
And with high ratings, there comes a certain expectation from guests about customer service. While simple things like welcome baskets go a long way, really what matters is how guests feel when they leave. Munoz said this important segment of the hospitality industry is also key within the Airbnb world, and reflects just as much on the destination as the homeowner.
"Everything sort of goes hand in hand," he said. "The goal is not just to promote a destination competitively, but comprehensively."
And, so far so good. While Tourism does not function as a regulatory agency, Dore-Griffin and Munoz said the number of "bad reviews" on local offerings is minimal, and more exposure about Airbnb opportunities has come through social media, where guests looking for hotels can learn about other options.
"I see hoteliers coming back, and we anticipate them coming back," Dore-Griffin said. "But I think there's room for all of us as our numbers continue to grow, that's why it's called a shared economy. We anticipate that we'll have enough room in the traveling market to be able to share."