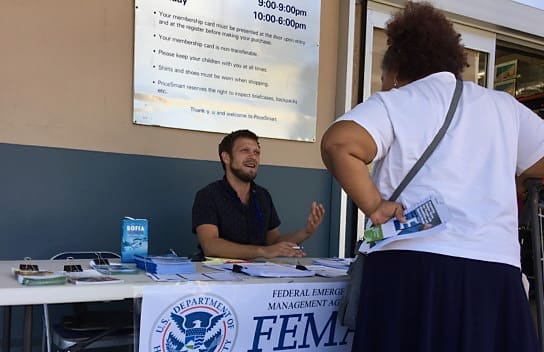 It started as a hurried affair, but now FEMA is promising a long-term commitment to the Virgin Islands.
"We're here for the long run," said Ricardo Zuniga, who recently took over the USVI News Desk for the External Affairs office of the Federal Emergency Management Agency, in an interview this week.
Zuniga declined to say just how long the long run may prove to be, but it's clear that the federal agency will hold the territory's hand at least into the next hurricane season, and probably a few years beyond that, as it switches focus from recovery to future mitigation projects.
In the first months after Irma and Maria struck the territory in September 2017, emphasis was on the "emergency" in FEMA – providing food and shelter and restoring such basic services as utilities and transportation.
As of Monday, the agency has obligated $769.6 million for public assistance, primarily to help the Virgin Islands government repair and replace infrastructure, Zuniga said.
In addition, it has provided $79.4 million in assistance to individuals and households – with $55.4 million of that sum going for housing and $24 million for other needs, such as medical expenses. About a third of the population – 39,074 people – registered for assistance.
The deadline for registering passed Jan. 8, but Zuniga stressed that residents can still amend their requests if their circumstances have changed. For instance, a person may have been staying with a relative after the storms and so didn't need housing immediately, but now may have to move and needs help paying rent.
Or FEMA may have told an applicant that he or she needed first to try for a loan from the Small Business Administration, or to contact their insurance carrier.
"We don't replace insurance," Zuniga noted. But if a loan was denied or the insurance was insufficient, FEMA may be able to step in, depending on the circumstances.
"We may be able to fill that gap," he said. "Call us back … Keep in touch with us … We're still working with applicants, updating requests."
It's also still adjusting its programs – closing some, altering or adding others.
"We try and meet the needs of the host government," Zuniga said. "We want to offer all the tools that we possibly can."
Some programs are tailor-made. For instance, as part of the assistance to individuals, FEMA provided $1.3 million worth of medical prescriptions, serving 2,268 people. (That program just closed.) It also partnered with the V.I. Housing Finance Authority to make temporary repairs to homes. Both programs are unusual, but they were obvious needs in the territory.
While FEMA is the primary agency making actual grants, Zuniga stressed that other federal money is also coming into the territory in the form of loans and payments on federal flood insurance policies. So far, the National Flood Insurance agency has paid out $15.9 million worth of claims in the Virgin Islands related to Hurricanes Irma and Maria. The average pay-out for Irma was $75,769; from Maria, $105,183.
Meanwhile, the U.S. Small Business Administration is offering millions of dollars in low interest loans to V.I. businesses and non-profits who suffered losses due to the hurricanes.
Eight months after the hurricanes, recovery efforts and grants are winding down, but Zuniga said FEMA is still offering assistance.
"There's not an overall cap as to how much we'll pay out," he said, although there may be limits on some programs. Individual assistance grants, for instance, are capped at $33,300.
However, FEMA is looking forward now, rather than back, and the focus has shifted to hazard mitigation.
For example, the agency has worked with the V.I. Department of Planning and Natural Resources in updating building codes to make structures more wind-resistant. And it is replacing broken wooden utility poles with composite poles that are more flexible.
"We can only pay for damage from the disaster," Zuniga said, so the agency can't update everything. However, "hopefully we can minimize the damage during the next hurricane."
It's also taking an active role in preparations for the 2018 hurricane season, which officially begins June 1, although it generally gears up in the Caribbean in August and peaks in September.
"We're starting to help form some long-term recovery committees," with local partners, Zuniga said.
It has set up information sites in home improvement stores, offering residents free advice on how to rebuild stronger.
Earlier this month, the agency issued news releases, urging residents to seek help for hurricane stress and reminding them to check their insurance policies, secure their documents and make other preparations for the upcoming hurricane season.
Zuniga could not predict how large a presence FEMA will have in the territory this summer, but currently, there are 378 personnel devoted to the Virgin Islands: 264 at its main administration operations on St. Croix, 102 at an area office on St. Thomas, nine of St. John, and three working remotely from the Mainland. The total includes 82 local hires.
Zuniga listed other mitigation projects underway:
– The territory and FEMA are working together to update the territory's operational processes and procedures. This effort is being conducted with nine territorial agencies.
– A Table Top Exercise is being planned for late July between VITEMA, FEMA other federal agencies and identified partners such as the Red Cross. The exercise will focus on validating newly developed operational procedures.
– Sheltering and staging area plans are being updated as well as medical patient evacuation plans.
– Communications planning efforts continue in order to fill critical identified gaps.
– Emergency power generator planning continues.
– VITEMA is training staff in a number of Incident Command System functional areas. The ICS is the established, recognized operational structure to manage all homeland security activities, including prevention, protection, response, mitigation, and recovery.