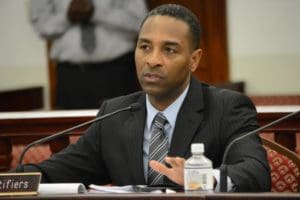 The Department of Justice's Paternity and Child Support Division (PCSD) will be resuming some child-support-related services at Nisky Center, St. Thomas, on Monday, May 7, according to a press release from the U.S. Department of Justice, Office of the Attorney General.
The offices were temporarily closed to the public to facilitate renovations and repairs due to hurricane-related damages. During this closure, all paternity and child-support-related services, including child support payments, were being handled at the Department of Justice's main office at the GERS Building, 2nd floor, Kronprindsens Gade.
Clients of PCSD St. Thomas are further advised that the case workers and staff from the Territorial Disbursement Unit will be returning to the former Nisky Center location.  As such, customers who want to make payments and contact case workers can do so at the Nisky Center offices as of May 7 because these services will no longer be available at the DOJ's main office at the GERS Building, according to Attorney General Claude Earl Walker.
PCSD St. Thomas will notify the public of the full resumption of all child support-related services at its Nisky Center office.