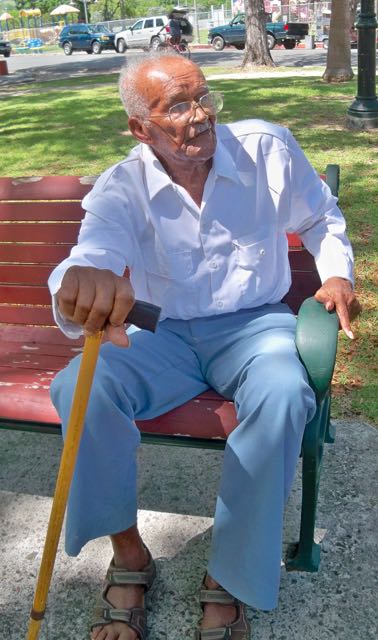 Editor's Note: Born when the USVI was part of Denmark, St. Croix's John Tranberg turned 102 on April 17. Wishing him a happy birthday, we are reprinting our June 10, 2016 feature celebrating his centenary.
Centenarian John Tranberg recently sat in Buddhoe Park in Frederiksted. He had a story to tell about practically each of the buildings he could see. He knew their owners and what kids did there 90 years ago.
His close cropped curly white hair is thinning and he has liver spots. He has most of his teeth and uses gold rimmed bifocals. He still lives on the farm that's been in his family 113 years. He was born 100 years ago at that farm  in Estate Nicholas near Creque Dam.
"I ain't old," Tranberg said but, with a wide smile and twinkle in his eye, he added. "I didn't think I'd live this long." He said his life's story is one of hard work, being respectful and obeying the law, nothing special and out of the ordinary.
"I used to run through the hills like a deer – now I have to use a stick," Tranberg said clasping a walking cane with gnarled working man's hands.  He said his muscles in his legs don't work like they once did –  but that's the only physical complaint he has.
Locals would say "Johnny made 100" on April 17, and Tranberg said he thinks longevity is in his family, explaining that his father was a hardworking man who died at the age of 96. Tranberg said he hasn't had any alcohol for a long time and that could be why he is still fairly healthy.
Tranberg said he enjoys waking up before dawn to the crowing of a rooster. He also has a peacock that makes his share of noise. He said he generally starts his day around 6 a.m. with a cup of fresh ground coffee made from beans he grows on his farm in the rain forest.
Following his morning cup of coffee he heads outdoors to feed 20 head of cattle.
After decades, he still feeds offspring of the original 12 Senegal bulls his father raised more than a century ago. They are now the senepole, a cross between the Senegal and red pole breeds. He has a huge award-winning senepole bull named Thomas who has been showcased at the fair for years,  The Livestock Pavilion was named in his honor at the 2014 Agriculture Fair.  As a livestock farmer Tranberg said he has a respect for the land and places a lot of value on owning land in the rain forest.
He recalled life on the farm as a boy. "It was natural for all of us to help with chores on the farm, he said.
"I did do some wickedness," he admitted, "but we were  respectful and obeyed the law. Police put the fear in you and we gave respect.  My father, who was Danish, was the law in our house and very strict."
Tranberg said kids today don't respect or fear the law or their parents and that could be why there are problems with youngsters. "We had to be orderly," he said. "I was raised a Roman Catholic.
One of seven children, Tranberg was born April 17, 1918, to Lauritz Tranberg and Virginia Percival Tranberg. His father was Danish and his mother was West Indian.
The Tranbergs had a daily milk route with the boys taking turns driving the cart three miles to town making deliveries before school. The last stop was Boss John's blacksmith shop where the boys would leave the horse while they were in class at the Dane Grammar School on Princess Street or at Frederiksted High school.
The boys and girls in his neighborhood all got together and played ball games, Tranberg remembered, and said he enjoyed going to see silent pictures and later talking movies and serials starring Hollywood cowboys Tom Mix and Buck Jones.
"The  movies were 10 cents. And I still had money for sausage and bread,"  Tranberg added. "And I always had a little money in my pocket to spend on the girls."
In 1944 Tranberg was drafted and served in the Army in Hawaii as a driver for officers during WW II. He said he always knew he would live his life on St. Croix and farm.
He was married to Cynthia Petersen and had four children. He worked at Sanford and Sons doing construction and concrete laying. He operated heavy equipment for Meridian Engineering.
His only living sibling, Otto "Chico" Tranberg, lives in Frederiksted.
Tranberg said he's not even thinking about the future and turning 101. "I have to get through this year first," he said with a chuckle, adding that he has had a good life.