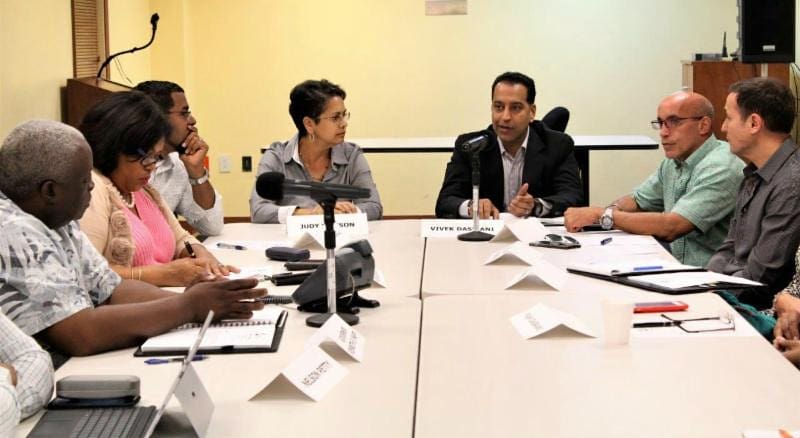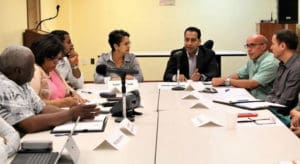 Gov. Kenneth Mapp told the Ports Of Charlotte Amalie Task Force the territory has secured millions of dollars in federal funds to assist with dredging Charlotte Amalie harbor.
The comments came April 10 during the group's first meeting of 2018. Mapp also told the group about maintenance and expansion, the Charlotte Amalie Main Street road project and issues affecting the hospitality industry.
Mapp established the group in April 2017. It includes representatives from retail stores, ground transportation operators, liquor distributors, restaurants, the V.I. Port Authority, the West Indian Company, the departments of Tourism, Public Works and the Office of the Governor.
According to a statement from Government House, Mapp told those meeting that the territory was able to secure millions of dollars in federal funds to assist with dredging the Charlotte Amalie Harbor in order to upgrade and expand the ports to accommodate Oasis-class cruise ships and other large passenger vessels.
"It's been a ride since September," Mapp said, referring to the two hurricanes that rolled over the territory that month.
"It is time to catch up and coordinate on the things that we promised and share good news … we want our cruise line partners to know that our recovery is on schedule and that we are doing everything we have to do," he reportedly said.
Mapp said it was important that his team continue to communicate directly and regularly with the local business community so members are kept informed and the government can best respond to their needs.
Government representatives at the meeting included Tourism Commissioner Beverly Nicholson-Doty; Public Works Commissioner Nelson Petty; Property and Procurement Commissioner Lloyd Bough Jr.; WICO President Clifford Graham; VIPA Chair Laurel Hewitt-Sewer and other VIPA officials.
Attendees from the business community included Pash Daswani, Vivek Daswani, John Woods, Filippo Cassinelli, Judith Watson, Shawn Stapleton, Michael Creque and Malorie Diaz.
Petty told the group that after slow progress from previous contractors, the newly selected team had quickened the pace of the Main Street road project. According to Petty, much of the tedious underground work is projected to be completed by late April. Petty also said harbor transportation will begin service this October.
Nicholson-Doty said United Airlines will return to the territory in April; Delta Air Lines will start a second Saturday flight between Atlanta and St. Thomas and resume daily service from New York in May; while Spirit Airlines will begin nonstop flights from Fort Lauderdale to St. Croix towards the end of May.
Business owners shared some growing pains of the recovery process, but were hopeful.
"We're getting there. We're getting good comments from our visitors," said Judith Watson, owner of Petite Pump Room, a popular restaurant on the Charlotte Amalie waterfront. "People coming to the restaurants are staying at villas and are positive about the recovery, so that's a good thing. The visitors are sympathetic about the status of the island and are pleasantly surprised about the progress."