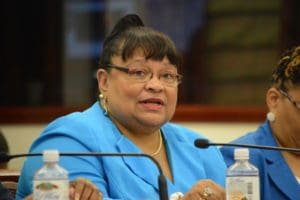 Education Commissioner Sharon McCollum expressed confidence Friday that the school system, shattered by two Category 5 storms last year, will operate close to normal next school year.
"Parents need to know that we are committed to rebuilding our territory's public school system and should start making plans to return their children for the upcoming school year," McCollum told the Committee on Education, Youth and Recreation. "Parents need to know that we are committed to rebuilding our territory's public school system and should start making plans to return their children for the upcoming school year."
She said modular classrooms to replace damaged classrooms should arrive by sea this June. Also expected to arrive and be up before next school year are several Sprung structures. These structures are made of tensioned fabric and can be constructed fast. They are used for auditoriums, gymnasiums and cafeterias.
However, not all senators at the hearing were convinced the department would be far along enough to quit the double sessions at the beginning of the next school year.
Sen. Novelle Francis, Jr., asked McCollum what her Plan B was. She said she was confident of Plan A unless inclement weather interfered this summer. She said Plan B would be to phase out double sessions at each school at the earliest opportunity.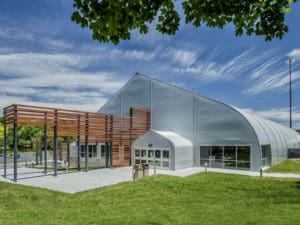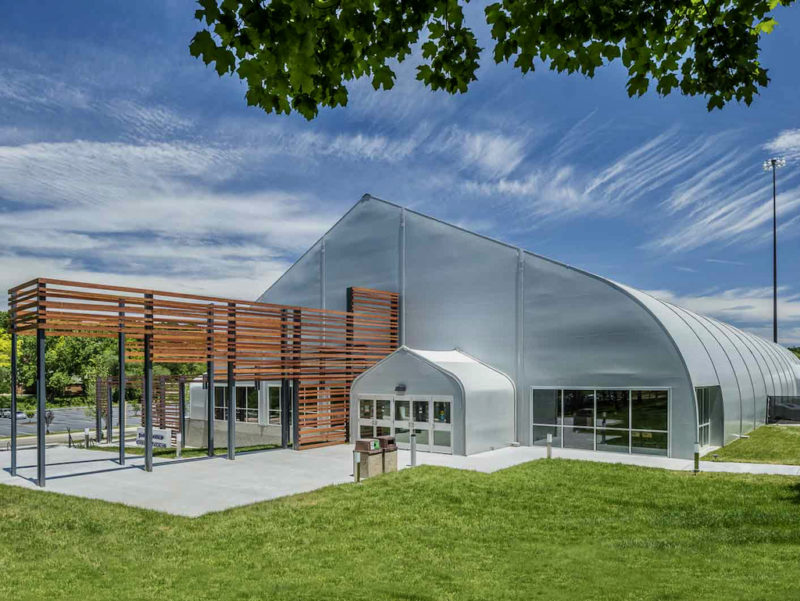 When asked about progress, Colleen Williams, St. Croix's insular superintendent, said, "We are getting there. I, like everyone else, wish it would happen faster."
Sen. Myron D. Jackson questioned Nicole Jacobs, director of human resources, concerning what efforts have been made to recruit new teachers. The department indicated at a previous hearing that it had 60 lost employees after the hurricanes. McCollum said the department had an additional 16 separations since then – three teachers from the St. Thomas-St. John district and two from the St. Croix district, and the remaining 11 support staff.
Jacobs said that no incentives had been added to attract regular teachers but incentives to attract science and math teachers have always been in place. She added the department is picking from 150 substitutes to man the classrooms. The substitute pool has 62 individuals on St. Croix and 88 in the St. Thomas-St. John district.
Senators asked whether the substitutes were certified in the areas they were teaching and what effect using the substitutes would have on the schools being accredited. The education officials had no definitive answer to those questions.
McCollum said to fill the department's 143 vacancies – 50 in the St. Croix district and 93 in the St. Thomas-St. John district – would require funding for the 2018-2019 school year.
Although some hostility was apparent between the administration and Sen. Jean Forde, chairman of the committee, earlier in the week, little hostility was evident at the hearing. The governor had scheduled a press conference about education that delayed Forde's scheduled hearing and appeared to sap the thunder from the senate hearing.
Forde wrote about the governor's education press conference in a press release on Tuesday.
"Eight months with no movement is unacceptable. Where is the urgency on the part of the administration? The record will reflect, contrary to the statements of the governor, that the Department of Education requested to delay its appearance before the committee because much of its leadership team would be on extended Easter vacation until April 13, not because of a planned press conference, as documented in the emails I have provided to the press. How can all the department's leadership take extended vacation periods at the same time, while our teachers and other hard-working employees must report to work? This is unacceptable."
Sen. Positive Nelson, a former teacher active in the union, showed his displeasure with McCollum.
"I don't like your disposition," he said. At one point he told her to "just shut up."
Sen. Jannelle Sarauw was upset when James Bernier, director of capital projects and facilities, said he was unable to visit all the schools on St. Croix since the hurricanes because he was too busy. Sarauw called his excuse "hogwash."
Senators were also concerned about how the decisions were made to condemn certain schools. Education department officials led by Anthony Thomas, department chief of staff, worked to clarify the argument, saying the word condemned, having legal connotations, was no longer being used and the schools not presently being used were being referred to as shuttered.
McCollum testified, "We have shuttered 12 schools in the territory; eight in the St. Croix district – Lew Muckle, Pearl B. Larsen, Eulalie Rivera, Arthur A. Richards, Elena Christian, John Woodson, Alfredo Andrews, and Alexander Henderson – and four in the St. Thomas-St. John district – Addelita Cancryn Junior High School, E. Benjamin Oliver Elementary School, Gladys Abraham Elementary School, and Guy Benjamin Community Center.
She added, "The department has four school campuses in the territory, which are not condemned but closed due to major structural damage. These schools are Gladys Abraham Elementary School, Addelita Cancryn Junior High School and E. BenjaminOliver Elementary School, in the St. Thomas-St. John district; and Arthur A. Richards Junior High School in the St. Croix district.
While McCollum focused on the work to bring schools back on line, Sen. Neville James had other ideas.
"We need to build news schools that is what is needed. These schools are no good," he said.
McCollum responded, "We are not anywhere near there."
She said no designs had been drawn for new schools because the focus was elsewhere.
After several questions, James got McCollum to give a ball park figure – almost $2 billion – to replace the territories old schools with new schools.
The education department has been the subject of some criticism because it took so long to remove debris from the facilities and because looting took place at schools not secured after the hurricanes. She ended her testimony saying, "We should be held accountable for our actions and asked to provide answers to pressing concerns. Nevertheless, we are astonished at the media portrayal of the Department of Education. These reports are destructive and frustrating to all."