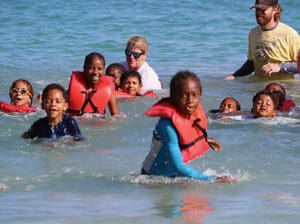 Two major storms and a recent nor'easter may have changed the race course a little, but didn't dampen the spirits or organizers or participants of this year's Rotary Sunrise Kids Triathlon.
The eighth annual event, which took place Saturday, was smaller than past events, but kicked off at Magens Bay early with an excited group of competitors, volunteers and even new sponsors.
Almost 100 participants and parents gathered on the far left side of the beach early Saturday morning for the traditional kick-off and chant. The Kids Tri gives competitors ages 5-15 the chance to swim, bike and run as individuals or in teams around the course. Usually, competitors in the 5-to-8 age group swim 25 yards, bike half a mile and run a quarter mile, while 9 to 11 year olds swim 100 yards, bike a mile and run half a mile. Older competitors have the farthest to go, with a 200-yard swim, a three-mile bike and a one mile run.
Because of the storms last fall, organizers had to make some changes.
"The road closest to the beach has been filled with sand because of the storms and waves," said organizer Susan MacFarland-Helton. "We thought about doing a splash and dash, just the swim and run, because of that, but then we put our heads together and were able to do all three. We did the run on the grass instead, and did the bike on the roads."
Along with the change in terrain, MacFarland-Helton added that many families have relocated since last September.
"We didn't know what to expect coming in after the storms, but we are happy with the numbers that came out," she said. "The enthusiasm has been incredible and we have all of our volunteers, along with strong support from the community."
According to organizers, approximately 75 volunteers were on the race course Saturday, along with students from eight local schools. Addelita Cancryn Junior High and Antilles School had 16 competitors each at the event, while students from All Saints, Lockhart Elementary, Gladys Abraham Elementary, V.I. Montessori School and Peter Gruber International Academy, Calvary Christian also participated, along with several home schoolers.
"This is the first year we are participating and we couldn't be more excited," said Belinda Bedminster, whose son attends Cancryn. "He's a big runner and when he heard about triathlon, he said he just had to do it, and I know he was happy to enter with his friend as part of a team."
The Kids Tri each year is Rotary Sunrise's biggest community service event, raising money for causes and charities across the district. Past proceeds have been used for donations to Camp Shriver, St. Thomas Swimming Association, Jane E. Tuitt School, Seaview Adolescent Academy, The Family Resource Center, M2M Road Race, Lucinda Millin Home for The Aged and the Peter Gruber International Academy Interact Club, along with scholarships through the club's Ron Magnuson Scholarship Fund.
In 2017, Addelita Cancryn Junior High School used triathlon proceeds to conduct a six-week swim lesson and water safety program at Brewers Beach, sponsored by Rotary Sunrise.
Sponsors this year included: Scotiabank, AT&T, Children's Trust of the Virgin Islands, BrisaMax Holdings, LLC, FirstBank, Heavy Materials, VI Lottery, BDOVI, Community Medical Laboratory Inc., Merchants Commercial Bank, PriceSmart, TUTU Park Mall, ADT Virgin Islands, AH Riise, Cari Care Family Health, Natural Food Grocery, VI Orthopaedics, Custom Builders, Attorney Marjorie Roberts, Baker Magras and Jewel House. In kind sponsors include Fortress Storage, Storage On Site and Cool Signs.
This year's winners by age group were:
Age 12-15
Boys
First place, Tyler Weiss, 37:37
Second place, Stephen Richardson, 50:27
Girls
First place,Shaiah David, 34:28
Relay Teams
First place, Kasim Stedmon, Jamal Williams, Jamal Nisett, Jr., 36:45
Second place, Erick Melendez, Brayan Steven Cuelloir, Timori Bell, 36:55
Third place, Natalie Bryan, Nadesha DeJesus, Nahiemer Eve John, 39:25
Age 9-11
Boys
First place, Nehemiah Severin 15:52
Relay Teams
First place, Ayden Maeomson, Matthew Meyer, Edward Foerstel, 13:44
Second place, Cooper Bared-Smith, Jaden Amaro, Benjamin Thill, 14:16
Third place, Sofia Kappel, Ellis Wisehart, Mariana Brunt, 14:18
Age 5-8
Boys
First place, Sonny Gonzalez,7:08
Second place, Boarden Gonzalez, 7:18
Third place, Ajoni Stapleton, 9:26
Girls
First place, Kiera 9:40
Second place, Maya Chase, 9:43
Third place, Jada Chase, 10:43
Relay Teams
First place, Coby Fagan, Harrison Oriol, Sanjiv Bachan, 7:08:8
Second place, Morgan Richardson, Cynthia Connor, 12:58
Third place, Omar Brown, Braydon Richardson, Jerome Boschulte, 14:49