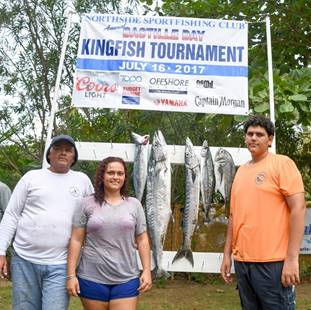 The Northside Sportfishing Club has announced that the 30th Bastille Day Kingfish Tournament – the inshore fishing tournament that offers the best prizes and attracts more participants than any other of its kind in the U.S. Virgin Islands – will take place on Sunday, July 15, at Hull Bay Hideaway.
"While we had hoped to have a large scale 30th anniversary celebration this year, I am proud that the club decided to continue this great tradition on the Northside despite the hurricanes and current state of the beach due to the recent Nor'easter. We recognize that some of our participants have suffered great losses, but we hope, if nothing else, the tournament is a symbol of normalcy and an opportunity for us to come together once more," said Catherine Bryan, one of the tournament organizers.
First organized by the Northside Sportfishing Club in 1987, the tournament last year attracted 175 anglers, including 30 junior anglers, aboard 59 boats. Seventeen-year-old Lawrence Aubain Jr. of St. Thomas reeled in the largest kingfish, a 26.05-pounder, aboard the 31-foot Bertram About Time. In addition, there are a dozen more prize categories that include Best Boat, Best Captain, Best Male, Best Female, Best Junior Male, Best Junior Female and prizes for fish species other than kingfish such as Largest Barracuda, Bonito and Mackerel.
The fishing will start at 5:30 a.m. and end at noon, sharp, when the beachside party begins at Hull Bay Hideaway with food, music by local bands and fun lasting right up until the Awards Ceremony.
The Annual Bastille Day Kingfish Tournament is held in observation of the island's French heritage. The tournament is one of the big reasons why online travel advisor www.Hotwire.com named St. Thomas, U.S. Virgin Islands, one of the Top 10 destinations in the world to celebrate Bastille Day.
As well as being a day of fishing and fun for the whole family, the annual tournament benefits a variety of local organizations such as the Joseph Sibilly School, St. Thomas Rescue, Civil Air Patrol and Nana Baby Children's Home, and it also provides college scholarships. Over the past three decades, the nonprofit Northside Sportfishing Club by way of its annual Bastille Day Kingfish Tournament has donated nearly $200,000 to community organizations.
For more information, call 998-0854 or check visit Facebook @ Northside Sportfishing Club.