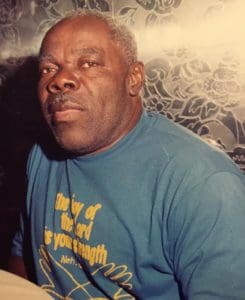 Othneil Theophlius Somersall on March 1.
He is survived by his daughter, Jenifer Rhymer; son-in-law, Alvis Rhymer; grandson, Maleek Somersall; granddaughter, Alvisha Rhymer; three nieces and five nephews; and cousins: (St. Thomas) Christiana Saunders and family, Edwards Saunders M.D., Esther Lynch-Izaak and family, John and Urna Lynch and family, Milton and Terri Lynch and family, John and Camelita Greenaway.
He is also survived by cousins (Boston) Patricia (Edna) Cabey and family, Violet Francis and family, Eunice Lee and family, Yvonne Lynch-Bousibin and family, Valerie Lynch Sarah and Mary Herbert and family; cousins (London) Doreen Lynch-Ryan and family, Josephine Lynch-Brown and family; as well as many other relatives and friends too numerous to mention.
The first viewing will be held from 5-7 p.m., Friday, March 23, at Turnbull's Funeral Home. The second viewing will take place at 9 a.m. followed by a funeral service at 10 a.m., Saturday, March 24, at Mount Zion New Testament Church of God, Anna's Retreat. Interment will be at Eastern Cemetery, Smith Bay.
All funeral services are by Turnbull's Funeral Home and Crematory.