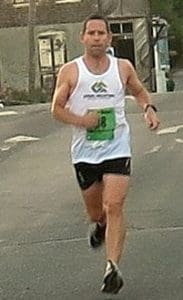 Capt. Teddy Seymour made history on June 19, 1987, when he sailed his 35-foot sailboat Love Song to the pier in Frederiksted, St. Croix, to become the first black man to sail around the world alone.
During Black History Month each year, including the one when he was out to sea on his historic voyage, the V.I. Pace Runners have held the Toast-To-The- Captain 8.4-Mile Road Race. Wallace Williams, V.I.Pace Runners founder/president/race director, came up with the idea for the race as he monitored his friend and fellow runner's historic voyage.
"I got the idea as Ted reported to me while out to sea that with every chance he would go for a run… that he ran in a 5K road race while at port in American Samoa. I chose the route for his race because it was one of our favorite training routes, and it started and finished in historic Christiansted (Christiansted National Historic Site of the National Park Service) on the spot where thousands of enslaved Africans set foot on the island after they were taken from their home land… I thought it would be a fitting tribute."
Joe Noonan, a new comer to St. Croix and with the Virgin Islands National Guard, took the lead in the race Saturday morning from Dominic Pugliese in the first 3 miles. Noonan gained distance on the small group going up Lowry Hill and the 10K mark and went on to finish first overall in 56:58. Pugliese, training for the Youth Olympic Games in Argentina this summer, was pursued by Ruth Ann David, who had traveled from St. Thomas. She is a two-time team medalist for the V.I. CAC Cross-Country Championships. Bridget Klein, 2018 V.I. Half-Marathon champion Bridget, who is also Pugliese's Good Hope Country Day School coach, passed both David and him between the 4- and 5-mile marks. Pugliese hung on and came back to overtake Klein with less than two miles to go to take 2nd-place in 59:13; Klein cheering her runner on as he passed her, finished first for females and third overall just a little behind in 59:20; Ruth Ann David, had a strong 2nd-place female finish in 60:18; Megan Lambert was the 3rd-place female in 63:58; Paul Evora was the 3rd-place male in 67:37.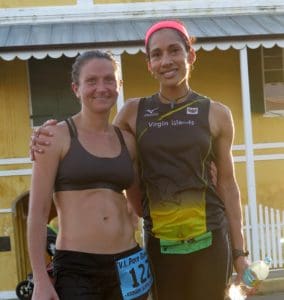 The next race on the V.I.Pace Runners calendar is: The Annual Flight 64 Four-Mile Road Race at 7 a.m. on March 4, which will be followed by the first UVI Founders' Day Mile on March 23.
For information on the history of The Toast-To-The Captain road race or Captain Seymour, logon to: http://virginislandspace.ort and scroll down. For questions to test your knowledge of the race, of Captain Seymour and a selected Black History Month topic, logon to: https://www.surveymonkey.com/r/toasttocaptain
For information: logon to: http://virginislandspace.org or email: [email protected] or call 643-2557.
THE 32ND ANNUAL TOAST-TO-THE CAPTAIN ROAD RACE, 8.4 Miles, February 17, 2018, Christiansted National Historic Site, St. Croix, Virgin Islands USA, Organized by the V.I.Pace Runners
Place/Name/Age/Sex/City or Club/Time/Pace
1 JOSEPH Noonan 49 M St. Croix,56:58 6:47
2 DOMINIC Pugliese 16 M St. Croix, 59:13 7:03
3 BRIDGET Klein 34 F St.Croix, VI 59:20 7:04
4 RUTH ANN David 44 F St. Thomas, VI 1:00:18 7:11
5 MEGAN Lambert 36 F St.Croix, VI 1:03:58 7:37
6 PAUL Evora 48 M St.Croix, VI 1:07:37 8:03
7 JESSICA Carter 30 F St. Croix, VI 1:11:45 8:33
8 HEIDI Snow 42 F St.Croix, VI 1:11:56 8:34
9 NICOLE Huston 23 F Dublin, Ohio 1:12:23 8:38
10 SHARI Bashaw 56 F St. Croix, VI 1:17:22 9:13
11 ROB Wolfe 57 M St. Croix, VI 1:17:22 9:13
12 PAUL Dejardins 63 M St. Croix, VI 1:19:07 9:26
13 FLORENDO Astropabo 39 M St.Croix, VI 1:22:23 9:49
14 OLGA Capriola 51 F St. Croix, VI 1:38:15 11:42
15 FRANCES C. Gaskin 82 F St. Croix, VI 2:04:54 14:53
AWARD LIST FOR RACE; THE 32ND ANNUAL TOAST-TO-THE CAPTAIN ROAD RACE,8.4 Miles, February 17, 2018, Christiansted National Historic Site, St. Croix, Organized by the V.I.Pace Runners
***MALE OVERALL RESULTS FOR 8.4 MILE RACE***
1 JOSEPH Noonan 49 St. Croix, 56:58 56:58
2 DOMINIC Pugliese 16 St. Croix, 59:13 59:13
3 PAUL Evora 48 St.Croix, 1:07:37 1:07:37
4 ROB Wolfe 57 St. Croix, 1:17:22 1:17:22
5 PAUL Dejardins 63 St. Croix, 1:19:07 1:19:07
6 FLORENDO Astropabo 39 St.Croix, 1:22:23 1:22:23
***FEMALE OVERALL RESULTS FOR 8.4 MILE RACE***
1 BRIDGET Klein 34 St. Croix, 59:20 59:20
2 RUTH ANN David 44 St. Thomas, 1:00:18 1:00:18
3 MEGAN Lambert 36 St. Croix, 1:03:58 1:03:58
4 JESSICA Carter 30 St. Croix, 1:11:45 1:11:45
5 HEIDI Snow 42 St. Croix, 1:11:56 1:11:56
6 NICOLE Huston 23 Dublin, Ohio 1:12:23 1:12:23
7 SHARI Bashaw 56 St. Croix, 1:17:22 1:17:22
8 OLGA Capriola 51 St. Croix, 1:38:15 1:38:15
9 FRANCES C. Gaskin 82 St. Croix, 2:04:54 2:04:54
FEMALE AGE GROUP 1 – 20 and MALE AGE GROUP 1 – 20
1 DOMINIC Puglise 59:13 16 St. Croix, VI 59:13 59:13
FEMALE AGE GROUP: 30 – 39
1 BRIDGET Klein 59:20 34 St. Croix, VI 59:20 59:20
2 MEGAN Lambert 1:03:58 36 St. Croix, VI 1:03:58 63:58
3 JESSICA Carter 1:11:45 30 St. Croix, VI 1:11:45 71:45
MALE AGE GROUP: 30 – 39
1 FLORENDO Astropabo 1:22:23 39 St. Croix, VI 1:22:23 82:23
FEMALE AGE GROUP: 40 – 49
1 RUTH ANN David 1:00:18 44 St. Thomas, VI 1:00:18 60:18
2 HEIDI Snow 1:11:56 42 St. Croix, VI 1:11:56 71:56
MALE AGE GROUP: 40 – 49
1 JOSEPH Noonan 56:58 49 St. Croix, VI 56:58 56:58
2 PAUL Evora 1:07:37 48 St. Croix, VI 1:07:37 67:37
FEMALE AGE GROUP: 50 – 59
1 SHARI Bashaw 1:17:22 56 St. Croix, VI 1:17:22 77:22
2 OLGA Capriola 1:38:15 51 St. Croix, VI 1:38:15 98:15
MALE AGE GROUP: 50 – 59
1 ROB Wolfe 1:17:22 57 St. Croix, VI 1:17:22 77:22
FEMALE AGE GROUP: 60 – 69
MALE AGE GROUP: 60 – 69
1 PAUL Dejardins 1:19:07 63 St. Croix, VI 1:19:07 79:07
FEMALE AGE GROUP: 70 – 99
1 FRANCES C. Gaskin 2:04:54 82 St. Croix, VI 2:04:54 124:54
MALE AGE GROUP: 70 – 99