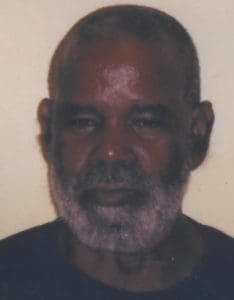 Ralston Newman Farrington, also known as "Rabbit," died on Feb. 11 at Schneider Regional Medical Center.
He is survived by his daughter, Sandra Farrington; adopted daughter, Wendy Kelsick; grandchildren: Basil K. Munroe and Berris K. Munroe; brothers: Franklyn Daly and Alfred Albato Lloyd; sisters: Heidi Lloyd, Herdinia Lloyd, Jean Colyer, Lynette "Eva" Burton-Ngumi and Thama Figueroa; sisters-in-law: Karena Daly and Eileen Lloyd; nephews: Tim Daly, Franklyn Daly Jr. and special nephew Rudolph Daly;
He is also survived by special nieces: Monique Lloyd, Coreen Lloyd-Adams, Linda Daly Harris and Clarice Daly; nieces: Sarah Lloyd-Gomez, Michelle Lloyd, Kim Daly, Lyn Daly, Roxanne Daly, Samantha Daly, Sparkle Daly, Radiant Daly and many more nieces, nephews, great nieces, great nephews and cousins; special cousin, Milicent Penn; special friends: Denise Hall, Benji DeGout, Gail Brathwaite, Laurel Payne, Giselle, Arthur Titley and Lavida Cottoy.
Relatives and friends are respectfully invited to attend the viewing from 9:30-11 a.m., Monday, Feb. 26, at The Celestial Chapel of Hurley Funeral Home. It will be followed by the funeral service at 11 a.m. Interment will be at Eastern Cemetery, Smith Bay.
For directions and online condolences, visit www.hurleydavisfuneralhome.com
Arrangements are under the care of Hurley Funeral Home of St. Thomas, St. John and St. Croix.