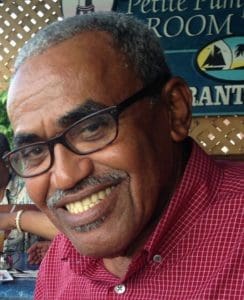 Kenneth Derry O'Neal died on Feb. 14 in Arlington, Virginia. He was 74 years old.
He is survived by his sons: Kenneth and Derrick O'Neal; daughters: Maria O'Neal Wallace, Marcella O'Neal and Lisa Singh Testamark; grandchildren: Dean II and Michael Wallace, Joa O'Neal, Allyson Testamark, Glen Testamark II, and Nika, Taryn, Sonrisa, Darius, Solyce and Djarin O'Neal; great-granddaughter, Sophia Ellie Wallace; son-in-law, Glen Testamark; daughters-in-law: Angela Roberts O'Neal and Jade Bryan O'Neal.
He is also survived by his brother, Jimmie Rogers; sister, Annette O'Neal Scantlebury; brothers-in-law: Cele Ross, Kenneth Niles, Dougal Niles, Navarro Niles, Arthur Niles and Ive Swan; sisters-in-law: Enid Niles Blyden, Vadis Niles, Moira Niles Roberts, Felicia Dessuit Niles, Laraine Smith Niles and Judith Hodge Rogers; special nieces and nephews: Denise Scantlebury, Dennis O'Neal, Arturo Niles, Jeffrey O'Neal Canton and Jacqueline Simpson.
Other survivors include special family and friends: Rudinell O'Neal, Rudinell O'Neal Jr., Hazel and Conrad DeCastro, Ottley Flax, Oren Stephens, Anton and Noreen Esanason, George and Sadie Moolenaar, Benjamin and Jonetta Hill, Brandon and Lorraine Richardson, Robbie Roberts, Johnny O'Neal, Kwame Roberts, Thelma Santiago, Juliete Hendricks, Dean Michael Wallace Sr., Laurence and Judith Bryan, Norma Bryan and many others too numerous to mention.
The family requests mourners wear festive colors.
A viewing will be held at 9 a.m. followed by a funeral service at 10 a.m., Tuesday, Feb. 27 at Christ Church Methodist Church. Interment will be at Eastern Cemetery.
For directions and online condolences, please visit, www.hurleydavisfuneral.com
Funeral arrangements are by Hurley-Davis Funeral Home.