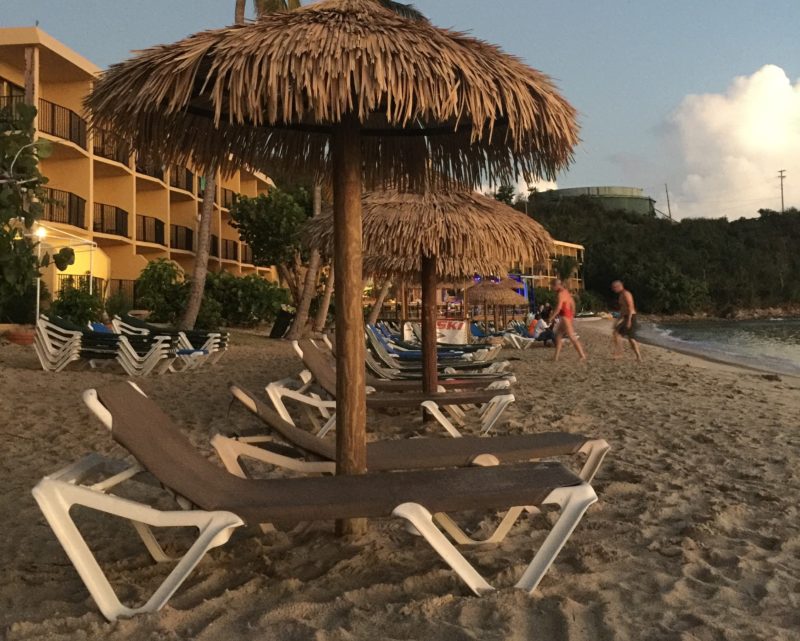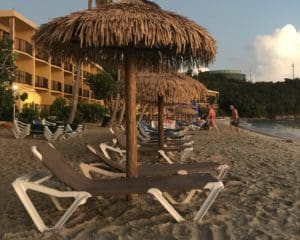 How ready for visitors is the Virgin Islands tourism sector?
Define "ready."
Take the case of the Windward Passage Hotel, a fixture on the Charlotte Amalie Waterfront. Of its 148 rooms, 120 are in good repair and definitely available for occupancy, but right now only 56 of them have air conditioning.  The on-site restaurant isn't open yet either.
"We won't even start our renovations until March 30," said Pam Kelly, the hotel's director of sales and marketing.  She estimated those will be completed in December.
For now, the Windward is concentrating on recovery workers.  It's housing FEMA workers, border patrol agents and other government-related people, including some coming to the island for court hearings. Kelly said she's warning guests about the upcoming renovation, but anticipates the disruption will be minimal for them since most are away from the hotel during the work day.
The hotel does accommodate the occasional short-term traveler – say someone staying overnight before hopping on a ferry — but Kelly said she advises potential vacationers that this is not the time to come.
Currently, that's the common position on tourism at the territory's hotels.
"Most are discouraging it," said Lisa Hamilton, executive director of the V.I. Hotel and Tourism Association, although she added that a few places are fully up and running and are welcoming vacationers.
For instance, Gallows Point Resort on St. John reopened for tourists Dec. 20, according to manager Akhil Deshwal. Its Ocean 362 restaurant is open, and 52 of its 60 guest rooms are in order.
The resort accommodated a lot of FEMA and visiting electrical workers in the first months after the September storms, Deshwal said, but now about 95 percent of its guests are vacationers, many of them repeat customers.
In fact, Deshwal said he could handle more vacationers than he has. Usually this time of year, he sees occupancy at 100 percent, but now it's about 65 percent to 70 percent. He blames the situation on a lack of airlift; some people had to cancel their bookings because they couldn't get airline tickets.
Other hotels listed in association records as open are Emerald Beach Resort, Lindbergh Bay Hotel and Villas, the Green Iguana, Mafolie Hotel and Island Beachcomber on St. Thomas, and Hotel on the Cay and The Palms at Pelican Cove on St. Croix.
All of them are small to medium-sized properties.
The large, corporate chain properties are a different story.
Hamilton is careful about publicizing projected opening dates since there are so many variables that can affect construction schedules, and any prediction is "a moving target." But she does keep a running list of anticipated dates, as supplied by the properties themselves.
The territory's largest hotel, Marriott Frenchman's Reef, is not predicting a reopening until the fourth quarter of 2019, meaning it would effectively be out of play during the 2018-19 tourist season.
The Ritz-Carlton and the Westin are looking at January 2019 reopenings, obviously well into the 2018-19 season.  Similarly Sugar Bay, Caneel Bay and Flamboyant are expected to be closed through 2018, and the Elysian and Bluebeard's Beachclub are not expecting to reopen until the first and second quarter of 2019, respectively.
There are a few properties that still may open this year, including Margaritaville, which is aiming for early summer.
But clearly the number of rooms available for next season will be far less than they were last season.
"We're all looking for some positive news, and the hotels really are the key," said Judi Nagelberg, founder and co-owner of Island Meetings and Incentives, which handles arrangements and special events for group travelers. "My business is dead until the hotels reopen. . . Our business is two years down the road, if we're lucky."
It's not only the hotels, either. There is uncertainty about when some attractions will reopen, including the Mahogany Run Golf Course, zip line operations, and St. Peter Greathouse.
For many years, Nagelberg has promoted "voluntourism" – a combination of community service and vacation, generally with group participants. In the current situation, she's concentrating on that.
"We're all re-inventing ourselves," she said.
Having spent most of a lifetime working in the V.I. tourism industry, Nagelberg said she's confident it will rebound eventually.
"We just have to be able to wait it out," she said.
Editor's note: "The Mountain Top shops and overlook has been open for business since October. An earlier version of this story incorrectly said there was uncertainty about when it would reopen."