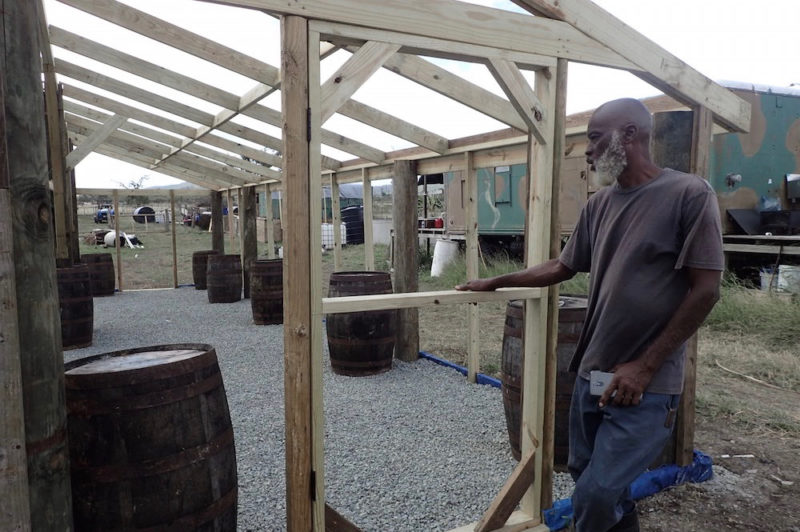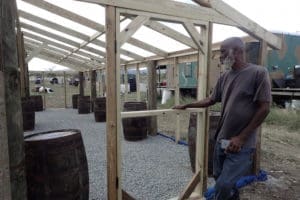 Even without much official relief aid, farmers on St. Croix are coping with the aftermath of September's hurricanes with the help of volunteers, a few donations and through their own resiliency.
Farms in the lowlands fared no better than those on mountaintops. They were devastated, and farmers have struggled since then to replant crops in the waterlogged soil.
By now, most have harvested fast growing produce while a few have found it necessary to pursue other lines of work to tide them over while they can rebuild and regrow.
GLG Plants and Produce
Grantley Samuel of GLG Plants and Produce is one of the farmers who found outside work while he rebuilds his mid-island farm. Samuel has been selling his succulent produce and potted herbs for years on East End Road, but his five-acres of land, leased from the Department of Agriculture. remains littered with the remains of vegetation, water tanks, tool sheds and chicken pens.
Everything above ground was destroyed. Only the underground pipes survived Hurricane Maria on Sept. 19. Samuel received a small grant from the Florida Organic Growers and hopes a FEMA grant will be approved. He gave up dealing with the V.I. Labor Department when he was asked to complete another application after receiving an approval letter, but no unemployment check.
"I kind of gave up doing my thing. I have to get back on the road," Samuel said.
Samuel has found work removing debris and bees from unwanted locations and has started to replant crops – tomatoes in pots for now. He said he also hopes to grow corn, okra, eggplant, watermelon, pumpkin and more herbs in time for May's Agriculture Fair.
"It took 12 years to get where I was. Now, I'm hoping to get further than that. It's hard to build, then see it gone and start from scratch," Samuel said.
Ridge To Reef Farm
Nate Olive and the crew at Ridge to Reef on the mountain overlooking the rain forest continue, five months later, to clear tree limbs and other debris from the 100-plus acre farm.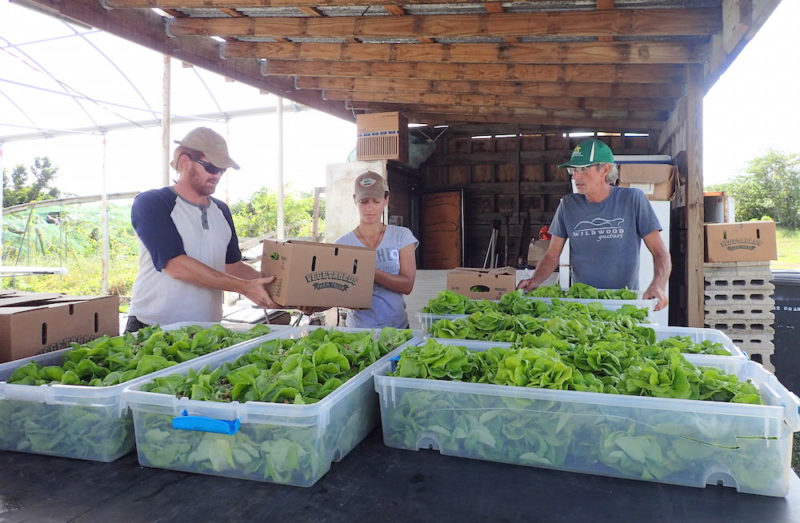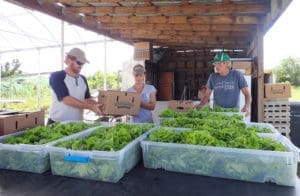 With the help of staff, former students who came to the island to help and other volunteers, the Farm to School program is being resurrected.
Last week, Bibb lettuce was sent to the St. Croix schools and 90 cases were shipped to St. Thomas. Eventually, as enough other produce is harvested, more items will be shipped – the program mandates that all schools receive the same items so the lunches are consistent territory wide.
"School lunch is the biggest lunch in the Virgin Islands every day," Olive said.
Since 2014, R2R has grown beans, lettuce mixes, pumpkin, cucumber, watermelon, kale and other produce for the territory's public schools. Getting the program back up and running has been difficult since the hurricanes, which also destroyed the farm's only tractor. A donation drive has raised almost enough to buy a used tractor and Olive hopes one can be purchased and delivered soon.
Still, there has been no income from the school program and as Olive juggles a few dollars in relief funds he is thankful for more than 100 volunteers – including 30 Danes who worked the farm for three weeks – to plant seedlings and continue to remove debris.
"It has been a great, sweet time at the farm with these people who are truly here to help," he said.
On March 9, registration will begin for the R2R CSA (community supported agriculture) program that will include greens, pumpkin, herbs, spinach, onions, okra, turnips, coffee beans and pork.
Sejah Farm
Volunteers have been important also in rebuilding Sejah Farms in Estate Glynn.
Owners Dale and Yvette Browne described the work provided by more than a dozen members of the Solidarity Brigade and the Southeastern African American Farmers Organic Network from around the country who repaired fences, built a greenhouse and honeybee boxes and tilled the fields.
There should be enough zucchini, lettuce, Swiss chard and other produce to open the farm stand next week, they said.
Along with other community volunteers, the so called farmer-responders stayed on the farm for three weeks, in tents provided by VITEMA. They ate three meals a day cooked by the Brownes and friends under a huge Agriculture Department tent. The community donated food, water and even cookware, they said.
"We put out a call to volunteer and our community responded," Dale Browne said while showing off the new greenhouse, strengthened by telephone poles in the corners.
Browne is eager to use the 20-by-40-foot nursery to start seedlings and raise kale, bok choy, cucumbers, okra and other fruits and vegetables. The greenhouse/nursery can be dismantled easily in case of another storm.
The Brownes also suffered extensive damage to their home. They are hoping for a FEMA grant to help them rebuild.
Some federal funding has helped farmers replant trees, replenish livestock and clean debris through the Farm Service Agency and U.S. Department of Agriculture.
According to Julie Wright of the USDA, that department was given $10 million to help farmers in the Virgin Islands and Puerto Rico. The local DOA has no funding available to help farmers and struggles to rebuilt the fairgrounds property in time for the Ag Fair, as it is commonly known, which will be held in May.