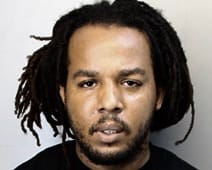 The V.I.. Police Department has named 34-year-old Ivan James as the primary suspect in Saturday's double homicide at the Coliseum Cockpit Saturday in Estate Glynn.
The police have set up a hotline for anyone with information to call in on. The numbers are 340-778 2211 extension 6126 or extension 6092.
James was one of four people named a "person of interest" Monday by the VIPD. Two of the others, 37-year-old Jamal J. Young and 38-year-old Elijah Jackson were interviewed by police Tuesday and cleared, according to VIPD communications specialist Glenn Dratte.
Malachi Benjamin, 23, remains a person of interest until police can interview hom, Dratte added.
James is suspected in the deaths Saturday of 32-year old Luis Colon and 46-year-old Jacobo Garcia. According to the VIPD, officers were dispatched at 3:49 p.m. to the Cockpit where shots had been reported. Colon and Garcia succumbed to wounds from the shooting.
According to police, James stands 5 feet, 9 inches tall and weighs 180 pounds. He lives in Frederiksted.
Police urged anyone who comes in contact with any of these men or knows their whereabouts to call the Criminal Investigation Bureau at 340-778-2211, 911, or the anonymous top service, Crime Stoppers USVI, at 1-800-222-8477.