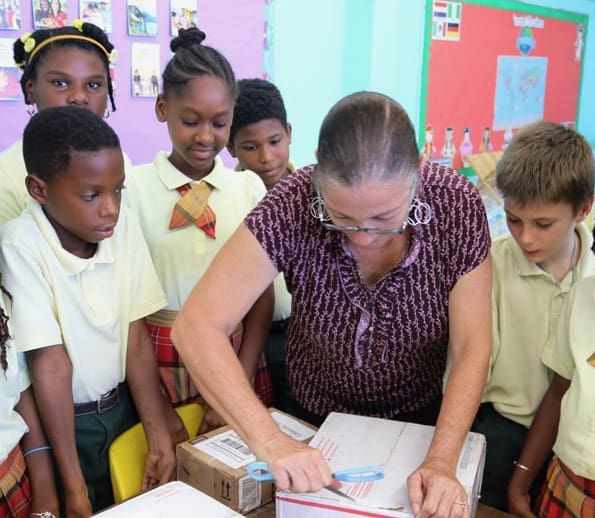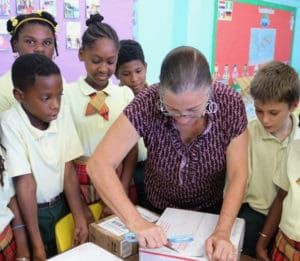 A Massachusetts school and an extended family with members all over the mainland are both making a difference to Pearl B. Larsen Elementary School students.
The Jesperson, Kashiparkh and Shammas extended and related families frequent St. Croix annually for fun, sand, sea and some golfing. But their most recent vacation to the island – after Hurricane Maria – had another purpose. To bring smiles to the students of Pearl B. Larsen Elementary School.
Family members who live in various states, including Florida and California, came together on St. Croix for their regular vacation, and brought bags of school supplies to share with Larsen students.
"We love the island of St. Croix. We try and visit every year and we have always cherished the memories we have made here," a spokeswoman for the Jesperson family said, according to a news release issued Monday by the V.I. Department of Education. The news release did not give the name of the family member.
The family spokeswoman said they were heartbroken when they heard of the damages done to the island by Hurricane Maria.
"We were honored to have the opportunity to visit your amazing school community. Children are resilient and we learn so much from their innocence," she said. "Your students' enthusiasm and joy, even during such a difficult time was a really wonderful experience for us and our children. We were happy to give only a little bit back to a community that gives us so much year after year."
The family unveiled in the school's hall a couple of suitcases filled with school bags and numerous school supplies.
Larsen School Principal Joan Claxton gratefully accepted the generous donation, saying she is "sure it will go far in helping to fulfill our students' educational need."
The school supplies will go to students most deserving at the school.
Also in the spirit of giving, the North Beverly Elementary School in Beverly, Massachusetts, adopted Lisa Magras' fourth grade class at Pearl B. Larsen Elementary. After successfully applying to be a part of the Adopt-A-Class program, a spin-off of the Adopt-A-Family program, Magras' students were the recipients of a couple of boxes containing much-needed school supplies, including crayons, clipboards, banners, rubber bands, erasers, pens, and pencils.
Student Carsen Kean was overwhelmed and said the class would "make good use of these items." Magras too said she was grateful for the added assistance.