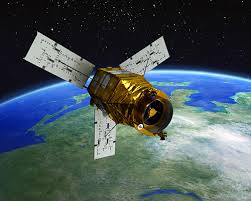 The University of the Virgin Islands will soon have its own satellite. Its physics program is developing the UVI-BurstCube satellite. This project is supported by the UVI NASA-EPSCoR collaboration. The National Aeronautics and Space Administration-Established Program to Stimulate Competitive Research (NASA-EPSCoR) is the program that first funded the revitalization of the Etelman Observatory under Dr. David Morris' directorship some six years ago and which allowed the physics group to hire its first full-time astronomer at UVI, Dr. Bruce Gendre.
Dr. Antonino Cucchiara, assistant professor of physics, and Dr. David Morris, assistant professor of physics and director of the Etelman Observatory, developed this new NASA-EPSCoR project soon after Cucchiara arrived in the 2016-17 academic year. The project is intended to offer a next level of hands-on engineering projects that students in the physics program as well as students in the 3-2 engineering program can take part in.
"We will soon be starting a hiring search for a new satellite scientist who will be based in UVI's physics group. The satellite scientist will also collaborate closely with colleagues at NASA-Goddard Space Flight Center (GSFC) who are also building versions of the same Gamma-Ray Burst detection satellite that we have here at UVI (BurstCube)," said Morris.
The synergistic collaboration between UVI and GSFC provides scientific expertise to the university through the collaboration with the scientists there and provides a host of exciting opportunities for UVI's physics and engineering students to travel to NASA-GSFC during the year and over the summer to work on the project.
"We are incredibly excited about the educational opportunities this program will provide for our students, the research opportunities it will provide for our faculty, and the industrial opportunities it will offer for scientists and researchers working at UVI to pursue commercial sector aerospace contracts," said Morris.
The physics department anticipates this new satellite development program may lead to projects in the physics program's advanced lab courses, and it will lead to a host of potential opportunities for students and faculty alike to engage with the academic and commercial aerospace engineering sector. The current grant outlines a three-year development and build-out phase for the satellite.
UVI-BurstCube is what is known as a CubeSat (Cube Satellite). CubeSats are a mini-satellite protocol developed in the early 2000s to standardize the building and technical aspects of small satellites. They are roughly the size of a shoebox. These satellites have become more and more powerful over the years. The UVI-BurstCube is designed to be a compact and cost-effective platform for detecting gamma-ray bursts similar to the one that led, earlier this fall, to the detection of simultaneous gravitational and electromagnetic waves from the same source for the first time, a discovery that astronomers at UVI were involved in.
For more information, contact Dr. David Morris at dmorris@uvi.edu.