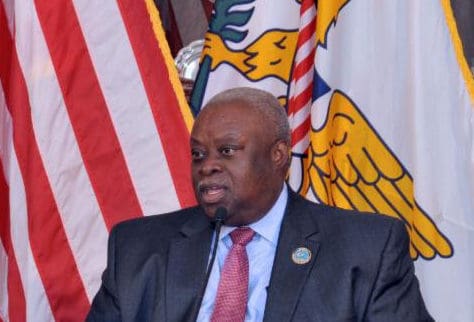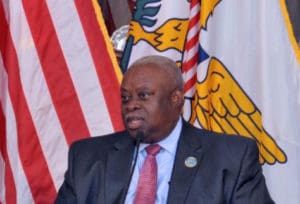 Saying senators have not offered an alternative to handle the massive amount of debris left in the wake of Hurricanes Irma and Maria, Gov. Kenneth Mapp on Thursday vetoed legislation that would ban any controlled burning by the U.S. Army Corps of Engineers.
"This is a herculean task and the Legislature has yet to offer a single viable plan on how we should effectively deal with this issue," Mapp wrote in a letter to Senate President Myron Jackson outlining his action on the bills recently approved by the body.
The Joint Debris Task Force, made up of federal and local officials, has put forth a plan now underway to chip and compost the majority of trees and branches felled during the storm, preserving valuable hardwoods such as mahogany, and allowing burning as much as 35 percent of the debris.
The Federal Emergency Management Agency will pay for all debris removal and disposal until March 20, according to Government House. After that, the V.I. government will have to pay to deal with any debris remaining. And the territory does not have the money to do that, Mapp has said.
In recent Senate hearings, administration officials have estimated the territory is facing a budget shortfall this year of as much as $453 million, so that even with a $250 million disaster assistance loan, there is a $200 million gap between V.I. revenues and expenses in the current year alone.
Officials have estimated that more than 700,000 cubic yards of vegetative waste was created as a result of September's hurricanes.
"Without some incineration, we are unlikely to meet the deadline," Mapp said in his letter.
"I am attempting to make a reasoned decision and remain very concerned about the environment and about the lives and health of the people of the Virgin Islands," he added.
Senate President Myron Jackson (D-STT) has already said he plans to seek an override of the governor's veto.
During a committee hearing Thursday, Sens. Sens Janet Millin Young and Jean Forde both said they will both would vote to over ride Mapp's veto and hoped their colleagues will too.
Mapp signed several bills, including legislation authorizing his administration to enter into the previously mentioned federal Community Disaster Loan. He said some amendments to the authorizing bill, including an effort to direct a portion of all loan proceeds to the Legislature, are "neither appropriate nor legally permissible."
Mapp line item vetoed two sections of the bill sent to him by the Legislature.
"The loan is not a new 'wad' of cash to be appropriated to others as if they were forgotten at a banquet," Mapp wrote.
"Yes, it will cover some costs in our Fiscal Year 2018 budget, but limited to authorized use of the loan proceeds as provided for in federal law. We have assured the federal government that we recognize that a number of the Legislature's amendments run contrary to authorized uses of the CDL proceeds and I'm telling you we will not provide for them," he added.
Mapp approved one a bill which allows for the regulation of the horse racing industry by a single Horse Racing Commission.
"My action will bring efficiency and confidence to the oversight and governance of an industry that is an integral part of the culture of the Virgin Islands. Additionally, professional horse racing will bring positive growth of the economy by bringing jobs and tourism to both islands thus benefitting the territory as a whole," Mapp wrote.
He said another bill, with anti-doping regulations for horse races, "remains in the hands of the Legislature."
On Dec. 1, senators voted to approve an amended version of that bill without anyone voting no.
Mapp said both bills were needed to allow the December 2016 agreement with slot machine operator VIGL to renovate and run the territory's two horse tracks.
"While recovery from Hurricanes Irma and Maria remains our focus, it's essential we continue to look ahead towards normalcy and developing our economy. We await formal receipt of the legislation, however, I am hopeful the racetrack redevelopment can get underway at last," Mapp wrote.
Mapp also approved the Legislature's ratification of a number of Coastal Zone Permits, including for AT&T of the Virgin Islands, Inc. and Lovango Shores, LLC in St. John.