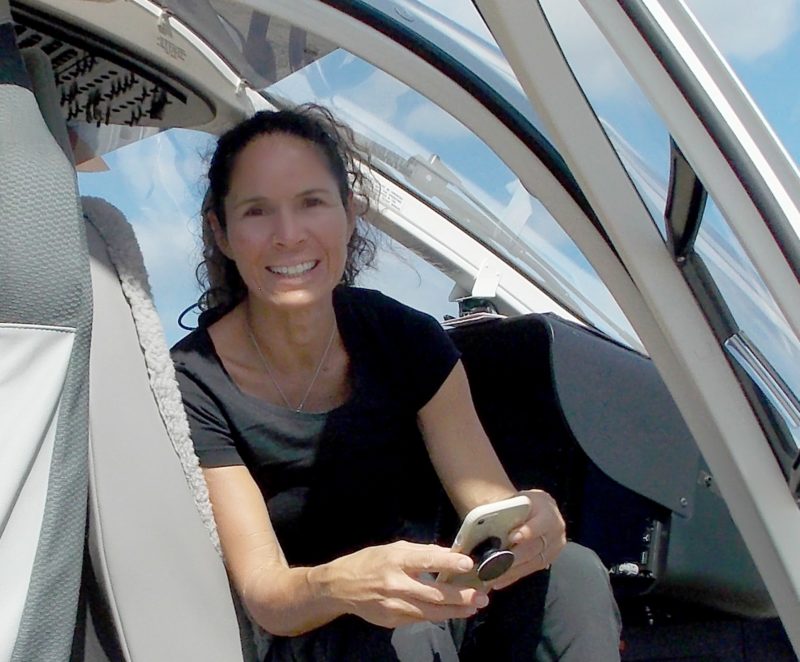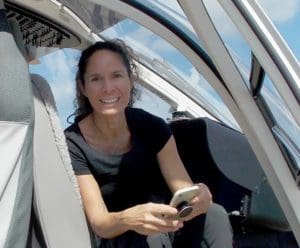 Helicopter Association International (HAI) has announced that Maria Rodriguez of St. Thomas, U.S. Virgin Islands, a pilot for Caribbean Buzz, is the 2018 winner of HAI's Salute to Excellence Appareo Pilot of the Year Award. The award recognizes an outstanding single feat performed by a helicopter pilot during the year or extraordinary professionalism over time. It will be presented at HAI's Salute to Excellence Awards Dinner at HAI HELI-EXPO 2018 in Las Vegas.
When the company Rodriguez flew for several years ago decided to move from U.S.V.I. to the mainland United States, she chose to stay and open her own helicopter companies: Caribbean Buzz and Caribbean Buzz Management. As an owner/operator, Rodriguez and her husband manage a multi-aircraft operation that provides helicopter services throughout the Caribbean, and yacht support operations around the globe, specializing in remote/adventure helicopter and seaplane support. This was a busy year for Caribbean Buzz. She even flew former U.S. President Barak Obama and former First Lady Michelle Obama earlier this year.
In late summer 2017, Rodriguez's home, the U.S.V.I., was in the path of both major Caribbean hurricanes — Hurricane Irma first, followed by Hurricane Maria a few weeks later. With roads impassable after Irma, she walked from the safe shelter to her home, which was battered and flooded but still standing. She hiked for an additional two hours to reach the airport. Her hangar was damaged, but the helicopters had survived unscathed. She rolled them onto the ramp and immediately began to fly support missions wherever she could.
"Every evac flight started with tears," said Rodriguez, "but ended with smiles!"
As Maria bore down upon her home again, she moved her helicopters to a reinforced hangar in Puerto Rico. As quickly as possible after the storm passed, she returned to the V.I. to again fly support missions.
In both instances, Rodriguez documented the devastation to her islands with her camera, posting hundreds of photographs to social media. In turn, these images — often the only photos coming from the region and without compensation to Rodriguez — were picked up by media outlets and reproduced throughout the world. Her images helped to convey the devastation sustained by her island home to millions around the world, resulting in forewarning to others in the hurricane's path and waves of support for the devastated islands.
Rodriguez does not seek the spotlight; she simply continues to serve her community through flight and photographs. She returns daily to the cockpit, flying support and relief missions (for 28 straight days at one point) and is still flying and filming today to support those in need.