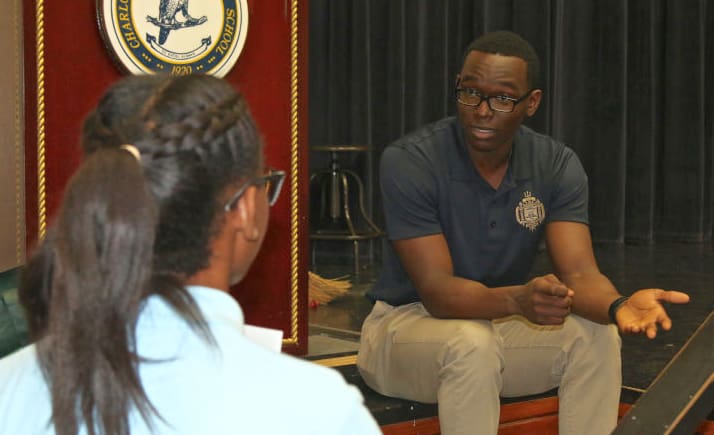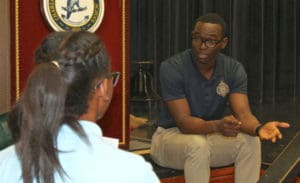 Growing up, Kobe Sutton always knew he wanted to be a military man. The son of a V.I National Guard lieutenant colonel, Sutton also knew that he was more interested in joining the Navy, but since his alma mater, St. Croix Educational Complex, didn't have a JROTC program, he didn't fully commit to the career until his junior year of high school.
What made him finally decide?
"I did a lot of research on the Army and the Navy and it wasn't that I liked one more than the other, it was that one institution stuck out more for me. After that, I went headstrong into the college application process knowing that this is what I aligned best with," said Sutton, a midshipman second class at the U.S. Naval Academy.
Sutton was home in the territory, speaking to Charlotte Amalie High School students about his experiences in applying to schools.
Sutton has been in the territory for about a week and, like many of his naval academy classmates, has been engaged as a student ambassador as part of the Navy's Operation Information program, which allowed him to speak to students on his native St. Croix and on St. Thomas about the benefits of the U.S. Naval Academy and what requirement they would have to meet before being accepted. His message to students has focused on the principle "do it early and do it often," and he added Thursday that "having a clear picture of what you want to do" is just as important.
"In this case, I'm happy that the students have the desire to join the military, but they have to look at which branch they want to be in and what they are best suited for," he explained. "Like anything else, it is important to make sure you are doing something they can be successful in, and for military-minded students, it is important that they apply to a unit in which they can really function."
In order to do that, Sutton, now in this third year at the Naval Academy, encouraged students to start researching their options now, instead of waiting until the last minute.
"Do everything early and do everything often," he said. "Your SAT and ACT prep, for example, do them early and often so that you can get the best scores possible. When it comes to being physically prepared, get out there and get active early, and when you are doing your research before applying, do that early too, so you know as much about what you want to do as you can."
Applying to the Naval Academy, for example, means passing both medical and physical components, and getting a nomination letter from the territory's delegate to Congress. It's a slightly different process for students from the U.S. Virgin Islands, and Sutton told students that getting the ball rolling now would ensure that process goes as smoothly as possible.
"And what I like about doing this is that the students can relate better to what I'm saying because I just went through this," said Sutton, who graduated from Complex in 2015. "Their JROTC instructors, principals and counselors can all say the same thing, but they are so far removed the process that it goes in one ear and out the next. But I'm close to the same age, so they see that this is actually an attainable goal."
In July, the U.S. Naval Academy honored Sutton with the "Most Valuable Midshipman Award" for outstanding performance.
For Sutton's mother, Lorna J. Williams-Sutton, the other important part of her son's message is showing students that someone is there for them, particularly during a senior year impacted by hurricanes that have slowed down the application process.
"Everywhere else, students applying for college are maybe not experiencing the same challenges as our students are," Williams-Sutton said. "So, it is important to let our students know they are not forgotten and that we are all committed to seeing them succeed. And, I think they understood that. This week, I saw the passion and the interest in their eyes, I saw the motivation and I saw their willingness to keep going. When all of us are here recovering, it is important that we can still see all of that."