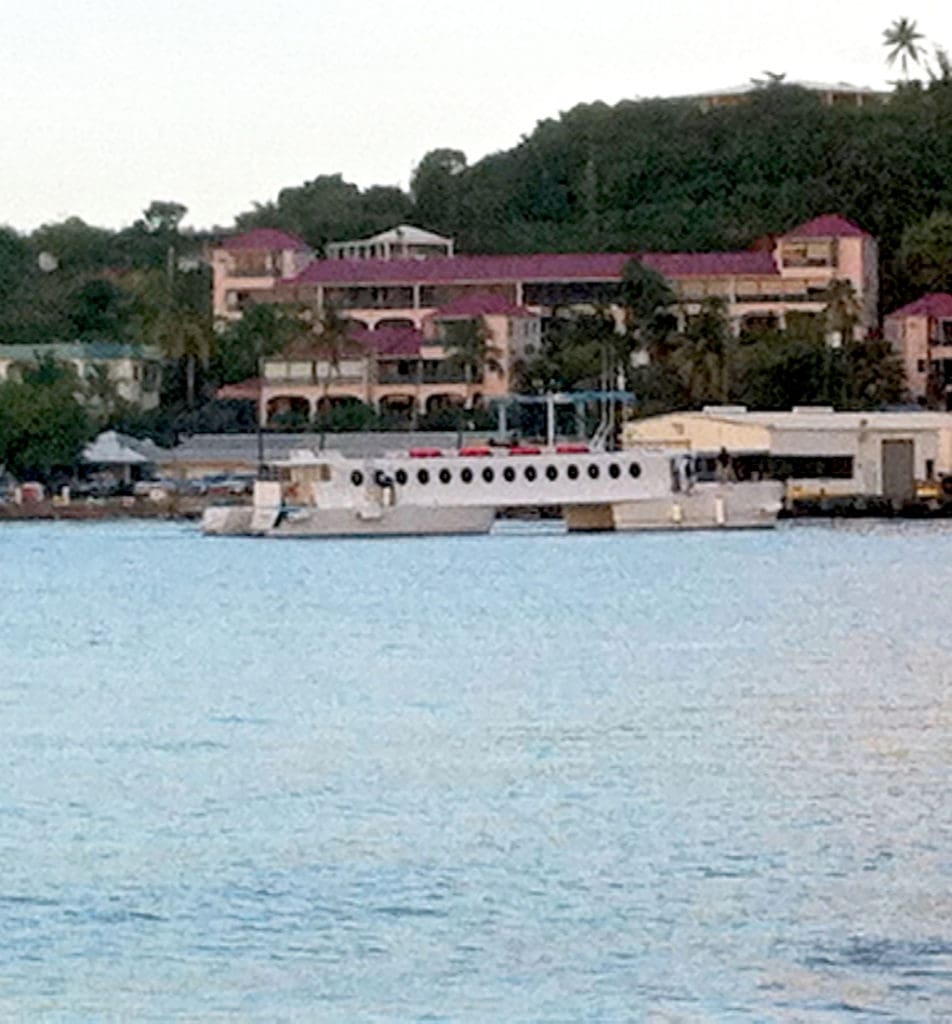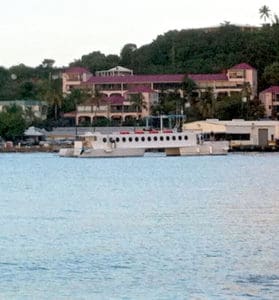 Plans to demolish the Gallows Bay Marine Terminal arrival building and build a new one are back on track, Damian Cartwright, assistant executive director of VIPA, told the Senate's Housing, Public Works, Waste Management and Planning Committee Thursday.
Cartwright testified in support of a Coastal Zone Management permit for that work, as well as for a permit for the dredging of Krause Lagoon, just west of the refinery on the south shore and seaward to the east of the Wilfred "Bombe" Allick Container Port. Cartwright said dredging would allow all cargo shipping to be moved out of Gallows Bay to the south shore. The Gallows Bay port would then be able to handle small cruise ships and large yachts as well as continuing as a ferry dock.
The maintenance dredging of the Krause Lagoon and Cross Channels on the south shore will return it to an operating depth of 36 feet. The dredged material will be offloaded at the Gordon A. Finch Molasses Pier and disposed of in a pit to the North of the Henry E. Rohlsen Airport.
Sen. Positive T.A. Nelson noted that these projects had been "bandied about for a while." And the permit under consideration – which is being forwarded to the full Senate – incorporated an earlier one approved in 2014. Testifiers said the delay was caused by difficulties in getting approval from the Army Corp of Engineers.
Cartwright said, based on the last response he received from the Army Corp, that difficulty has been overcome. Everything is in line to start Phase 1 of the Gallows Bay project, he said, and he hoped work would start early next year.
"This project is 80 percent funded by a TIGER grant in the amount of $13.3 million. VIPA will fund the remaining 20 percent, estimated at $2.7 million. VIPA already has both CZM and U.S. Army Corps of Engineers permit approval for this project," he said.
All the senators in attendance expressed support for the project.
"We are down; we need to hear good news," Sen. Janette Millin Young said.
Sen. Brian A. Smith said the project was "very much needed." He added, referring to testifiers from VIPA and the Department of Natural Resources, "I like that you are demonstrating foresight. This means more jobs and more opportunity for the next generation."
Sen. Kurt Vialet, who was not a committee member, attended the meeting because he saw the projects being "very, very important" and he wanted them to "pass through with no problems."
Sen. Jean A. Forde said he was in support of all the permits before the committee.
Besides the CZM permits for those projects, the committee also forwarded to Committee on Rules and Judiciary for further consideration a CZM permit for the continued operation of the reverse osmosis plant at Mahogany Run golf course. The term of that permit is 30 years.
Sen. Marvin A. Blyden chaired the committee. Members Sens. Neville James and Alicia Hansen were absent.