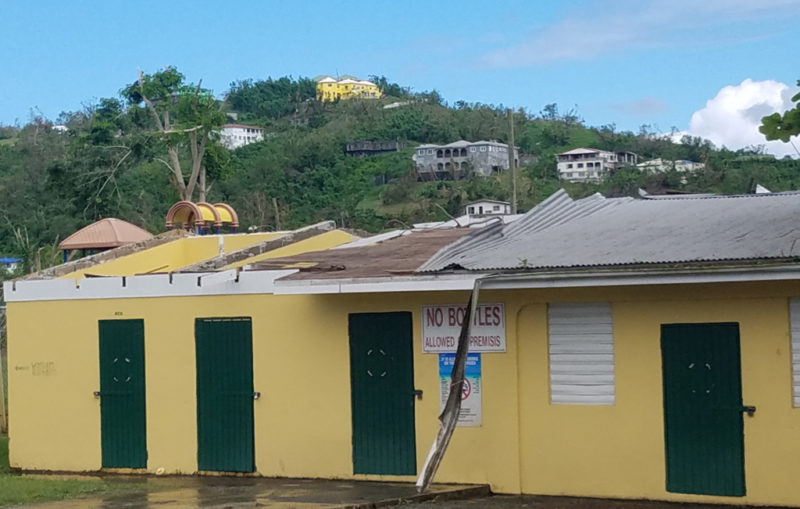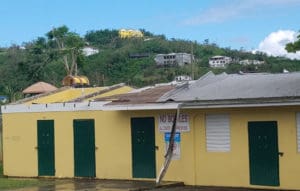 While there will not be a Liberty Day celebration and feast in Grove Place Wednesday thanks to Hurricane Irma, this year is especially appropriate to commemorate the journalist and social activist's legacy.
"Unfortunately, due to severe damage to the facility used for serving the 'bull and bread,' the unavailability of individuals who provide assistance in pulling this monumental occasion together, funding and for other reasons, a determination was made to cancel this year's celebratory activities," said Raymond Williams, chair of the Grove Place Action Committee Chair Raymond Williams, apologizing to everyone who looks forward to the celebration each year.
"This is the first year in my lifetime and in 30-plus years of organizing this cherished occasion to commemorate the life and times of a Virgin Island hero David Hamilton Jackson, that we have been forced to cancel. I can assure the community that we will be back next year with all the fanfare and zeal as in the past," Williams said.
The cancelation is due to the impact of Hurricane Maria on St. Croix, he said.
Born in 1884, Jackson made an indelible mark on the Virgin Islands with his publishing of The Herald in 1915, at the age of 31. As the story goes, the first edition of The Herald was posted upon the Grove Place baobab, and the spontaneous celebration that took place there as a result led to the slaughter of a bull, and the distribution of roast beef and bread to the excited crowd. Since that day, Nov. 1 has come to be known as Liberty Day, D. Hamilton Jackson Day, or Bull and Bread Day.
Superior Court Judge Denise Hinds-Roach read an excerpt from The Herald during Bull and Bread in 2012, that first newspaper in which the editors said, "We are aware that this paper will fall into the hands of those who are not well informed … therefore we are resolved to do what little we can to help them, as we desire this paper's every word to be understood by all."
And from its outset, the paper had a goal of promoting justice and peace, she said, citing another passage from that first edition: "We are going to use it to the best of our ability in bringing about better conditions, social, political and economical, than have hitherto existed."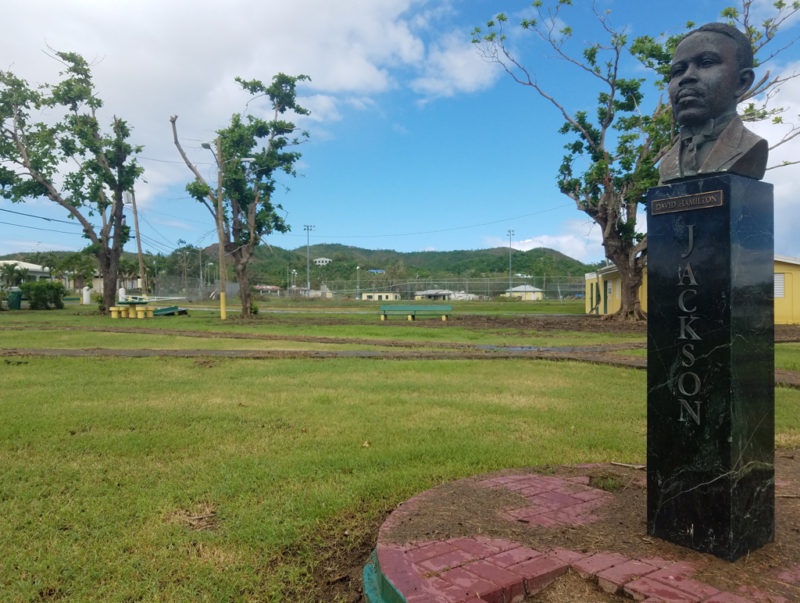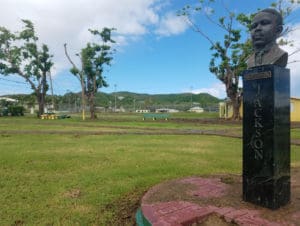 "We know that our efforts will meet with opposition and our motives may be mistaken and misrepresented," she continued reading.
The Herald also had a section of "People's Complaints," which publicized and tried to right some wrongs. Hinds-Roach read one account of a man who was kicked three times "in a delicate part of the body," by his employer on an estate. The editor wrote a complaint for the young man and the landlord was fined $8 after a trial.
In another story she related from that first issue, a cane worker who cut two stalks of cane to eat on the spot, was arrested for the "crime" and sentenced to eight months in jail.
The newspaper was a major milestone, and one which attracted worldwide attention. But Jackson had been organizing labor for some time before then. In 1913 Jackson co-founded the first labor. In January 1915, he initiated a general strike. At the time, most of the people on St. Croix labored on sugar cane plantations under severe work conditions and a standard pay rate of 20 cents a day. The six-week strike crippled a dozen different estates and brought the massive Bethlehem Sugar Factory to a halt at the peak of the harvest. The major landowners and owners of the factory capitulated and overnight wages went up to 35 cents a day – a 75 percent raise.
He advocated for the transfer of the territory from Denmark to the United States, and over the course of his life from 1884 to 1946, he was an educator, editor, labor organizer, lawyer, judge, politician, and athlete.
After the U.S. purchase of the Danish colonies in 1917, Jackson was an influential voice pushing for full citizenship for Virgin Islanders, protesting naval rule and insisting upon civil government, contributing to the passage of the first Organic Act in 1936.
He also reportedly promoted homesteading, purchasing large tracts of St. Croix and splitting them into small parcels that natives of the island could purchase and farm.
Hinds-Roach's mother witnessed Jackson's funeral.
"My mother was a little girl when he died. But she would always talk about that funeral and the procession from where he lived on King Street to the Friedenstahl Church, and how basically the whole island just closed down. And for Grovians to travel to Christiansted in 1946 for a funeral, that was no small feat," she said at the 2012 celebration.
The Grove Place Action Committee organizes the park ceremony every year, putting together a series of speakers, arranging for music and special presentations, and cooking up a giant feast of beef and bread. Every Nov. 1 since 1915 there has been a celebration near the Grove Place Baobab – across the street from Grove Place's D. Hamilton Jackson Park – commemorating the organized labor movement on St. Croix.
Senate President Myron D. Jackson encouraged the community to reflect on Jackson's contributions throughout November by browsing through an online collection of more than 3,000 pages dedicated to his life and legacy.
It can be found at the Digital Library of the Caribbean. People can read for themselves past editions of the Herald, which promised to reform through education the wrongs experienced by the masses. The newspaper boldly took the planter class, police, and military to task, stating that "our aim shall be…to see that justice is administered with equality."
"I am pleased to see the resources now available readily to the public for us to enrich our understanding of this great Virgin Islands hero in our history," Senator Jackson said.
The collection includes copies of his newspaper, The Herald, links to his ancestry, and other related materials, as a result of the passage of Act No. 7771, or Bill No. 31-0230, sponsored by Senator Jackson.
That legislation – Act 7771 – allowed for the digitization of the newspaper and other significant documents and made the month of November "David Hamilton Jackson Month." It was a follow-up to Act. No. 4579, passed in 1981 by the 14th Legislature, proclaiming "David Hamilton Jackson Day," also known as "Liberty Day."