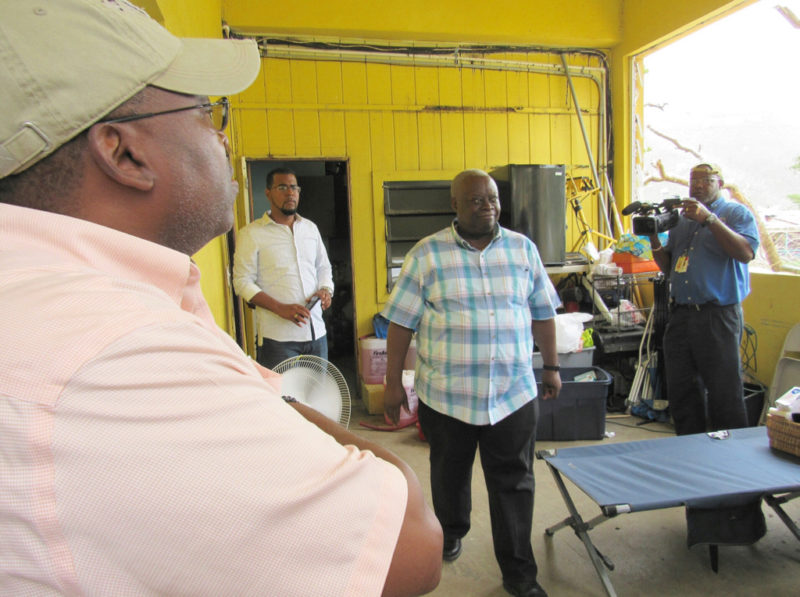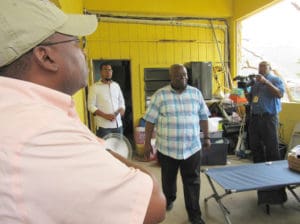 After spending three hours on the ground on St. John – one month after the second of two catastrophic storms dealt their blows – Gov. Kenneth Mapp reassured the island's residents that extra help was on the way. Accompanied by his chief of staff and half a dozen cabinet members, Mapp toured stops from Cruz Bay to Coral Bay, along a portion of Coral Bay Harbor, returning west along North Shore Road, and through the heart of the Virgin Islands National Park.
That tour took top officials past the closed Myrah Keating Smith Clinic, the expanded Susannaberg Landfill, past federally contracted clean-up crews and to the ravaged Coral Bay Fire Station, where firefighters have handed out relief supplies daily since Hurricane Irma on Sept. 6.
Mapp declared the fire house a total loss and said a new one would have to be built elsewhere. Fire Service Corporal Robert Hyde led the walk-through, past the blown out windows in what once was the firehouse kitchen, through the empty bunk area that suffered flooding and the office where masked firefighters battled mold with rags and mops.
Government House Chief of Staff Erroll Farrel said he wanted to do something about Coral Bay Fire House several months ago when he was the designated Fire Services director. Similar conditions made life rough for firefighters at Hotel Company in Fort Christian on St. Thomas, he said.
But when Irma struck, a newly built facility at Estate Ross Taarnberg was ready to receive them. That was not the case in east St. John.
"They're going to need a new station. That can't be a build-back," Mapp said. But there was no immediate answer about what to do to relieve first responders now in hardship.
More immediate plans were shifting into place Wednesday to hasten waste management. Waste Management Authority Director Roger Merritt III stood by as the governor said reinforcements were on the way.
"We have to put more assets, more manpower into household trash removal," he said. That would be done with help from the Federal Emergency Management Agency with manpower already on island.
Mapp spoke from a point a few miles from where a backhoe operator hoisted loads of trash into a dump truck at the foot of King's Hill Road. About a month ago, around the passage of Hurricane Maria, trash heaps rising 18 feet overwhelmed two dumpsters stationed there.
It was there the entourage surveyed some of the worst devastation, along Route 107 and the shore of Coral Bay Harbor, with shattered buildings, shorn mangroves and sailboats washed ashore. They also stopped at an affordable housing community which survived the storms unscathed.
That included the wastewater treatment plant at the Calabash Boom Housing Community, a low-to moderate income private development. Merrit and the governor had a first-hand look at the system, as the WMA director produced an update.
The pump station in Cruz Bay, public housing at George Simmonds Terrace, at Pond Mouth and Power Boyd were all running on generator power, he said. FEMA provided generators for public housing, Pond Mouth and was planning to install a permanent generator at Power Boyd, he said.
Traveling back up Route. 107, Mapp met resident Lorelei Monsanto, who voiced several concerns including the continuous lack of phone service in Coral Bay.
"So we're in left field, all the way," Monsanto said.
The governor assured her that improvements were coming.
"I know Sprint gave us a complete plan yesterday about how they are going to get cell service back to the territory," Mapp said.
VITEMA director Mona Barnes echoed her boss's optimism when asked about how flagging phone service affected access to the 911 emergency call system.
"They are creating more hot spots every day," Barnes said. And she declared 911 fully functional in areas where a signal can be found.
Those outside of the calling area who find themselves faced with an emergency will have to travel to the nearest first-responder station and report in person, she said.
Mapp said he was surprised to find no off-island utility crews working beside the Water and Power Authority. He wanted to see 40 visiting linemen on St. John this week, and more after when more repairmen arrive in the territory.
On the last leg of the tour, Mapp and company rolled downhill towards popular tourist beaches – Maho Bay, Cinnamon Bay Campground, Trunk Bay, Hawksnest Beach. There, they saw the destruction of a seaside pavilion at Maho, extensive damage at Caneel Bay Resort and the devastation at Oppenheimer Beach.
The North Shore destinations represent a V.I. tourism product the governor spoke about earlier this week at a press conference, announcing a restoration task force. To get there, beaches at the V.I. National Park will need a hand. The concrete pavilion at Maho Bay was torn away, as were the decking at popular Trunk Bay Beach and lodging at Cinnamon Bay.
The island's oldest tourist destination, Caneel Bay Resort, also suffered heavily. Mapp said he'd already heard it might take two years for that destination to recover.
That's OK, the chief executive said. They're coming back.