A hurricane watch was issued Monday morning for all of the U.S. Virgin Islands and Puerto Rico and the V.I. Department of Education canceled school Tuesday in the face of the impending arrival of Hurricane Irma.
As of 11 a.m. Irma was a category 3 storm located about 770 miles east of St. Thomas moving south-southwest at 14 miles an hour.
– The Department of Education announced Monday that students in both the St. Thomas-St. John and St. Croix districts are to not report for school on Tuesday. All Education employees, however, are to report for work to secure buildings and workspaces ahead of Hurricane Irma.
– Effective 8 a.m. Monday, the Coast Guard Captain of the Port San Juan, Capt. Eric P. King, set port condition X-Ray for the U.S. Virgins Islands and Puerto Rico.
According to the National Hurricane Center, Irma is expected to remain as a major hurricane as it approaches the territories Wednesday afternoon into Thursday. Irma could cause dangerous winds, storm surge and rainfall impacts across the local islands.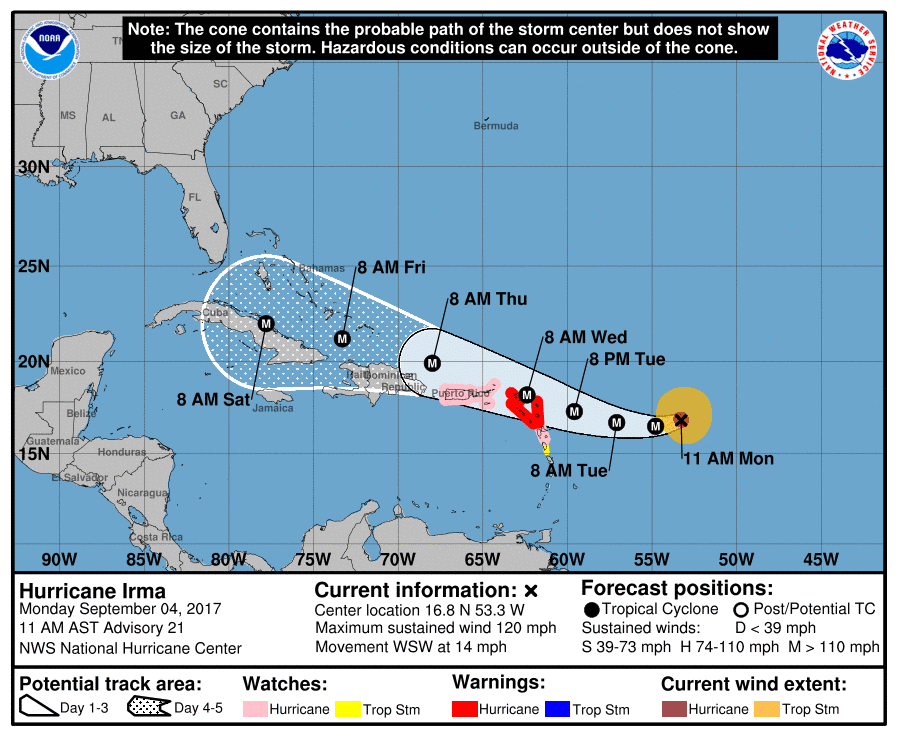 Hurricane force winds are possible across northern U.S. Virgin Islands, Culebra and Northeast Puerto Rico, with strong tropical force winds likely. The rest of the area is likely to experience tropical storm force winds. '
The earliest reasonable time of tropical storm winds is Wednesday morning. Rainfall accumulations between four and right inches with isolated amounts over 10 inches likely Wednesday through Thursday.
Wind
"Prepare for dangerous wind having possible significant impacts," the V.I. Territorial Emergency Management Agency warned, listing potential impacts as:
– Some damage to roofing and siding materials, along with damage to porches, awnings, carports, and sheds.
– A few buildings experiencing window, door, and garage door failures.
– Mobile homes damaged, especially if unanchored.
– Unsecured lightweight objects become dangerous projectiles.
– Several large trees snapped or uprooted, but with greater numbers in places where trees are shallow rooted.
– Several fences and roadway signs blown over.
– Some roads impassable from large debris, and more within urban or heavily wooded places.
– A few bridges, causeways, and accessroutes impassable.
– Scattered power and communications outages, but more prevalent in areas with above ground lines.
Flooding Rain
Prepare for life-threatening rainfall flooding having possible extensive impacts. Potential impacts include:
– Major rainfall flooding may prompt many evacuations and rescues.
– Rivers and tributaries may rapidly overflow their banks in multiple places. Small streams, creeks, canals, arroyos, and ditches may become dangerous rivers.
– In mountain areas, destructive runoff may run quickly down valleys while increasing susceptibility to rockslides and mudslides.
– Flood control systems and barriers may become stressed.
– Flood waters can enter many structures within multiple communities, some structures becoming uninhabitable or washed away. Many places where flood waters may cover escape routes.
– Streets and parking lots become rivers of moving water with underpasses submerged. Driving conditions become dangerous.
– Many road and bridge closures with some weakened or washed out.
Surge
Prepare for life-threatening surge having possible significant impacts across the Atlantic shorelines. Potential impacts in this area include:
– Areas of inundation with storm surge flooding accentuated bywaves.
– Damage to several buildings, mainly near the coast.
– Sections of near-shore escape routes and secondary roads becoming weakened or washed out, especially in usually vulnerable lowspots.
– Major beach erosion with heavy surf breaching dunes.
– Strong and numerous rip currents.
– Moderate damage to marinas, docks, boardwalks, and piers. Several small craft broken away from moorings, especially in unprotected anchorages.
Port Condition X-RAY
During port condition X-RAY port facilities are open to all commercial traffic and all transfer operations may continue while X-RAY remains in effect.
"Mariners are reminded there are no safe havens in these facilities, and ports are safest when the inventory of vessels is at a minimum," the Coast GUard said. "All ocean-going commercial vessels greater than 500 gross tons should make plans for departing the port."
Vessels desiring to remain in port must immediately contact the Cpast Giard Captain of the Port to receive permission and are required to submit a safe mooring plan in writing. Vessels bound for the U.S. Virgin Islands or Puerto Rico unable to depart 24 hours prior to threatening winds making landfall are advised to seek an alternate destination.
Pleasure craft are advised to seek safe harbor. Maritime and port facilities are reminded to review and update their heavy weather response plans and make any additional preparations needed to adequately prepare in case of a potential impact to the area. Mariners can view the latest port updates on the Coast Guard's Homeport site.
At this time, Coast Guard Captain of the Port San Juan anticipates setting port condition Yankee at 8 a.m. Tuesday for the U.S. Virgin Islands and Puerto Rico. These dates and times are subject to change based on future forecast.