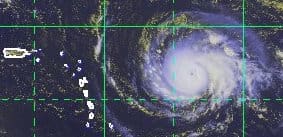 This year's public school opening will be delayed and schools will be closed Tuesday, Wednesday and Thursday this week, Gov. Kenneth Mapp announced Monday morning. Mapp asked school personnel, including teachers, to report to school Tuesday to help "batten down" the schools.
The U.S. Virgin Islands will be placed on a hurricane watch effective 11 a.m. today," Mapp said in a recorded statement. That means the territory can expect hurricane conditions within the next 48 hours. He urged the community to continue their preparations as we are expected to experience the southern quadrant of the storm.
The USVI and Puerto Rico can both expect hurricane force winds, with St. Thomas and St. John projected to see winds of up to 60 knots and St. Croix up to 35 or 40 knots, Mapp said. The territory may get between four and eight inches of rain. Those projections are estimates based on the current strength, size and path of the storm.. The territory is currently expected to experience the southern quadrant of the storm, although its path may yet change.
Mapp is holding a news conference on Hurricane Irma and storm preparations at 3 p.m. Monday, Sept. 4, at Government House, St. Croix.
The news conference will be broadcast live on Government Access Channel 6. Many local radio stations will carry the conference, including: 107.9 FM, 90.7 FM, 93.5 FM, 95.1 FM, 98.3 FM, 99.5 FM, 91.9 FM, 91.9 FM, 104.9 FM and 1620 AM.
More information will be made available at today's news conference. Updates will also be available on the Government House and VITEMA Facebook pages.