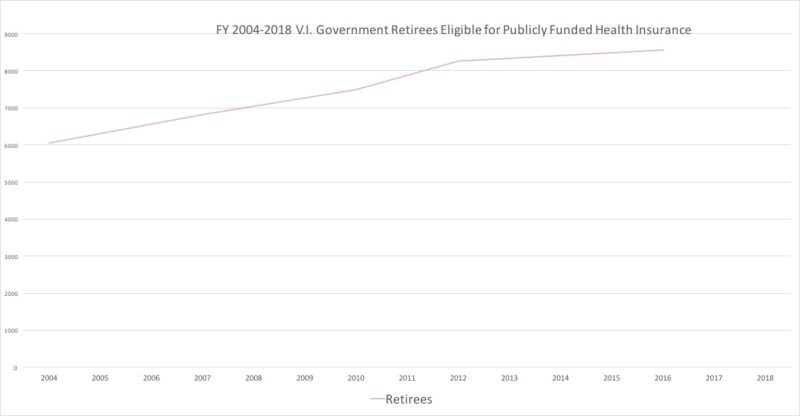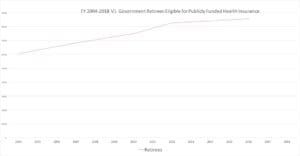 As a cost-saving measure to help with the territory's financial crisis, Gov. Kenneth Mapp sent a bill to the Senate this week changing the formula for premiums for active and retired government employees. It would also have government retirees who get Medicare pay for their own supplemental insurance.
The changes would save about $21 million every year, according to the administration.
Mapp's FY 2018 budget has $15.7 million for retiree health insurance premiums. His FY 2017 budget had $37.4 million. The number has been rising steadily while the budget has been decreasing, both due to rising premiums and an ever increasing number of government retirees eligible for government-funded supplemental health insurance above what Medicare covers. In 2010, premiums for retirees were $19.6 million, rising to $23.9 million in 2012, then exploding to $39.6 million a year later. Changes to the insurance plan reduced premiums slightly after that.
In a statement, Mapp said the change is necessary if the Government Employees Retirement System is to reduce its unfunded liability and if the government's perpetual general fund deficit is to be reduced and eventually eliminated.
The plan would fix the government's contribution to the cost of health insurance for active employees and their dependents at 60 percent. For retirees 65 years and older, who are eligible for Medicare coverage, the retiree would pay 100 percent of any supplemental health insurance premium. For retirees under 65 years, the government would pay 50 percent of supplemental insurance premium costs.
For retirees whose annual income is $20,000 or less, the government's contribution to the health insurance premium would be the same as for an active employee, which is 60 percent of cost.
In a letter to Senate President Myron Jackson, Mapp describes the current health insurance benefit plan for retirees as generous but no longer affordable. The proposed change in shared cost is designed "to sustain employment, secure salaries and contribute funds toward the solvency of the retirement system," he said.
The legislation was not unexpected. When Mapp introduced his FY 2018 budget in July, it included the change."Specifically, the budget assumes a change in the allocation of the employee health insurance cost, which is currently shared 65 percent employer versus 35 percent employees, to a 60 percent employer versus 40 percent employee split for active employees, 50 percent for retirees under age 65, and 100 percent contribution by retirees over the age of 65 (who are therefore eligible for Medicare)," Budget Director Nellon Bowry wrote to senators.
The Mapp administration is also hoping to get another $37.7 million from more effective current year and past year tax collections. Tax increases enacted last year are expected to generate new revenue as well.
Although Mapp's proposal goes further, Gov. John deJongh made a similar proposal in 2012, for similar reasons. DeJongh proposed a 60-40 split for both retirees and active employees. Senators declined to make the unpopular change.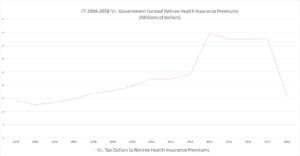 While this plan may be unwelcome to many, Mapp highlighted good news on the health insurance front too. He said 20,000 more Virgin Islanders are now eligible for coverage under Medicaid, thanks to the U.S. Department of Health and Human Services raising the official poverty level. Health and Human Services has also agreed to transfer children from Medicaid and other family coverage plans to the Children's Health Insurance Program, which will free up more Medicaid funds for adult coverage, and to allow households meeting the new poverty level guidelines to transfer children from private family plans, including the local government's subsidized CIGNA plan.
Under CHIP coverage, the federal government pays 91.5 percent of healthcare cost for children from birth through 19 years. Not only will more residents be covered, Mapp said, but the $30 million annual hospital losses for uncompensated care will be reduced significantly, and the burden eased on the General Fund to subsidize their operations.
Acknowledging the change will not be popular, Mapp said the "community must realize that we can spend only what we collect."
He said he believes that his administration and the public can take pride in the fact that the government, despite its inability to borrow operating capital, continues to maintain employment levels, provide services, and to invest in economic growth. This bill also is designed to help the Government Employees' Retirement System, he said.