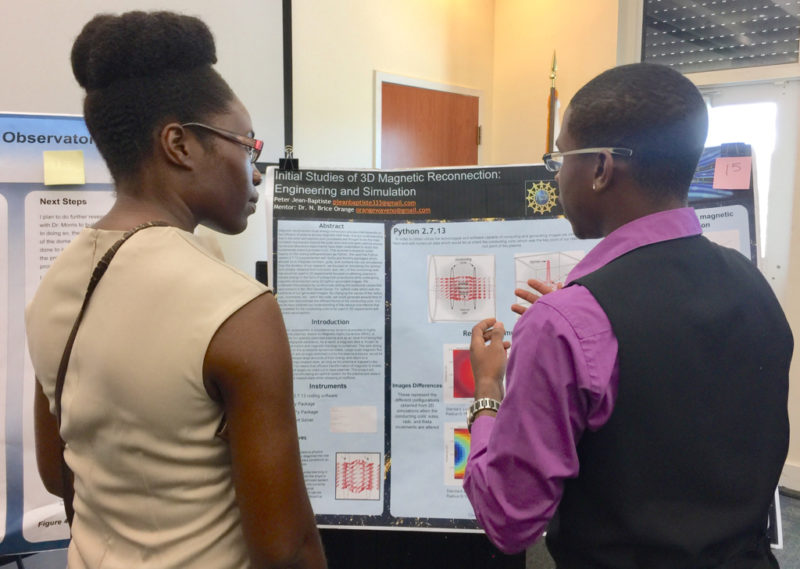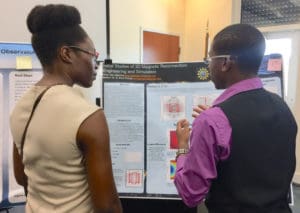 During the 15th Annual Summer Student Research Symposium on Friday, more than 30 students shared the scientific findings they gathered over the past six weeks while taking part in University of the Virgin Islands' summer research programs.
Organized by UVI's Emerging Caribbean Scientists Program in collaboration with the College of Science and Mathematics, the research projects covered a range of subjects, including astrophysics, astronomy, marine biology, chemistry and computer science.
The students, working under the mentorship of UVI faculty, conducted the research as part of the Summer Undergraduate Research Experience and the Sophomore Summer Research Institute.
According to event organizer Verleen McSween, assistant professor of biology at UVI and the undergraduate summer program coordinator, the research programs exist to increase minority participation in science, technology, engineering and mathematics fields at the undergraduate level.
"This helps prepare students for that next step in their education, since many are interested in attending graduate or medical school and having research experience helps them to be more competitive for these programs," McSween said.
McSween said the program is entirely grant-funded through the National Science Foundation and the National Institute of Health. Many of the students, who come from both the St. Thomas and St. Croix UVI campuses, participate in the six-week St. Thomas-based program more than once throughout their undergraduate career.
The research program also helps give students practical experience and gives them insight into what a career in a certain field could be like.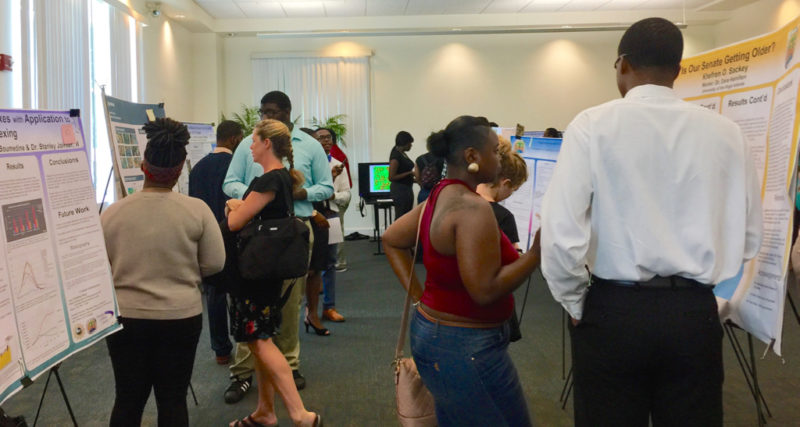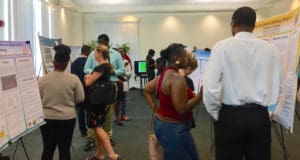 Sophomore Samantha Jonas said her project centered on developing a cooling system for the Etelman Observatory on St. Thomas, since moisture and hot temperatures can affect the telescope when the observation dome is open. Work on the project will continue in the fall, but Jonas said they've completed the first step of installing temperature sensors to better understand just how hot it gets in the dome.
With a goal of someday working for the electric car company Tesla, Amali Krigger said his summer research project reaffirmed his interest in working in a high-tech field.
Krigger completed research for a National Aeronautics and Space Administration project that tested methods to achieve high vacuum levels in chambers that simulate space-like conditions. The work applied heating straps to the vacuum that helped push out gasses and molecules that could otherwise get in the way of accurately testing how space affects different hardware that could possibly be used on missions.
"This was my favorite research project out of the three I've done, since I got to use my computer science skills and it spurred a newfound interest in physics for me," Krigger said.
For junior Brandon Manners, the summer research program marks the first opportunity he's had to apply the computer coding he's learned in his classes. With the help of mentor Robert Stolz, Manners said he learned how to use a programming software called MATLAB.
Manners said his work helps predict the ranges of grouper in order to get a better idea of the spawning areas that need to be protected. Working with location and time interval data collected from groupers that have been implanted with tracking devices, his research shows a more realistic moving pattern for the fish than was available before.
In some cases, the program helps students learn about different research methods, including how to setup surveys.
Sophy Marinez, a sophomore studying computer science, completed a global survey on electronic device and social networking usage. Devising a survey through the online platform SurveyMonkey, Marinez collected results from users around the world.
"Participating in the course taught me how to solve research problems more creatively, since I didn't know how to conduct a survey beforehand," Marinez explained.