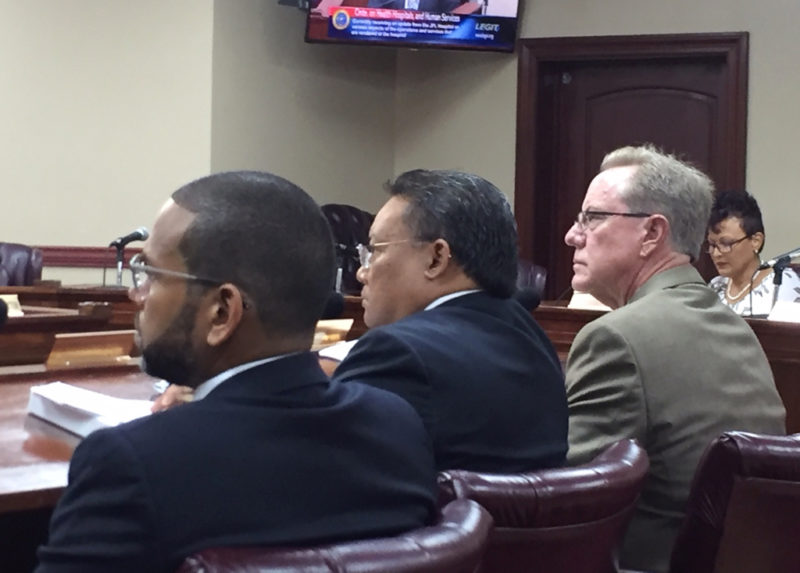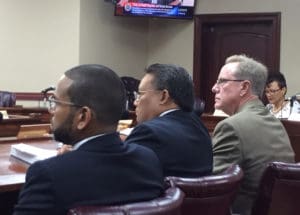 Senators expressed frustration with the historically dysfunctional operations of the Juan F. Luis Hospital and pushed for changes in the human resources department at a hearing Friday before the Committee on Health, Hospitals and Human Services.
After a long day of questions, answers and excuses, Sen. Nereida Rivera-O'Reilly, committee chair, suddenly asked if administrators and board members had considered replacing human resources staff. The board is not doing its job and the hospital needs "new vitality and new ideas" especially to retain employees, she argued.
"I see that lacking in your human resources department. Your hospital is only as strong as your HR," she said.
Richard Evangelista, JFL acting chief executive officer, Tim Lessing, chief financial officer and Troy de Chabert-Schuster, board vice-chair, listened and hesitates to speak, until de Chabert-Schuster took the lead.
"If we could fix that broken, non-existent department of the hospital we could fix a lot," he said.
Then, Sen. Marvin Blylden asked when action would be taken to rectify the matter. Evangelista simply answered "Monday."
Most of the senators at the hearing expressed disgust at one time or another at the hospital's inability to keep staff, run the Emergency Department efficiently, collect millions of dollars due for services and retain federal certification over the years.
"I have been sitting here for nine years hearing the same thing – the Emergency Department as problems, etcetera. Why has there been no progress? Board, do you mean what you're saying or should we clean house," Rivera-O'Reilly asked.
Senators expressed concerns over specific areas, including:
– Physicians who have not updated charts are responsible for as much a $19 million in delayed or lost revenue and patients do not have access to their records during that time. Senators said physicians should be penalized financially or not allowed to use the hospital.
"My colleagues are tired of giving you money. We speak to other hospitals who get it right," the chairwoman said.
Evangelista said that $19 million is an overstated figure, but did not correct the amount and Lessing said the $19 million is approximately what JFL takes in per month.
The procedure is to contact physicians by letter to remind them to complete charts, but Lessing did not say if there is follow-up. At least one chart is overdue by 1,000 days, he added.
JFL administration has said in the past that much of the delinquent paperwork was left behind by locums tenens, or visiting, temporary physicians. A new chief medical officer is taking over supervision so billing should improve, Lessing said.
"We've had these billing discussions over, and over and over. I'm tired of the meetings," Sen. Kurt Vialet, committee vice chair, said.
Later he said, "Why can't we have somebody per floor to make sure all paperwork is followed up regularly" I've asked this a million times."
Evangelista said there will be a procedure on place "by the next time" they meet.
JFL's new chief nursing officer, Wanda Ruben added that physicians had 15 days to respond to delinquent charts and then were suspended until the work is completed, at hospitals where she worked previously.
– More than one senator challenged the emergency room waiting time statistics reported by hospital staff and Vialet said he'd heard a constituent complaining about a10 to 12 hour wait. According to JFL's Jacinta Stephens around 50 to 60 patients are seen daily in the ER, which has 20 beds. There currently are five physicians who work 13 shifts a month and four physician assistants have been hired but are not on staff yet, Evangelista said. Not only is there a new CNO, but a new ED chief to help streamline work in the area, he added.
– While senators complained about staff and especially physician turnover, Evangelista reported that the hospital is recruiting two surgeons, an anesthesiologist and another surgical team. It was near the end of the hearing, Rivera-O'Reilly recommended replacing the HR director.
– Other areas that concerned senators included the delay in placing a staff person from Human Services at JFL to prescreen patients for presumptive eligibility coverage by Medicare, piles of hazardous waste behind the hospital because the waste hauler doesn't have the right equipment, and the delay in relocating the ER due to a sewer malfunction.
According to Evangelista the move will take place when issues with staffing and spikes in electricity that can damage machines are solved. In the meantime, a construction manager has been hired to advise on rebuilding the sewer lines.
Sen. Alicia "Chucky" Hansen questioned Evangelista closely regarding raises and stipends for hospital administrators. He said there have been no raises in the year he has held the position, salaries have been cut in some instances and there are no traveling nurses on the payroll. Evangelista's salary is $200,000 instead of the usual $300,000, according to de Chabert-Schuster.
Hansen also pressed Evangelista about the handling of a family who visited the morgue to view the body of their deceased relative. According to the senator, the family was denied entrance and forced to wait in the parking lot by the trash bins to identify their loved one. Evangelista was stunned and said he would look into the matter "post haste." He speculated that if the Department of Justice was in charge of the body, JFL had no control over their procedures. Hansen also accused the hospital of denying admittance to a psychiatric patient. Evangelista again said he would investigate the matter. No other details were given about either episode.
In May, the Senate ordered the hospital to begin searching for a permanent CEO, but the subject was not brought up during Friday's session.
Attending the hearing were all committee members and Sens. Hansen, Blyden and Brian Smith.