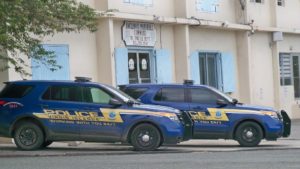 A young man who was injured Saturday died at the Schneider Regional Medical Center, the V.I. Police Department reported Tuesday.
The victim was identified as 28-year-old Troy Etienne.
It was the third shooting death in Smith Bay in two days. Two men, as yet unidentified by the police, were killed in a shooting early Friday.
At 9:32 p.m. Saturday, July 22, a citizen called 911 reporting that several shots were fired in the Smith Bay area. Upon arrival patrol officers confirmed that a man had been struck multiple times to his body while sitting in his vehicle. He was transported by ambulance to Schneider to be treated for his injuries.
At 3:45 p.m. Sunday, Etienne succumbed to his injuries. His next of kin were notified.
The VIPD urged anyone with information about the case contact the Major Crime unit by calling 340-774- 2211 ext. 5569 or 340-714-9830. They also can contact 911, the Chief's office at 340-715-5548, the Commissioner's office at 340-715-5506, or the anonymous tip service, Crime Stoppers USVI, at 1-800-222-8477.