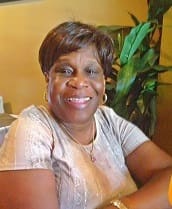 Angel Sealey Langlais died on July 5 while visiting her family and friends on St. Thomas, U.S.V.I., for her 50th high school reunion. Her final days were spent surrounded by family and friends that Angel has touched in many ways throughout her life. Angel Sealy Langlais, also known as "Montana," was born on Jan. 2, 1950, on St. Thomas. She was the second child of Erline Donicia Burke and Prince Sealey.
She attended Lincoln School and then Charlotte Amalie High School on St. Thomas from seventh grade onward. After graduating from high school, Angel worked at Evelyn Marcelli Elementary School (formerly George Washington Elementary School) as an administrative secretary. While in this position, she would substitute when a teacher was absent.
Angel married Crispin Langlais and had three children and relocated to Boston, Mass., where she has resided for the last 40 years with her family, which included three grandbabies. While in Boston, she obtained her associates degree from Fisher Junior College. She started to work at an insurance company for 25 years as an administrative assistant and moved up to the position of supervisor and then manager. After this, she worked as an assistant to the Beverage Buyer for 14 years and subsequently retired from that position. She was honored several times for professionalism, community service and being a role model for students and the community.
Angel attended regular church services and volunteered for the ministry for homelessness, which served men and women weekly at the church. She has also done volunteer work at a homeless shelter for women called Rosie's Place in Boston for the past 22 years.
Angel enjoyed babysitting her granddaughter, playing bingo weekly and computer games. She also enjoyed spending time with her family and friends. She loved to travel and being on vacation with my family to such locations as Germany, France, England, Barbados, St. Thomas, Houston and other parts of the United States.
She gave us all such courage and hope and reminded us of the preciousness of life. She will truly be missed by everyone. Rest in Peace, Angel "Montana" Sealey Langlais.
She was preceded in death by her brother, Roy Alphonso Sealey; mother, Erline George; father, Prince Sealey; and stepfather, Edward Sylvester George, who raised her.
Angel is survived by her loving husband, Crispin Langlais; children: Jereem, Jemile and Jerrica Langlais; brothers and sister: Aubrey "Cito" Dawson, Rhudel James and Denise James Walker; daughter-in-law, Medgine Louis Langlais; grandchildren: Justine and Janae Langlais, and Mikyra Graham; aunt, Leonille Hodge; cousins: Bernice and Merle King, Audrey T. Smith, Austin Jr., Alston King, Milagros Burke, Carol Molyneaux, Clara Romney, Corienne Long, Maurice Hodge, Kwame Motilewa, Liston Davis and Doris Davis;
She is also survived by sisters-in-law: Enid James and Leona Malone Dawson; brothers-in-law: Paul Waker and Roy Langlais; nieces and nephews: Michah James, Mercedes Waker, Alicia Langlais, Paul Waker, Regis James, Aubrey Jr., Seymore and DuJean Dawson, Gus Langlais and Will Langlais; special friends: Alicia Saddler, Dalton Carty, Murial Diaz, Maxine and Vincent Tull, Butch and Murine Allen; as well as many other family and friends too numerous to mention.
FUNERAL INFORMATION:
Relatives and friends are respectfully invited to attend the viewing at 9 a.m. followed by a funeral service at 10 a.m., Thursday, July 13, at Holy Family Catholic Church. Interment will be at Milton Cemetery, Milton, Mass.
Arrangements are under the care of Hurley Funeral Home and Cremation Center of St. Thomas, St. John, St. Croix and Tortola.
For directions and online condolences, please visit www.hurleydavisfuneralhome.com