Shaquielle Correa, 21, of St. Croix, made his initial appearance before U.S. Magistrate Judge Ruth Miller on Monday, after being charged by indictment with Hobbs Act robbery, conspiracy to commit Hobbs Act robbery, and brandishing a firearm during a federal crime of violence, acting U.S. Attorney Joycelyn Hewlett announced.
Correa, along with Jarmaine Ayala, 36, Wahilli James, 21, both of St. Croix, and Ron Delano Kuntz, 42, of St. Thomas, are charged in a conspiracy to rob Gems and Gold Corner Jewelry Store on St. Thomas.
All four men are scheduled to be arraigned on June 26.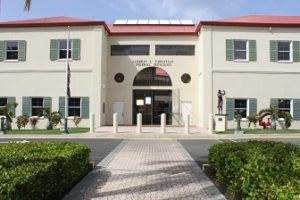 According to the indictment, on September 16, 2013, the four men conspired with each other and other unidentified co-conspirators to rob the store, brandished weapons to threaten and intimidate store employees, and then fled the store with merchandise.
The Hobbs Act is a federal law prohibiting actual or attempted robbery or extortion affecting interstate or foreign commerce "in any way or degree." The act can be used by federal prosecutors to move a robbery from a local to a federal crime.
If convicted, each of the four men face up to 20 years in prison on the Hobbs Act robbery charge, plus a mandatory seven-year consecutive sentence for the charge of brandishing a firearm.
The case is being investigated by the V.I. Police Department and the FBI, and is being prosecuted by Assistant U.S. Attorneys Anna A. Vlasova and Kim L. Chisholm.