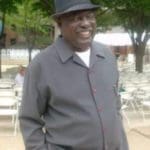 James Howard Mercer died on May 13.
Relatives and friends are respectfully invited to attend the viewing at 9 a.m., Saturday, June 10, at Estate Hoffman Church of God of Prophecy. Services will follow at 10 a.m. Interment will be at Eastern Cemetery.
He is survived by his wife, Lillian Mercer; sons: Tyrone Todman, Kevin Mercer and Elston "Rick" Mercer; daughters: Judith Todman and Monique Mercer; brother, Dalton Mercer; daughters-in-law: Cecily Mercer, Donielle Chase-Mercer and Mildred Todman; grandsons: Deshaun and J'Waan Todman, Jerome Samuel, Jabulani Blyden and Khyree Mercer; granddaughters: Khadijah Wynter, JhaCoya Blyden, Kalisha DeLagarde, Kiana and Kenya Chase-Mercer; sisters-in-law: Adina Brathwaite, Beryl Farrington, Eunice Raymond and Bernice Turnbull; special cousins: Robelto Harrigan, Winston "Dick" Harrigan and Julian Hodge; and dearest friends: Claude Jennings, Marvin Turnbull and Molito Turnbull.
Professional Funeral Service are entrusted to Turnbull's Funeral Home Telephone: 779-6565; e-mail: turnbullsfuneralhomevi@yahoo.com