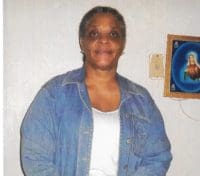 Mary Rose Elizabeth George died on Feb. 7. She was born on Dec. 27, 1956.
She was survived by her loving son, Stacy Pickering along with his wife Katrina and daughters Sarahi and Kensleigh; daughter, Hyacinth Daniel; sisters: Mabel Kelly and Mary Allen; brothers: Peter O'Garro and Abraham O'Garro; and godchildren: Amia and Amarni Douglas.
Special mention goes out to her Aunt Mary Charmouth Chalmers as well as her nieces and nephews too numerous to mention.