Imagine half a dozen students trapped in a classroom damaged by a major earthquake – another student trapped under a slab of concrete while a small fire erupts nearby. These are the incidents that St. Croix Central High School and St. Joseph's High School students responded to in disaster drills held the last two weeks.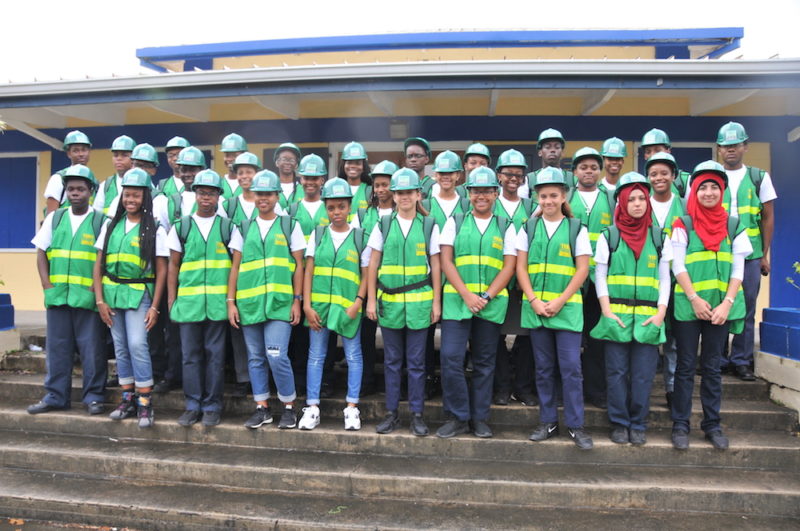 The drills were designed to test the students' newly acquired skills from the Teen CERT Program. Community Emergency Response Team is a national volunteer program sponsored by the Federal Emergency Management Agency to train adults and teens in disaster preparedness and emergency response.
The Virgin Islands Territorial Emergency Management Agency manages the Teen CERT program for the USVI.
In a statement, VITEMA Director Mona Barnes congratulated the teens. "As Teen CERT members they have accepted the awesome responsibility of being the ones that are called on in an emergency. This is what community service is about and I applaud them for deciding to be of service to their community."
The students spent a week in the classroom and the field, learning basic disaster response skills including using fire extinguishers to put out small fires; assisting emergency responders; conducting light search and rescue; setting up medical treatment areas; applying basic first aid techniques; and helping reduce survivor stress.
The course culminated with a disaster drill to reinforce skills learned during training.
Following four hours of the grueling and fast-paced disaster drills, instructors agreed all 57 students had demonstrated a basic understanding of managing an incident when first responders are not immediately available. The students established an incident command post and chose team leaders to manage logistics, search and rescue, medical operations, and fire suppression.
"These students learned valuable skills that will last them a lifetime and help them take care of their families, their school and their community," said Todd Patton, VITEMA deputy director for planning and preparedness . "It is the same skills and training that are taught during the adult courses and I encourage them to continue learning," he said.
St. Joseph's High School and St. Croix Central High School are the fourth and fifth Virgin Islands high schools to join the Teen CERT program. Ivanna Eudora Kean High School on St. Thomas and Seventh Day Adventist High School and Education Complex High School on St. Croix are also members of the program.