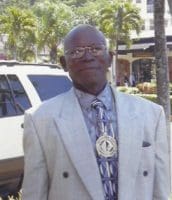 Roland Davis Smithen of St. Thomas died on Feb. 3 at Schneider Regional Medical Center. He was 81 years old.
He is survived by his wife, Frances Audain Smithen; daughters: Felicity Warner, Fiona Smithen and Charlene Smithen Norford; sons: Michael Davis (adopted), Obadiah Smithen, Moses Gardener and Eldred Francis; brother, Clarence Davis; sister, Maude Liburd; stepdaughters: Stacy Matthew, Leacher Bryan and Terice Audain; stepsons: Donny Audain and Jevon Audain; grandchildren: Waukesha Harrison (St. Thomas), Waukebo Warner (St. Thomas), Karmesha Warner (Conn.), Willie Williams III (Conn.) and 16 grandchildren on St. Kitts too numerous to mention.
He is also survived by great-grandchildren: William and Junesha Lawrence (St. Thomas), Carl Lettsome (Conn.), Carlesha Lettsome (Conn.), Nykebo and Nyziah Warner, and 14 great-grandchildren on St. Kitts too numerous to mention; and cousins: Sarah White and family, Charlotte Olive, Gwen, Prince Williams, Pastor Agnola Martin (special), Potter Williams and Jacquelin Williams (St. Thomas).
Other survivors include special friends: Alex and Beverly Randall and family, Jacqueline Francis, Dawn Caines (St. Kitts), "Henshaw" Pete and Mr. Barber; nieces: Yolanda Lescott (U.S.) and Blondell Skeete (U.S.); and nephews: Keithroy Davis (U.S.), Bevis Davis (St. Thomas), Cleve Davis (U.S.) and Fitzroy Grant (St Thomas); as well as many other friends and relatives too numerous to mention.
Relatives and friends are respectfully invited to attend the viewing at 9 a.m. followed by the service at 10 a.m. on Thursday, Feb. 16, at Church of God of Prophecy, Estate Hoffman. Interment will be at Smith Bay Eastern Cemetery.
Arrangements are under the care of Hurley Funeral Home and Cremation Center of St. Thomas, St. John, St. Croix and Tortola.
For directions and online condolences, please visit us at www.hurleydavisfuneralhome.com