If a Coastal Zone Management permit is approved for a company to install floating billboards in the territory's waters, community members and government representatives fear the historic Charlotte Amalie harbor would soon be full of distracting advertisements.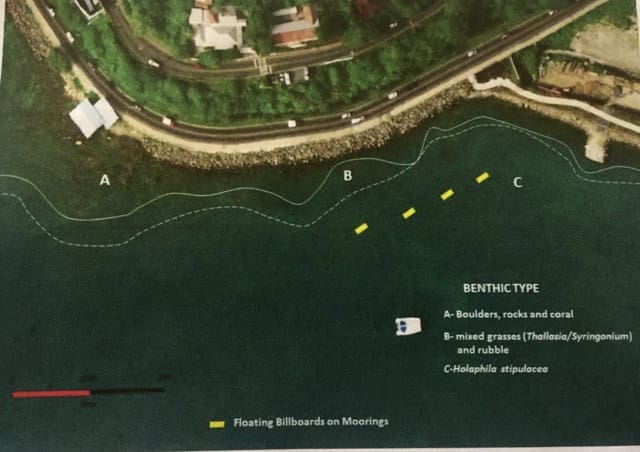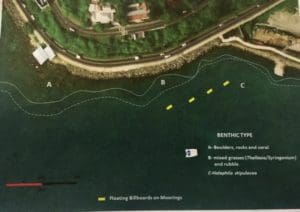 During a public meeting on Thursday organized by the Department of Planning and Natural Resources, John Pierre Oriol, director of Coastal Zone Management, said that Island Outdoor Advertising is applying for a minor CZM permit to place four floating billboard signs between Yacht Haven Grand and the pump house area.
Jason Budsan, St. Thomas resident and environmental advocate, was one of six meeting attendees that turned out to share their thoughts on the proposed project. He read from a letter he wrote to the CZM office that detailed why he opposes the billboards.
Among Budsan's concerns were whether or not the harbor billboards would adhere to Title 29, chapter 9, section 501 of Virgin Island Code, which regulates the placement of billboards to make sure natural beauty is conserved and that they don't jeopardize the safety of people, who might be distracted by the water signs.
Ian Pickering of Island Outdoor Advertising told attendees that the floating billboards represent a "unique and creative new way of advertising in a controlled manner." He's seeking a permit to install four of them to advertise to drivers and walkers along the waterfront.
Designed and patented for water advertising, Pickering said the 85-pound inflatable billboards would be 10 feet in length (across the water) and 3 feet tall. Keeping the billboard at that height, he said, would allow for clear visibility of the harbor view.
Brian Emerick, who identified himself as a marine architect and sailor, said that the water billboards would bring no value to the Virgin Islands and would take away from the harbor's beauty. He added that the regulations for land billboards aren't even being enforced now, so that it would be unwise to add more ads to oversee.
"We are on a slippery road if we do this," Emerick said. "This island will come out in full force if this gets passed."
Each billboard would have a solar powered LED light, since they would be lit up at night for people to see and as a safety measure to prevent marine collisions, Pickering explained.
Toya Malone, chief of staff and policy advisor for Sen. Myron Jackson, expressed concern about how DPNR would handle requests from other companies that might want to put billboards in the harbor. Quincy Thomas, researcher for Jackson's office, also asked about if the lights on the billboards would be distracting to drivers.
Echoing Malon's concerns, Sean L. Krigger, director of the V.I. State Historic Preservation Office, also questioned how to handle the demand for water billboard advertising, saying that from a regulatory standpoint it would be really challenging.
Jomo McClean of the Department of Public Works said he was concerned about the proposed distance of the billboards from the shoreline, since the highway along the waterfront will be widened in the near future.
Pickering said the movable billboards would be fixed to the ocean floor 50 to 100 feet offshore with four footlong sand screws that would be attached to nylon rope. The fixing of the screws would not harm corals or sea grass, he said.
Budsan asked about how the billboards would handle a storm and how dangerous they would be to other vessels if they were to break loose.
In response, Pickering said the billboards could be taken out of the water fairly easily in the event of storm.
Budsan also read a letter from another concerned St. Thomas resident, Lawrence Benjamin, who was unable to attend the meeting in person.
With more than 25 members of the local Rotary community signing the letter, Benjamin said the floating billboards would detract from the beauty of the harbor and be a safety issue for mariners at night. He also said other companies could soon follow suit and the harbor could become full of ads.
Noting that the process requires many steps before a permit is issued, Oriol said that DPW would also have to approve the application. Oriol said he wasn't surprised that concern was raised over the aesthetics of the billboards.
Oriol explained that the questions and concerns of meeting attendees would be added to the application and that the applicant would be given a chance to respond to them. Further statements can be directed in writing to DPNR throughout next week.
Oriol said that a minor permit doesn't usually require a public meeting, but that his department holds them whenever a permit pertains to a public space so as to be in compliance with V.I. law.
Paul Kalloo, environmental planner at DPNR, was also present at the meeting.