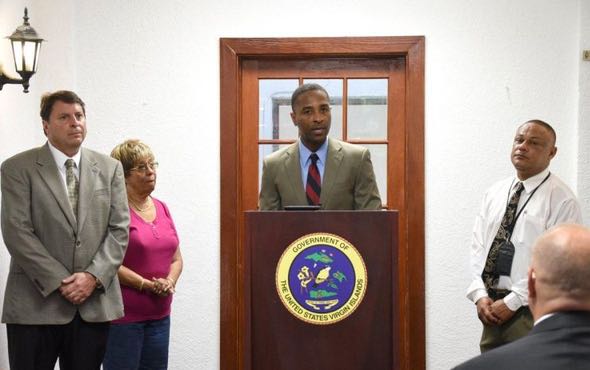 It still has to be built out and accredited but, once operational, the Justice Department's new forensic facility on St. Thomas will help cut down on evidence processing delays and serve as a training hub for local authorities in areas including DNA analysis, officials said Wednesday.
Attorney General Claude Walker unveiled plans for the new facility during a walk through Wednesday morning of the building, formerly known as Creque's Funeral Home on Beltjen Gade. The facility will also house a morgue for the medical examiner, which Walker said he is "confident" will be up and running "very shortly."
"For too long, the Virgin Islands has had to send forensic evidence off-island and this practice has been very costly," Walker said.
"In addition, too often we have to wait a very long time to receive the results, causing significant delays in the administration of justice," he continued. "We have had cases where defendants had to wait for a lengthy period to clear their names and this undue delay affects victims as well."
Walker said the facility "will be of great help to us in some areas of the forensic science by allowing us to process certain important evidence in a timelier manner."
Walker added that it would "take considerable time and money" to put together the facility but that, once up and running, it would be the "first of its kind" in the territory.
"It will also be used as training for local law enforcement officers in areas such as anatomy and mechanism of injuries, methods of collecting evidence, such as blood specimens, tissues, hair fibers, narcotics testing and DNA analysis for identification," Walker said, adding that the department will be working to train "young people" who are interested in the field of forensic science.
A Justice Department forensic cadet program will be set up for trainees, who Walker said would also be able to work alongside Dr. Francisco Landron, territorial medical examiner, and Justice's forensics director, Anthony Hunt.
Hunt said Wednesday that certain changes need to be made in order to get the building "up to standard." The facility might not be accredited when it first opens but work will be done in stages to make sure it meets national accreditation criteria for medical examiners, forensics and facilities, he added.
Hunt said the department does currently have "a lot" of equipment and have identified where to get additional equipment as needed.
Walker said that a similar facility will also be set up on St. Croix.
Walker wrapped up Wednesday's tour by announcing the appointment of St. Croix's new medical examiner, Dr. Jacqueline Pender, who he said will start working "in the next several months."