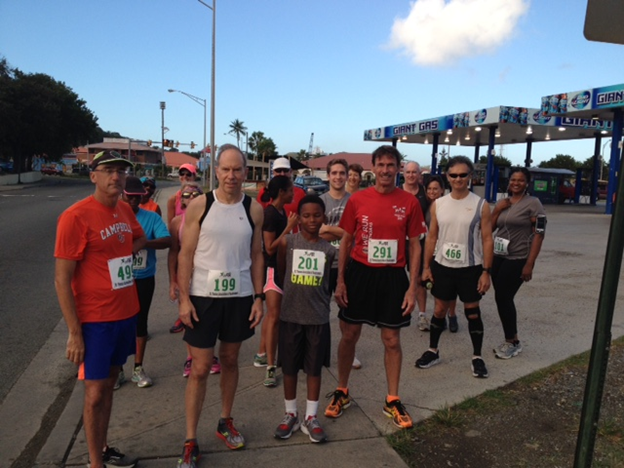 Visitors from Canada and from Tennessee were among those joining the St. Thomas Association of Roadrunners' (STAR) Martin Luther King Jr. 5 Kilometer Walk/Run on Sunday. Bill McConnell led the males in 21:45, ahead of familiar competitors Jack Hullins and Mark Pippen. Wilma Carstensen was the winning female with Kerstin McConnell and Anna Flynn in pursuit.
Raphael Hodge was the lone youth tackling the course and Anna Paiewonski was the sole walker over the 3.1-mile distance. A wrong turn caused Malcolm Carstensen to run extra distance and to lose contact with his competition.
The annual Women's Jogger Jam on Jan. 29 will be STAR 's next event. As many as 400 women are expected to challenge the 2-mile course that will start 4:30 p.m. at the Wheatley Shopping Center.
For more information about the Women's Jogger Jam, contact Therese Hodge at 775-6373. The complete STAR schedule can be seen on facebook: http://www.facebook.com/stthomasassociationofroadrunners
Complete Results by Finishing Time (5K): 1. Bill McConnell 21:45
2. Jack Hullings 21:46
3. Mark Pippen 22:03
4. Jason Elliott 23:19
5. Steve Laplace 24:16
6. Wilma Carstensen 27:21
7. Kerstin McConnell 29:01
8. Rich Curran 29:81
9. Anna Flynn 29:19
10. Simone Francis 31:05
11. Diane Stolmar 32:26
12. Monique Simon 37:36
13. Raphael Hodge 46:26
14. Zenzi Hodge 46:34
15. Roi Simmonds 46:38
16. Malcolm Carstesen N/A
Walking: Anna Paiewonsky 55:23