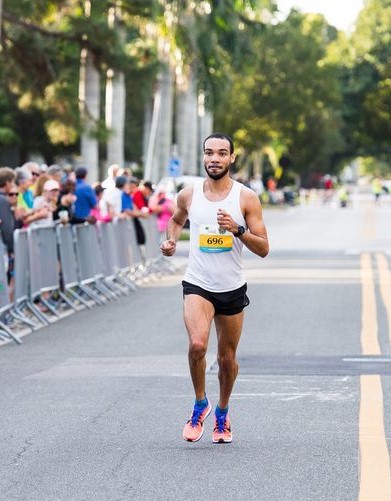 V.I. National Track and Field Team member Eduardo Garcia continues his smooth transition from college to professional road running with an impressive performance at the Naples Half-Marathon in South Florida on Sunday morning of a strong second place finish in 1:06.02.
He settled in with the lead group at the beginning and basically ran an even pace for the race as indicated by his mile and 5K splits over the 13.1-mile course, which is considered Florida's best. But for the closing surges of Tyler Mc Candless of Boulder, Col., who took first place in 1:06.02 over a field of over 2,000 runners, Garcia may have tasted victory in only his second road race since his stellar career on the track and cross-country at the University of Florida. He broke his previous Virgin Islands national record.
Garcia has his sights set on qualifying and running the marathon in the 2020 Olympic Games. His immediate goal is to qualify for the marathon in this year's IAAF World Championships in London, England.
He is consulting with the Virgin Islands Track and Field Federation (VITFF) officials in the selection of a qualifying marathon. Eyes are on Rotterdam, Holland, in April, which traditionally has a strong field. He will need to run 2:19 for the race to qualify for London. The V.I. has had four Olympic marathon runners, three males: Calvin Dallas, Marlon Williams and Wallace Williams, and female: Ana Gutierrez.
For information: e-mail isv@mf.iaaf.org or wallacewilliams@msn.com call 643-2557 or visit the Web site at http://virginislandspace.org/vitff.html