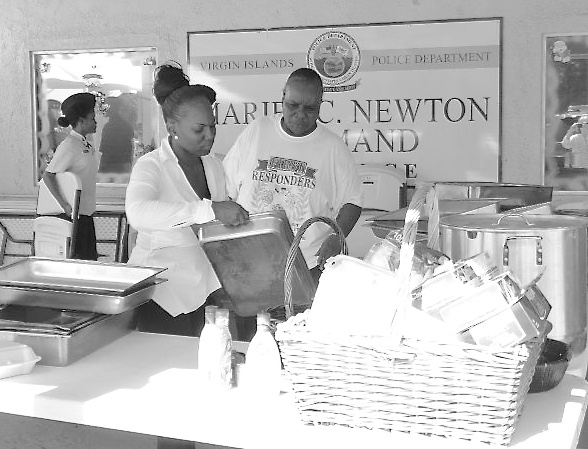 After what several said was a relatively calm New Year's Eve on St. Thomas, police officers, first responders, detectives and other public safety personnel gathered at Mariel Newton Command C for a 6 a.m. to noon feast, thanks to the efforts of a group of volunteers lead by Lt. Sandra Colbourne.
"I used to organize a similar event for the investigations bureau," Colbourne said Sunday morning, "But then when the folks from special ops showed up, it hurt my heart that we had nothing to offer them after they had worked all night."
From investigators to special operations officers, the event grew into an all-inclusive smorgasbord for everyone on the streets in an effort to assure a safe New Year's Eve for everyone, complete with it's own coordinator, Sheneka Benjamin, whose mother, Lt. Linda Raymond, heads up the Economic Crime Bureau.
But though the bureau deals mostly with white collar crime, officers were pulled in from several agencies to provide assistance on a night notorious for wild gun shots and general melee.
Detective Brian Bedminster, also with the Economic Crime Bureau, said the extra patrols and bodies on the streets paid off with a quieter night.
Officer Shanice Potter, who serves with the VIPD traffic bureau, covered J'ouvert. "There were no fights," she said.
Random police stops and searches, coupled with a general show of force and aggressive patrolling, were part of keeping the peace Saturday night, according to Bedminster.
But on Sunday, under the bright blue sky, after a night that passed without any serious injuries, exhausted but relieved, officers played dominoes, ate and chatted quietly while they were served by the community, including young members of the Civil Air Patrol.
One volunteer, on the island for her mother's funeral, brought a more sober note to the quiet event. Nichole Richardson, whose mother was stabbed to death three days before Christmas, allegedly by her son, was serving at Command C in her mother's stead. Jennifer Braithwaite's mother worked as an administrator for Lt. Colbourne after retiring as a school crossing guard.
"She would have wanted me to be here," she said.
Coulbourne wanted to let the community know about the sponsors who helped make this event possible and provided the following list which is reprinted as provided:
Spice Weddings VI, Office of Ryan Greene, Margaretteville Resort, Zack – Sunset Grill & Bar, Gourmet Gallery, RINGO Riley, Furgee, Community Baptist Church, Alpine Securities, Juniors cakes, Senor Frog, So Amazing, Blooming tings, Bellows, West Indies, Cost-U-Less, Pricesmart, Captain Connor & Civil Air Patrol, Angel, Weekes & Weekes, Diamond Barrel, Bread & Cakes Bakery, A & F Bakery, Jerry's Bakery, Plaza Extra, Vincent Trucking
Editor's note: Though the shooting that lead to the year's first homicide was known at the time the Source was covering this story, not one of the officers the Source spoke with revealed that fact.