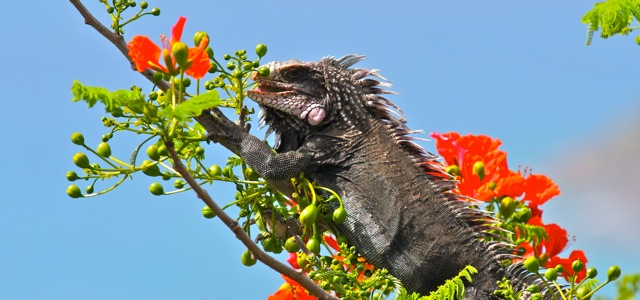 Idle the Iguana was standing in the middle of the road, on the island's north side, staring down the potholed blacktop to where it disappeared over a low rise.
Idle is the Source's mascot, and once a year, as the clock tolls midnight on New Years Eve, we look him up and get his reflections, predictions and resolutions for the coming 365 days.
We hated to break his concentration, but we had a deadline, so we gave a throat-clearing, "Ahem!" and he glanced over.
"I was expecting you," he said. "C'mon out here."
We got out our pencil and notebook and slowly edged out onto the crumbling pavement with him, our eyes searching for whatever it was he was staring at on the horizon.
"What are we looking for?" we asked.
"Hold on." We waited another minute, then a dot appeared on the horizon, topping the rise.
"What is it?" we asked.
"A rolling metaphor."
"What?"
"Look at that car coming at us. Now, if wanted to, we could take a step back, like this," he edged back a step. We edged back two.
"Doesn't really help much, does it?"
"Not really."
"Yeah, we've delayed getting hit by that oncoming car by, what, half a second? Let's take another step back."
We did, but it didn't help. The car was now within a hundred feet, more or less, and coming on fast.
"Better take another step back," he advised, doing so.
"What's the point. We ought to get off the road."
"Well, that'd be the smart thing, wouldn't it. A disaster is coming, but let's take one more step back."
We did. It didn't change anything.
"OK, this is what we'd have done if we were smart."
He leaped to one side of the road, and we leaped to the other as the car hurtled past, a fancy new Cadillac that shot off into the distance.
Idle got up, brushed off a little gravel and debris and sauntered off into the seagrape, with us closely at his heels.
"What was that all about?" we demanded.
"I told you, it was a metaphor."
"Almost getting run over is a metaphor? For what?"
"Lots of things. Look, we all know that the government retirement system is running out of money fast, right?"
That was no secret. GERS is paying out more in pension benefits than it takes in, has been for years, and it's selling off its stock portfolio to make up the difference. Sometime fairly soon, in less than 10 years, it will run out of funds. Then pensioners will receive about 45 percent of what they are receiving now. Happy retirement!
"And has the Senate or the governor proposed a plan to fix it?" the learned lizard asked. "It's not really likely at this point that it can be fixed. Obviously they've got to either take in more or send out less. Really no other choice. I can see that, and I'm an iguana! But what do they do instead? Little patches, dribs and drabs of revenue that are basically the same as shuffling a step or two down the road while the collapse comes roaring down at them."
"Ah!" we said, getting the comparison now. "And jumping off the road?"
"Well, since the lawmakers haven't done anything, continuing their little cash payouts and vote-buying bonuses instead of trying to fix the problem, it might be a good idea for government retirees and soon-to-be retirees to look for options while there's still time. They can't 'dive off the road,' they'll still be in the system, but it's not too late to start making other retirement plans that don't depend on government officials to take any action that might cost them a vote."
"Well that's a cheery note to start off the new year with," we observed.
"Don't blame me. I'm just a reptile. But it's not the only issue where a little action might be helpful. I've got to give the governor credit – no, really! – for coming up with a plan to raise a little more money."
Gov. Kenneth Mapp had proposed a five-year plan to deal with a structural deficit in the government's budget, austerity measures and an increase in taxes on cigarettes, alcohol and soda.
"We're spending more than $100 million more than we take in, and borrowing to make up the difference. At some point, that's gonna boomerang on you," Idle said. "You've already got an investment magazine saying the financial community is about ready to stop lending the V.I. money. So you've got to either take in more money, or stop spending as much. The governor came up with a plan to do both. You can argue with whether he proposed too much or not enough or should have considered a different 'revenue enhancement' – political talk for tax increase – but at least he came up with something."
"But the Senate responded with exactly nothing. They didn't pass his proposed tax increase, and they didn't even kill it and come up with their own idea. They just stuck it on a shelf and promised they'd look at it later. Well guys, later is here. It's time to do something."
"But before we go give Mapp too much credit, let's dock him a couple of style points for that fancy new car – a specially outfitted limo for driving around the islands. He said the governor needs to set a certain standard when dignitaries visit. We think it would have been a good way to set an austerity example. But no. Instead of, 'See, we're all in this together and have to tighten our belts,' he's like, 'Whee! Check out my new ride!'"
He sighed. We sighed. Sighs all around.
"Sorry," he said. "We just finished one hell of a tough year, and there are so many reasons to think the new one won't be much better.
He raised his paw in a salute.
"Here's to 2016, a kidney stone of a year. Yeah, it passed, but – Wow that hurt!"
We had to agree, 2016 had been rough. It seemed like you couldn't turn on the news without hearing the death of another culturally significant person – artist, scientist, writer, actor. There were times when it seemed like anyone who'd ever had their name in the paper was on a list, and the guy with the sickle was collecting. Bowie, Prince, John Glenn, Dan Hicks, Janet Reno, Vera Rubin (the scientist who proved the existence of dark matter,) Alan Rickman and Muhammed Ali and Nancy Reagan and on and on and now Debbie Reynolds and Carrie Fisher and on the last day of the year, William Christopher (the actor who played Father Mulcahy on "MASH.")
And not just in the wider world. The U.S. Virgin Islands lost its share of prominent figures. Mulo Alwani, the St. Thomas businessman who did so much for so many and was at the heart of so many things in the community that some called him a saint. Veronica Gordon, the St. Croix Bush Lady who passed on so much – not just her bush lore but her rich store of Crucian culture and traditions. And restaurateur and personal trainer Ron Gabrielsen touched hundreds of lives in both his careers on St. Thomas.
We asked Idle what all this mortality meant to him.
"Two words," he said. "Step up. These were all special people for one reason or another and it's sad to see them go. Maybe the world will never see their like again. But we've got to step up. Who's it going to be? What can you do to fill the gap? How can you help pass on local culture, or make the community better? They didn't wait for an invitation. What are you waiting for?"
"It's also a reminder," he continued. "None of us lasts forever. Talk to people and appreciate them now. The day after they die is too late. Learn from them today, share a story with them or listen to them, let them know how much they mean in your life. Because the day after their funeral is too late."
The lizard stopped for a moment and shook his head with a rueful grin.
"Boy that was kind of a depressing, wasn't it?"
"Kind of year it was," we agreed.
"And that wasn't even the biggest thing thing about 2016," Idle said. "There was an election that, even though we didn't get to vote in it, is going to have a big impact on the Virgin Islands."
We knew who he was talking about. We hadn't really wanted to go there, but he was right. The U.S. presidential election was definitely going to impact life in the territory.
"It's troubling enough that the president elect doesn't seem to realize the territories are part of the U.S.," Idle said.
"What do you mean?"
"Didn't you hear, back during the campaign, when he suggested some Puerto Rican protesters should have their citizenship revoked and get sent back to where they're from. They're Americans by birth, and where they're from is part of the United States, whether he knows it or not. And if he doesn't know that about Puerto Rico, it's pretty safe to guess he is unaware of the citizenship of us here in the V.I., or the Northern Marianas, or Samoa or Guam. So that's a problem right off the bat."
We couldn't disagree, but suggested that Americans (at least the Americans who are allowed to vote) were counting on him to "bring jobs back from overseas," and build a booming economy to "make America great," and since the V.I. is part of America, that should be good for us. A lot more money in the states couldn't hurt, and might spill over to the territories.
"I suppose it could help," Idle agreed. "But since the only plan he's mentioned is to cut taxes for the rich, who already have most of the money and who are the ones who sent jobs overseas in the first place, it's kind of hard to see how that's going to work."
What's even more depressing, at least to us, is the avalanche of hate the election seemed to unleash. In the wake of the vote, a section of his supporters seemed to be reveling in their "right" to be rude, to rebel against what they see as "political correctness."
"You know," Idle said, "What some people call 'political correctness' just seemed to me like good manners. It's not polite to call people names. These guys want permission – and they think the election gave it to them – to say offensive things, and then it's your fault for being offended, rather than their's for being offensive. Political correctness mostly just means, 'Don't be a jerk.' That didn't change because of one election."
"And before we get off the subject, there's the whole science-denying, 'global climate change is a hoax' thing. If Democrats and 97 percent of the world's climate scientists are wrong, well, will it really hurt if we've found ways to curtail or even reverse our carbon emissions? But if the people who deny we should do something about the climate are wrong, we could be in some trouble here on these little islands."
We were still looking for something to be happy about in the new year, and told him so.
"Well, there's Zika," he suggested.
"What about it?"
"Earlier this year it was an emergency, a scourge that was supposed to make people long for dengue again. And now new cases are on the decline."
That was true. We wondered aloud what had worked.
"Well, partly because people are being more careful both about themselves and in keeping the numbers of mosquitoes down. But there's another part of the story that frankly hasn't been getting as much attention as it deserves," he said.
"What's that?"
He tried to look humble, then blurted out, "It's us lizards!"
"What do you mean?"
"We lizards got together and agreed that it was our job, the least we could do, to help out by eating all the mosquitoes we could find."
"You mean … ?"
"Yes. the anoles, chameleons and even us iguanas have been on a campaign, a mosquito-munching campaign, to wipe out Zika."
"Well that's nice. You do deserve … Hey! Wait a minute!"
"What?"
"Iguanas are herbivores! You don't eat bugs. We read that somewhere."
"It's true. Iguanas don't eat bugs – usually. But desperate times call for desperate measures. What a sacrifice! Have you ever eaten a mosquito?"
We had to admit we hadn't, at least not on purpose.
"Well there you go! They're terrible! But do you hear us complaining? No, we just eat 'em as fast as we can find 'em. Between the Department of Health's eradication efforts and us lizards, we may just have nipped this Zika thing in the bud!"
"So that's it? That's all we have to look forward to – the decline of Zika?"
"No, there's plenty to look forward to. But it depends on you. What gives you joy? Focus on that. What can you do to make your part of the island, your place in it, the best that you can? That's what Mulo Alwani and Veronica Gordon and Ron Gabrielsen and a lot of other people did. They didn't wait around, they just did what they did. Like the man said, 'Go thou, and do likewise.'"
That was a first for us, having an iguana spout scripture at us. But it seemed like a place to start. And, for this story, to end.
"Happy new year," Idle said.
And happy new year to you.