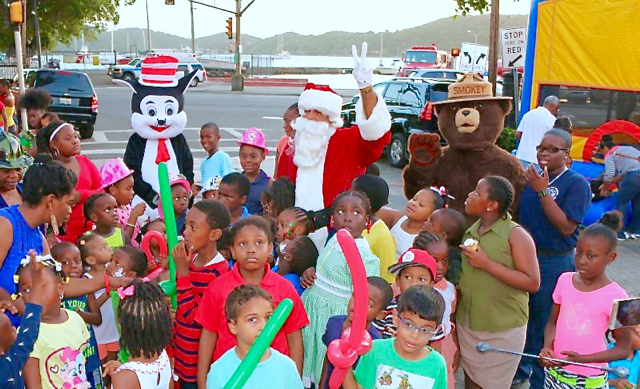 It's been more than four decades since Jose Kean, Jr., started playing the role of Santa Claus at the Junior Firefighters annual Christmas party and at this year's event he was honored for his contributions.
There's nothing he likes more, he said, than to see "the smiles on the faces of the children" when he pulls into the Fort Christian station.
"When I was a kid, I was fascinated by and loved Santa Claus," he said Sunday, after hopping off one of the fire trucks that brought him into station. "And now, doing this, I love seeing that same love and joy, and the smiles on the faces of the children when they see Santa come out."
Kean and the station's crew helped distribute bags of gifts to the dozens of children that came out for the Sunday event, which has been a tradition on St. Thomas for more than 40 years.
"I first started coming to this when I was a kid in Junior Firefighters," Cpl. Patricia Benjamin, now the Junior Firefighters program coordinator, said Sunday. "Back then, I loved to help with the event, I loved to attend the event, and now, it's so awesome to actually be heading the program."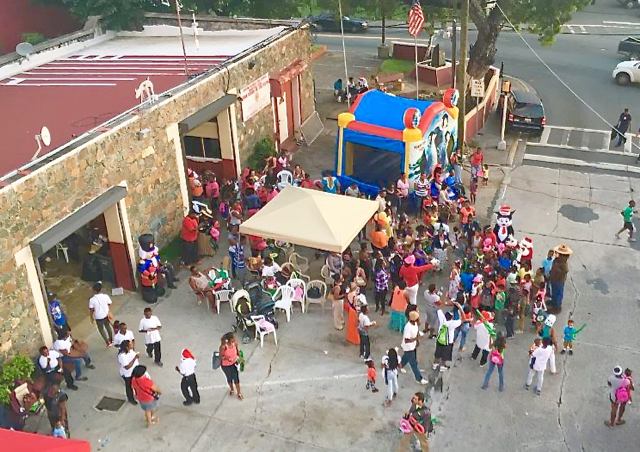 Benjamin, whose father and sister were also part of the V.I. Fire Services team, said that Junior Firefighters Christmas events are common across the nation. More than 40 years ago, the territory picked up the tradition and Benjamin said the focus each year is simply to give back to the community and do something nice for the kids.
"We love the see the smiles when Santa comes in," she said.
While the clear favorite, Santa wasn't the only attraction of the afternoon. With the block closed off in front of the station, the Fire Services team had set up two bouncy houses, a food and juice station and a face-painting stand. Charming Twirlers Majorettes and the Addelita Cancryn Junior High School drum line also performed, while volunteers handed out tickets for cold fracos or ice cream.
"It's such a wonderful event, more children should definitely come out," said Joyce Kean, wife of Jose Kean, Jr. "My husband has been Santa every year since 1970 and every year we've come out to support him, bringing children and then grandchildren. We love that they keep it up every year. It's really become one event that we really wouldn't miss."
This year's event also honored Darryl "Mousey" George, a longtime V.I. Services firefighter who joined the agency in 1995 and also headed the Junior Firefighters program for 20 years.