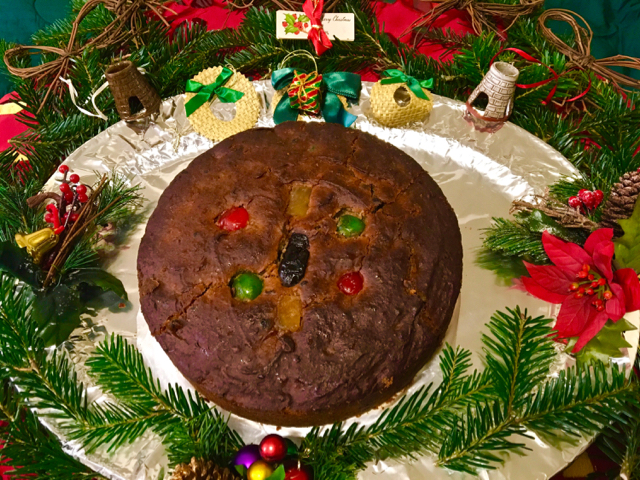 There's no place like home for the holidays, if it includes a busy kitchen. Christmas Past meets Christmas Present as island cooks stir old memories and family lore into traditional confections to share with friends and loved ones.
For Nilda Colon Millin, sweet bread is the center of the seasonal celebration. At Clely Berry's house, nothing takes the place of guavaberry. And only kallaloo brings in the New Year properly in Marcia Hodge's home.
When she was growing up on St. Thomas's Northside, Millin recalls, "A slice of ham, a cup of tea or coffee and a bit of sweet bread – that was breakfast on Christmas morning."
Like fruit cake, sweet bread is not overly sugary, is loaded with spices and fruit and may be infused with a bit of rum or other liquor. But that's where the similarity ends. Fruit cake is dark and dense; sweet bread is lighter. And as their names state, one is cake and the other is bread.
"I love to cook. I love to bake. I love to entertain," Millin said. "I could have hundreds of people in my house. I'm a person who lives in the kitchen."
That's why she started baking sweet bread for others every holiday season – even though she can't eat it herself.
She's deathly allergic to a key ingredient: eggs.
"I have to crack those eggs real fast," she said, because even the smell of them makes her sick. When she finishes, she cleans up all the dishes and the kitchen surfaces with bleach to get rid of any trace of egg.
For most of her specialties, she cooks more by taste than by recipe, but that doesn't work for everything.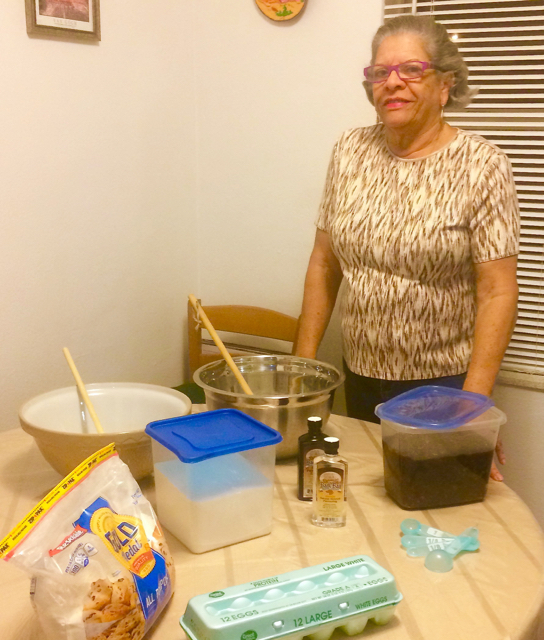 "I can't taste my own sweet bread, so I have to go by what other people tell me," she said. Over the years, her "critics" – primarily her sisters and her cousins – have advised her and she's adapted accordingly.
"I started out (44 years ago) using Mildred Anduze's recipe," Millin said. It was published in a cookbook produced by the University of the Virgin Islands.
She's made many adjustments since then to accommodate her family's tastes and her creative whims. She made one of the biggest changes years ago; in addition to the usual dried fruits such as figs, dates, cherries, currants, raisins and lemon and orange peel, she began to include a generous portion of some local fruits, especially guava, mango and papaya.
"No one knows it's in there, because it's all ground up," she said. But it seems to make a favorable impression. "I believe that's why everyone goes crazy for it and says it's delicious."
People may also appreciate the extra step she takes with the dried fruit – soaking it in a bit of rum, some cherry-flavored Manischewitz wine and a bit of guavaberry liqueur before adding it to the dough.
In recent years, she's done her baking at her daughter's home in Florida, where she visits specialty stores to purchase the tropical fruits that give her sweet breads that distinctive tang.
Because there is yeast in sweet bread (as opposed to baking powder in a cake) Millin said she can't use an electric mixer to combine the ingredients. Instead she turns the dough with a big wooden spoon and lets it rise twice. She makes her sweet breads in large batches, using as much as five pounds of flour at a time, so she needs a lot of muscle.
Even her implements are traditional. She has an oversized metal bowl dedicated to the process.
"It's only once a year I use it. So I've been using it all these years, and it looks brand new."
Good thing, because she says she's hunted everywhere for a backup and can't find another metal bowl big enough.
She gets about 8 to 11 loaves out of a single batch of dough. And she makes several batches because she supplies a lot of friends and relatives. Some of them put in advance orders and help defray the cost of ingredients and mailing. Others are gifts. She makes a lot every holiday season. Her record for one year is 99, she said. That feat required 55 pounds of flour.
She decorates the top of each sweet bread with red and green cherries in a ring, with a single prune in the center. Once the bread bakes, while it's still hot, she applies a brown sugar glaze to give it a sheen.
"It's not an easy task," she admits, though it's clearly a joyful one. "I love my family and if I can make them happy, I'll continue as long as I can."
Meanwhile, she has an apprentice in the making. Her four-year-old granddaughter likes to watch her bake and seems to be learning a lot about making sweet bread.
"I think she's going to want to do that because she's very kitchen-oriented," Millin said.
A generation or two ago, you couldn't visit a home in the Virgin Islands from December through January without being offered a little glass of guavaberry. If you were smart, you treated the home-made liqueur with respect, taking tiny sips and soaking up the potency with whatever food came to hand.
The native fruit is getting harder and harder to find, as the unimposing guavaberry tree suffers the developer's ax. There are also fewer and fewer people willing to devote the time and effort needed to conjure up the heady drink.
Clely Berry remains a true devotee, even if these days she has to rely on a little help from daughter Beverly Chongasing to complete what she calls "a labor of love."
When she was growing up on St. Thomas, guavaberry trees were plentiful. Come October or November, when the berries were ripe, she'd go berry picking with a group. It was a social event.
"You go up the tree and shake, shake, shake, and the berries just drop. And you have a sheet or something underneath to catch them," she explained.
She believes too many people don't recognize the tree anymore, or don't feel its importance, and so they are disappearing from the landscape. Her concern began at least as long ago as the 1980s and she planted a dozen of them on her property, but "Hugo went with all but two," she said, referencing the 1989 hurricane. And those two still aren't ready to bear fruit.
This year she didn't find any of the red berries, so she made due with yellow berries from a guavaberry tree growing next door at her daughter's home.
"The yellow ones are OK, but they're not as good as the red ones," she said. "Plump, dark, fat-looking berries are the best."
Preparing guavaberry is a long process.
"It's not hard work," Berry said, "but there's labor involved."
And time.
First, pick through the harvest and remove any extraneous matter, such as twigs or leaves. Then "make sure you wash and clean them properly." Next, you have to crack each berry to remove the seed.
"You just pop the little berry. Inside is very juicy," she said. "I usually wash it with rum, actually."
In the old days, every home had a demijohn – a large glass bottle used for fermenting guavaberry. More often than not, it would still contain reserves from the previous year when a new batch was started. Now many people use smaller bottles. The trick is to use glass, never plastic or metal.
"Matter of fact, I still have a demijohn," Berry said. But she doesn't use it anymore. "All you get from that is the smell."
There are people renowned for their guavaberry, but Berry says, "I am not one of the famous ones, for sure … It never comes out exactly the same. Sometimes it's very good and other times just so-so." But she knows what she's doing.
Once all the berries are cleaned and the pulp is separated from the seeds and skins, they go into the glass bottle, followed by prunes, cinnamon stick, vanilla bean and other spices to taste.
"Then you throw rum in that" and let it steep for a few weeks.
"You can cook the berries if you don't have time to soak," she said, which is what she had to do this year because it was already December when she finally got her hands on some ripe berries. But that definitely is not the preferred method.
About two weeks before Christmas, it's time to add the syrup to the mixture. That's a simple sugar and water concoction with a few things added, such as vanilla essence, cinnamon and clove.
"Whatever spice I have there, throw it in," Berry said. "I don't measure."
Rather, she samples.
She recalled one season many years ago when there was a bumper crop of berries and she had so many that a lady staying in her guest quarters helped her fill the demijohn.
"We were making a lot, so it required a lot of tasting," she said. "And we taste, and we taste, and we taste, and by the afternoon the two of us were giggling and people said we were drunk."
Let that be a lesson to the uninitiated, and a reminder to old hands.
While guavaberry and sweet bread make their appearance throughout the holiday season, kallaloo is king on Old Year's Night/New Year's Day. The thick, hearty soup-stew is a harbinger of good fortune for the coming year.
"We cook it on December 31," said Marcia Hodge, recoiling from any suggestion of doing it up early and freezing it. "No, no, no, we don't cook it ahead. We cook it the same day."
Of course, you need to assemble the ingredients beforehand, and there are a lot of ingredients.
"We do two pots, one with pork, one with turkey because some people don't like pork," Hodge said.
Pork is the traditional base of kallaloo, and that includes pig tail and pig snout. Then, "you get a lot of fish – crabs, shrimp, conch … it's a very expensive dish to cook," Hodge said. The greens that go into the pot are spinach and okra.
"It takes a lot of time," to prepare, and "It can take more than six hours to cook," she said.
You don't make kallaloo for just a couple of people.
"You have to have a party to enjoy it," Hodge advised. "You need a lot of people."
Like Berry's guavaberry and Millin's sweet bread, it's made to share.