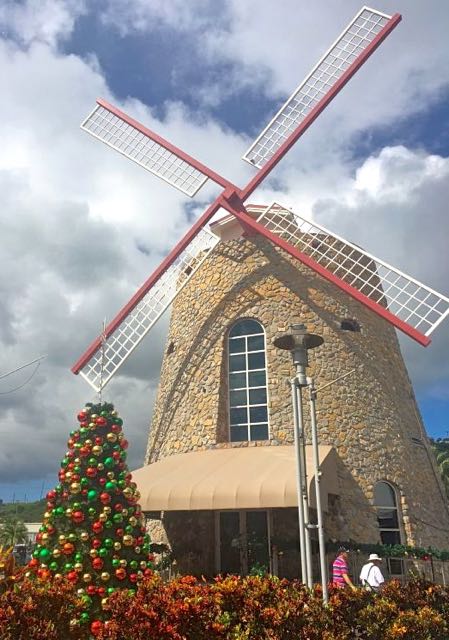 With two large cruise ships in port, the Crown Bay Center was packed Wednesday, bringing scores of tourists – and tons of locals – out to the V.I. Port Authority's third annual Holiday Fest on St. Thomas.
Carlton Dowe, VIPA executive director, said the annual event highlights different aspects of the territory's rich culture, from crafts to food, and has officially become the kickoff to the holiday season on St. Thomas.
"I love to see the participation," Dowe said Wednesday as the center began to fill up even more in the afternoon. "This is such a cultural time of the year and there's nothing better than having our local vendors out, the children from all the schools coming to show off their choirs and, in the evening, our great local bands, including Cool Session, Spectrum and Stanley and the Ten Sleepless Nights."
And while the bands rotated on stage throughout the day, visitors were busy browsing through the rows of vendors that had set up across the property. Selling everything from handmade soaps to wood carvings, vendors said they were excited to show off some local traditions and give visitors a chance to sample a little bit of everything the territory offers.
"My thing is to keep our traditions, but to put a unique and healthy spin on it," said Vivian Thomas of V's Healthy Delights. Thomas's food booth offered gluten-free and vegan dishes and pastries, including a cheese-less macaroni and cheese and a saltfish pate flavored with spinach. Traditional drinks were even infused with local herbs.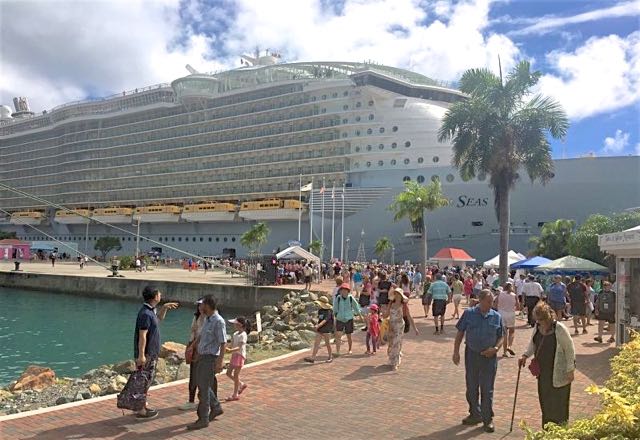 "Just because it's the holiday season is no reason to eat unhealthy," Thomas said. "We've kept the traditions alive but we're making sure those unhealthy elements, like wheat and white flour, which have negative health effects, are out of the picture."
As attendees began to stop in at Thomas's booth, the Ivanna Eudora Kean High School Marching Band struck up a song on a stage flanking the center's Win Mill sports bar, while other school groups — including Charlotte Amalie High School and the Ulla F. Muller Panatics – played steel pans near the dock and in store corners.
"It's an amazing event," said local artist Marsha Green Henry, working at a booth sponsored by the University of the Virgin Islands' Corporate Extension Service. "This is our first year hear, but we're excited that there are so many visitors looking around that are supporting the local vendors and buying gifts that they can take with them on the ships."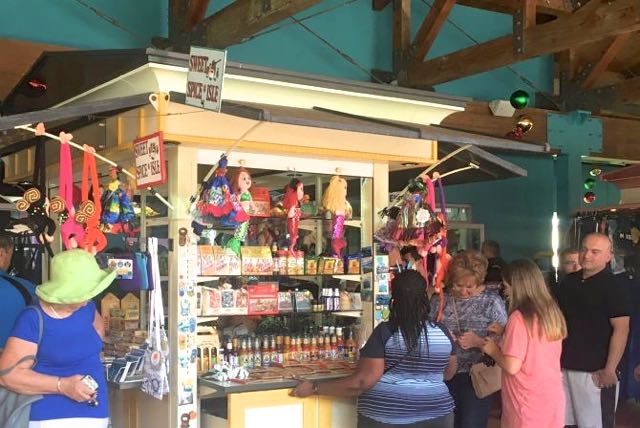 Henry is part of an advanced batik program offered through the Corporate Extension Service, whose booth was filled with paintings, purses, pillowcases and prints that showed off local scenes and faces.
"It's something unique, I think," Henry said. "Batik is a tedious process but the result is really beautiful. Using wax and dye, you start with a simple charcoal sketch, adding more dimensions and details with the wax and dye until you get your desired result. We love it and a lot of people have been excited about what we're showing here today."
Dowe said a mini Carnival tramp was scheduled to cap off the evening with revelers bringing Santa – sponsored by Connors Farms – from VIPA's homeport through the Crown Bay Center. A similar event will be held on St. Croix on Dec. 16.