The Senate is considering legislation from Gov. Kenneth Mapp on Wednesday that would change V.I. law to allow up to 200 slot machines at St. Thomas's Clinton Phipps racetrack and to reduce Divi Carina Bay Casino's taxes from 12 percent to 8 percent of revenues, among other things. The law would also let one slot machine company run both horse tracks and levy racetrack slots at a higher rate, 25 percent, than at casinos.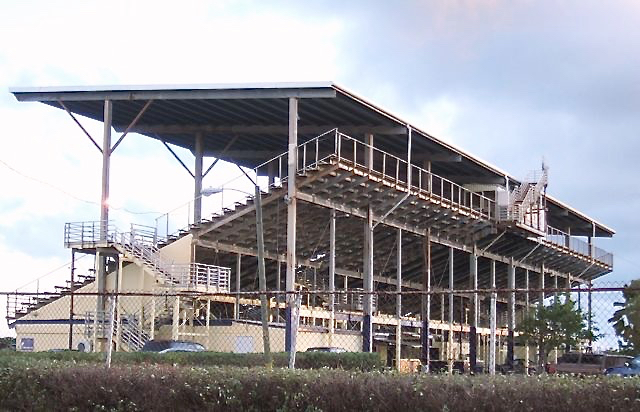 The bill [Casino Law Changes] is part of a plan Mapp proposed at a press conference in October. The other part is a franchise contract [VIGL Franchise Agreement] with slot machine company VIGL Operations, which currently operates the renovated Caravelle Hotel and Casino in Christiansted. VIGL's parent company, B & B Amusements, has designed and operated slot machine parlors in Illinois and Louisiana.
When Mapp laid out this plan at a press conference in October, he highlighted the idea that it would result in $30 million in investment in the territory's new racetracks and boost race purses, which it might. The franchise agreement does call for $27 million in investments in the tracks.
But if they are massively delayed and the company says revenues have not come in as expected, will the government really cancel the contract and leave the track empty as it seeks someone else to make the same promises? Or will there be consternation about the delays while VIGL continues to profit from its slot machines?
What happens to St. Thomas bars and restaurants that rely on gambling revenue from video lottery terminals that are basically indistinguishable from slot machines? And what happens to the growing number of horses brought in for racing after their short racing careers are over?
VLT Operator Claims It Violates Their Contract
Southland Gaming has an exclusive contract for video lottery terminals on St. Thomas and St. John. When Mapp sent the proposed franchise agreement and legislation to change V.I. gambling laws to Senate President Neville James, Mapp said he had met with VLT contractor Southland Gaming, "whose president personally assured me that he anticipates that the new St. Thomas Racino will have very little impact on Southland's VLT business on St. Thomas."
But Southland Gaming President Robert Huckabee III is saying quite the opposite.
"As Southland's CEO, I wrote a letter two weeks ago to Senate President James expressing my opposition to having VIGL operate up to 200 additional gaming machines on St. Thomas because of the tremendous harm that would do to the government's video lottery program, the USVI lottery and the important government programs supported by video lottery," Huckabee said in a statement Tuesday.
Over the phone, Huckabee said Southland has about 600 VLTs on St. Thomas, with fewer than 100 at any one location, so putting 200 machines at the racetrack would seriously cut into revenues for Southland, for the V.I. Lottery and the programs supported by its revenues, and for retailers. Since a big new place "would probably create more energy," it "could pull more than 30 or 40 percent of the revenue," Huckabee said.
He also said putting slot machines at the St. Thomas racetrack that would be operated by VIGL "violates the exclusive video lottery contract between Southland Gaming and the government for Southland to operate all such machines on St. Thomas."
Asked if Southland would sue the V.I. government if the plan went through, Huckabee said, "We would certainly have to protect ourselves."
He also said the VLTs provide a lot more money to the territory. While the slots would be taxed at 25 percent, with about half of that going to the government and half to race purses and other things, VLTs pay much higher fees and taxes, and that money would be lost to retailers and the V.I. government, Huckabee said.
Based on the level of VLT income to the V.I. lottery reported by Lottery Director Juan Figueroa Melendez during his 2015 confirmation hearing and later budget hearings, Southland Gaming should be getting 44.75 percent or about $12.8 million per year; retailers 22 percent or $6.3 million; and V.I. Lottery 33.25 percent or $9.5 million per year.
Huckabee pointed out Tuesday that the government also gets 5 percent gross receipts taxes on VLT revenues but would not be getting that from racino slot machine revenues.
Some St. Thomas VLT Parlors Concerned About New Slots
Some businesses on St. Thomas rely on VLT revenues to make ends meet and worry that a massive increase in gambling at St. Thomas's Clinton Phipps track could put them out of business.
"If I didn't have the gambling, I would have to put something in that is awfully productive because all the costs of business on St. Thomas are high," said Betsy Sheahan of Betsy's Bar in Frenchtown. "It would be difficult to make rent without it," she said.
While she was "not crazy about the idea," Sheahan said that it may not affect her business as much as it would bars and restaurants closer to the track, such as those in Red Hook.
"I don't know how much it would affect my area because it seems like a lot of my customers are also my neighbors," she said.
"But like everything on St. Thomas, when there is something new, we all check it out, so the initial effect would be for everyone, I would think," Sheahan said.
There is a lot of evidence that the total amount of gambling is limited and changes to V.I. gambling facilities mostly just moves the gambling from one spot to another. After slots opened at the Randall "Doc" James track on St. Croix, Casino Control Commission members and officials with Treasure Bay V.I., the parent company for both St. Croix's Divi Carina Bay Casino, and TRAXCO, the "racino" slot machine operation, told senators during budget and oversight hearings that total revenue remained basically the same, but the casino saw a reduction as traffic moved to the racino.
In July after the Caravelle Hotel opened up its slot machines and the St. Croix racino closed, CCC Executive Director Malcolm McGregor and Chairwoman Violet Ann Golden both told senators the closing of the racino was offset by the opening of slots at Caravelle.
"It is almost the same; with the closing of the racino, it shifted to downtown," McGregor said.
Golden said, "The same people who were at the racino are now into the casino downtown."
Huckabee said Tuesday, "There is a certain amount of gaming revenues in St. Croix and a certain amount in St. Thomas, so all this would do is cannibalize from the existing revenue."
How Sure Are the Plan's Promises?
The franchise agreement gives a timeline of two years for 40 percent of the redevelopment work, with both projects being "substantially completed" within three and a half years. As part of the agreement, VIGL will be allowed to operate slot machine parlors at both tracks, once it has a license from the Casino Control Commission. The franchise and its restrictions are for horse racing only, not the slot machines, which are separately licensed.
The contract calls for specific facilities to be developed on both islands – including bars, restaurants, lounges, restrooms, viewing stands, parking, jockey locker rooms and vendor kiosks, plus new barns and veterinary care facilities for horses.
It also requires VIGL to post a $25 million performance bond, which would seem very reassuring about any concern VIGL might not make the promised improvements. According to Mapp, the government can terminate or revoke its 20-year concession agreement if VIGL does not meet the required terms.
And under the terms of the franchise agreement, the V.I. Horse Racing Commission or a court could determine the franchise operator is in violation of the franchise agreement.
But there might be some wiggle room. One section of the franchise agreement says the $25 million performance bond or letter of credit must be posted by VIGL five days after the effective date of the agreement. But other sections of the agreement say that the effective date of the agreement is marked after a long list of other conditions are met, including granting of "racino" slot machine licenses and "(a)pproval of all licenses and permits for the construction of at least one of the racetracks contemplated in this agreement."
On the one hand, since design drawings and permit approvals can take a long time, anyone can understand why VIGL might not want to start the clock on their agreement until it has permits. On the other hand, the agreement calls for new horse barns, new quarantine barns, new veterinary offices, new jockey locker rooms, one new equipment shed for St. Croix, new "racing entertainment centers" and several other major and minor projects. All of these would apparently have to be designed and permitted for "at least one" racetrack, before the effective date of the agreement is triggered.
While VIGL may have the best intentions, under the terms of the agreement, VIGL might get its slot machine licenses from the CCC – as it is required to do before the effective date – and set up slot machine parlors at both racetracks, before doing the designs, getting government approval and getting permits for all the construction projects.
Designs and permits can sometimes take a long time. Plans were originally presented for the Paul E. Joseph sports complex in Frederiksted in 2012 and have been restarted twice. Sports Parks and Recreation Commissioner Pedro Cruz told senators in July the designs were "60 percent under review" and no one knows when permits will be issued.
Once VIGL has all its designs done and construction permits approved, and a performance bond has been issued, if the work takes more than the requisite 42 months (three and a half years) to be "substantially complete," the Horse Racing Commission and VIGL would have hearings to work out what sanctions to apply and whether to liquidate the damages through the performance bond.
If VIGL is performing well, then all is well that ends well. But if, after all the designs are completed and all the permits acquired and the performance bond issued, and another three and a half years have gone by, and a complaint is filed, what happens then if there is a problem? What happens if, for example, VIGL says it is making less revenue than expected and needs a few more years and looser requirements?
The Horse Racing Commission could attach the performance bond. But that would seem to seriously worsen VIGL's financial position at a time when it is arguing it cannot afford major investments. Could declaring VIGL to be in breach of the franchise agreement and demanding payment of the bond mean VIGL is no longer able no longer run the track? Would the Horse Racing Commission put a halt to racing to punish VIGL?
If the situation is dire enough, the Horse Racing Commission could revoke VIGL's franchise, so it could no longer run the track. Then the Horse Racing Commission would have to decide to at least temporarily shut down horse racing in both districts while it or the government seeks a new franchise operator for both tracks. Might it be tempted to instead change the rules to accommodate VIGL to avoid an indefinite interruption in horse racing? Or tempted to split the difference and seek a small sanction with one hand, while loosening VIGL's terms with the other?
Could the Deal Be Changed Mid-Course?
There is some history of the territory changing the rules mid-course in the past. Currently Mapp is asking the Senate to again change the casino laws to accommodate this new proposal. Changing the territory's laws is a higher hurdle than amending a franchise agreement at some future date.
VIGL Operations runs the slot machine parlor at the Caravelle Hotel in Christiansted. While the territory's casino law was enacted in 1995 to spur hotel development on St. Croix, the Senate allowed "video lottery terminals" that are difficult to distinguish from slot machines on St. Thomas in 2003. The Senate changed the casino law in 2014 to allow that pre-existing hotel to have a slot machine parlor.
Under the new law, the owner is required to renovate or build at least 75 rooms. The Caravelle is listed online as having 43 rooms and has reported it has renovated at least 35 rooms to date. VIGL and the other investors in the Caravelle have plans to build 48 more rooms near the Seaborne terminal.
Although current V.I. law requires building or renovating 75 rooms, the CCC issued the Caravelle a casino license in February, giving it a special waiver to have the slot machine license first, and then allow it 30 months to renovate old rooms and build new ones, using the revenues from its slot machines as it proceeds.
The Senate enacted legislation from Sen. Kenneth Gittens in May, over Mapp's veto, to limit the CCC's self-declared ability to grant waivers but also allow VIGL 18 months to complete the construction and renovation required by the casino license.
In his veto message, Mapp argued VIGL should pay for the renovations up front before opening up the slot machine parlor.
So VIGL and Caravelle have either until late July 2017 to complete the new rooms, or if the CCC waiver still applies despite the new law, until August 2018. No new rooms are under construction as of Monday, and time will tell if the rooms are all in place on schedule as required. Or if instead a new accommodation will be made for VIGL. Meanwhile, VIGL has spent several million dollars renovating the existing hotel and it looks much nicer now.
Will Horse Track Slot Machines Really Generate Enough New Money?
In 2012, slot machines at the St. Croix track generated gross revenues of $4.8 million. Using that as a benchmark for both racetracks, if both racetracks generate gross revenues of $5 million per year, for $10 million in total, and pay $2.5 million out for purses, taxes and fees, that leaves $7.5 million per year for the franchise owner, before all track operations and salaries. That seems like a lot of money.
But in 2013, the CCC chairwoman confirmed that even with the slot machine income, TRAXCO, the company running the St. Croix track now, was losing more than $1 million per year. An audit found "there is uncertainty about TRAXCO's ability to continue as a going concern," Golden said at the time.
Since TRAXCO is losing money, this seems to call into question whether slots can really generate the money needed for major capital improvements while also running the track and subsidizing race purses. On the other hand, VIGL officials have suggested the increased number of slot machines can generate more revenue, although evidence and past CCC testimony strongly suggest there is a single pool of gamblers, that are overwhelmingly local, and changes mostly move that same pool of people around.
TRAXCO is currently in a dispute with the V.I. government, started when the Mapp administration canceled its lease. St. Croix horsemen wanted TRAXCO out, arguing the company was neglecting the facility. TRAXCO argues it already had a valid 10-year lease renewal and is in compliance with its lease. TRAXCO and Divi Carina Bay Casino are both owned by Treasure Bay V.I.
Mapp's legislative proposal includes a temporary tax break for gambling revenues at the Divi Carina to help settle the dispute. It reduces Divi's casino revenue taxes from 12 percent down to 8 percent for several years.
What to Do with Retired Race Horses?
Neither the proposed new laws nor the franchise agreement address what to do with retired horses. Most of the thoroughbreds used for racing are purchased stateside and brought to the territory.
With 18 races a year, local horse owners would likely be bringing between 30 to 80 horses to the territory per year, to train and race, according to Lynn Utech, an official with two nonprofits that move retired thoroughbred horses back to the U.S. for care and retirement: Caribbean Thoroughbred Aftercare Inc. and V.I. Horse Rescue and Retirement. Each horse comes in at age 5 or 6, then race for two to four years, Utech said. After that, they still live for another 20 years.
"There is no exit plan, no mandate that (owners) have to do anything with the horse. They can do anything they want," Utech said. Sometimes that means finding them a new home. Sometimes that means taking them from St. Thomas to St. Croix and letting them fend for themselves in the bush, she said. Some of them starve. Occasionally, one wanders into traffic and is hit by a car.
If the low figure of 30 horses per year is closer to reality, that means more than 600 horses to be cared for or taken off-island over a 20-year span.
But systems and facilities to take care of the retired horses are already far too limited for the small number of races held now, much less a massive increase. And neither the legislation nor the proposed franchise agreement addresses the problem.
"Retired race horses in the V.I. in general have limited options," said Bethany Bradford, director of Veterinary Services for the Department of Agriculture at a June 14 hearing of the Committee on Culture, Historic Preservation, Youth and Recreation.
Some horses are retired to Golden Age Ranch on St. Thomas, a nonprofit 501(c)3 horse sanctuary. Some have been relocated by V.I. Horse Rescue and Retirement. About $50,000 per year is allocated from V.I. Lottery revenues to help defray the costs.
"These are good options and are well deserving of continued funding, but these options are limited and consume many resources," Bradford said in June.
Golden Age Ranch is caring for about 20 horses on three or four acres. To accommodate several hundred horses instead of 20 would require a very dramatic increase in land and funding, which Mapp's proposed law and proposed franchise agreement do not provide for.
It costs about $3,700 to ship one horse back to the states, including a quarantine layover in Puerto Rico, according to Utech. It can also cost thousands more to care for a horse for months before shipping, she said. If the territory has to ship 40 horses per year at $4,000 per horse, for both shipping and pre-shipping care – a very conservative estimate – it will cost $160,000 per year.
It could cost double that amount with more horses or longer delays before shipping. But there are no provisions in the new laws or the franchise agreement to take care of this issue, just a provision requiring $3,000 per race go to unspecified charities.
Some of that funding can and should come from stateside thoroughbred associations, according to Utech. They are breeding and selling the horses after all, she said. And they do contribute some already. So it is not necessarily an insurmountable problem, but the plan and contract do not address it.
If there is more horse racing but no new measures to take care of retired horses, there will be more abandoned horses, Utech said. "But if you put a price tag on it and it is low, you will still end up with abandoned horses," she said.
None of this is a smoking gun or giant red flag to say VIGL should not get the franchise or is acting in bad faith. Everything could go well. But senators should look closely at the details of this proposal and its possible downsides before signing off on it. The plan should be sent to committee for testimony, debate and possible revision.