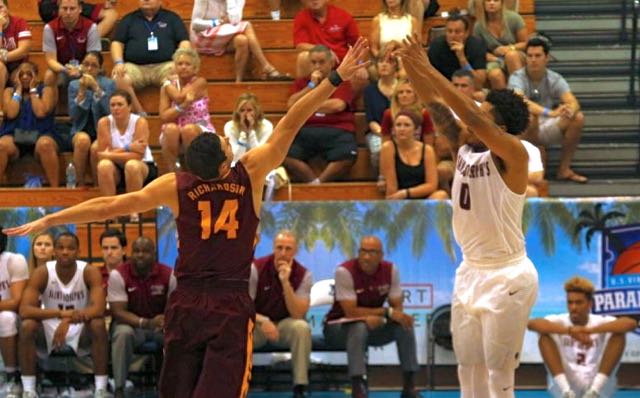 The crowds were thin to start out the opening day at this year's Paradise Jam Basketball Tournament, but the seats quickly filled toward the late afternoon as residents packed into the University of the Virgin Islands Sports and Fitness Center to kick off their weekend with some highly anticipated college play.
Now in the territory for its 17th year, this year's men's tournament has brought the University of Loyola (Chicago,) Saint Joseph's University, Oral Roberts, University of Mississippi (Ole Miss,) University of Montana, North Carolina State, Washington State and Creighton University.
While team coaches have touted the importance of this tournament in testing the mettle of their teams, who have three days of game play, organizers have also spoken this year about growing their community service efforts through contributions of shoes or game tickets and bus transportation for students coming to watch the tournament.
In years past, basketballs and other equipment have not only been donated to local schools but also to Sports, Parks and Recreation programs, and this time around, organizer Nels Hawkinson has said he's going after more partnerships that would help provide additional services, including mentorship programs to local youth.
This year's tournament also continues Paradise Jam's "Sports Hall of Fame" tradition, which recognizes the contributions of local athletes that have represented the territory nationally and abroad.
This year's inductee, Will "Neva" Petersen, helped earn the V.I. senior men's national team its only win against Brazil in 1979; Petersen was also a two-time All American champ.
St. Joseph's 71, Loyola 57
In a game that was much closer than the score would indicate, St. Joseph's defeated Loyola 71-57 to kick off this year's Paradise Jam. St. Joseph's began the third quarter with a nine-point lead, but after a three-pointer from Loyola's Andrew Jackson, the margin narrowed to four, 39-35. From that point, the Hawks went on a 14-4 run, capped by Lamarr Kimble's three-pointer, making the score 53-39 with about 8:30 to go in the game.
Down the stretch, the Ramblers continued to narrow the gap, but Kimble hoisted his team on his back. Milton Doyle's layup and free throw cut the lead to eight for Loyola, but Kimble answered with a three. Later in the game, another layup from Jackson cut the lead to five, but Kimble answered again with three, pushing it back up to eight. St. Joseph's pulled away for the win.
Kimble led all scorers with 26 points, followed by Shavar Newkirk with 20 points for St. Joseph's. For the Ramblers, Jackson had 22, followed by Clayton Custer, who finished with 13.
Ole Miss 95, Oral Roberts 88
Ole Miss needed overtime, plus all 41 of Deandre Burnett's points, to hold off the Oral Roberts Golden Eagles, 95-88. With about a minute and a half left in the game, the Running Rebels found themselves down five, but two free throws from Burnett cut the lead to three, 76-79. In the waning seconds, still down three, Burnett hit a three pointer, which locked the score at 79, sending the game into overtime.
In the overtime, Rasheed Brooks took the lead, scoring Ole Miss's first five points. The Rebels closed the game out with free throws, holding on for the win.
For Ole Miss, the next leading scorer was Terence Davis, who finished with 13 points. For Oral Roberts, Albert Owens led the team with 22 points, followed by Emmanuel Nzekwesi, who finished with 20 points.
In the third game of the night, North Carolina State beat Montana, 85-72.
The losing teams from Friday's games play again Saturday at 4:30 p.m. and 7 p.m., while the winners play their semifinal games Sunday at 7 p.m. and 9:30 p.m.
The Paradise Jam's championship game is scheduled for 9:30 p.m. Monday.