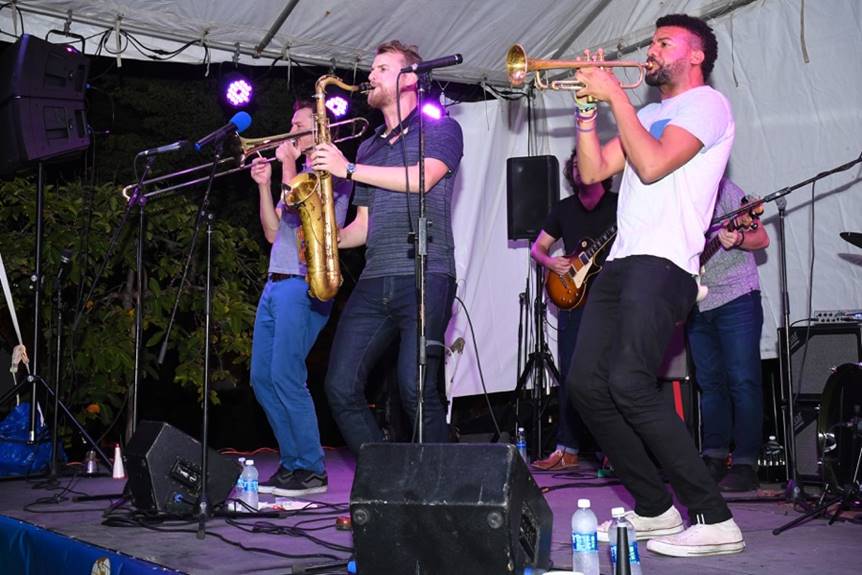 St. Thomas' Roosevelt Park was filled with the sounds of funky, hip-hopping, beat-boxing and absolutely mind-blowing sounds as International Capital & Management Company (ICMC) hosted its final Jazz in the Park music series for the 2016 season. Approximately 300 attendees filled the park with blankets and folding chairs.
Friday's jazz event featured The Huntertones, founded in Ohio and currently based in New York, along with St. Thomas' own Charlotte Amalie Jazz Combo, who filled the air with smooth jazz melodies. Also, St. John's From Broheim with Love preceded The Huntertones and serenaded the audience with all-time R&B favorites.
The Huntertones brought high-energy to the stage as they played adventurous original compositions and arrangements that melded jazz, funk, hip-hop, soul, R&B and rock. They closed with a tramp through Roosevelt Park playing an original rendition of "St. Thomas" by Sonny Rollins while images of the U.S. Virgin Islands flag appeared on stage. "Though the forecast called for rain, community members came out and partook in all of the evening's offerings," said Karen Nelson-Hughes, community relations director.
"One of our goals is to keep Jazz in the Park exciting for our attendees by adding new segments to each installment. For this edition, we partnered with the U.S.V.I. Department of Tourism's Dine VI event providing attendees with Food Truck offerings along Norre Gade while vendors adorned Hospital Gade providing local arts & crafts, food and drinks," she said.
"Providing once-in-a-lifetime opportunities such as Jazz in the Park and other projects and programs to the St. Thomas community is one of our missions at ICMC," said Cornel Williams, ICMC President and CEO. "The Jazz in the Park year-round efforts are meant to inspire and enrich the lives of music lovers in our community as well as revitalize the Downtown Charlotte Amalie area."
The free concert was sponsored by International Capital & Management Company, the USVI Departme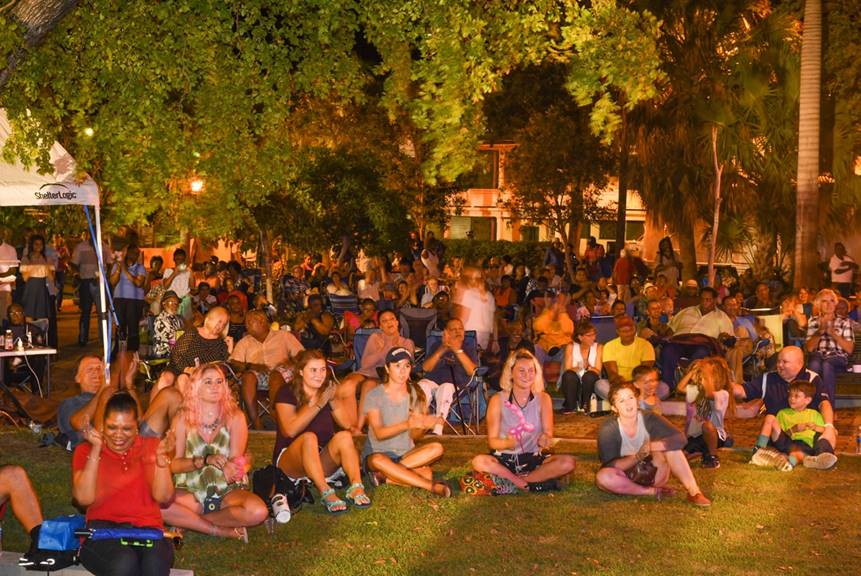 nt of Tourism, Innovative, Barefoot Wines, Budweiser and the Community Foundation of the Virgin Islands.
Planned 2017 Jazz in the Park dates are:
• Saturday, February 18, 2017
• Friday, April 7, 2017
• Saturday, July 22, 2017
• Friday, November 3, 2017